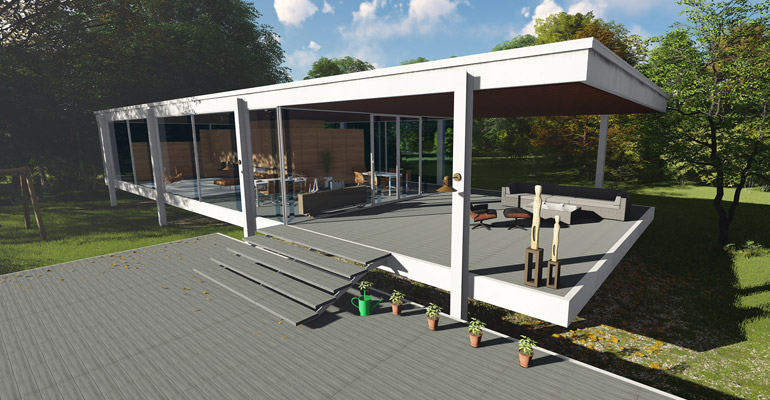 10 Ideas for Beautifying Your Outdoor Deck or Patio
A patio with a nice view is a soothing and relaxing place to be. But you may have to do a lot of work to make the outside a nice place to be. You need to carefully consider issues such as space, cost, and maintenance, and then design an outdoor deck that matches your house. While every backyard is different, there are some ideas that are universal so you can see what is possible and what is yours. Here are some ideas for sprucing up your outdoor deck or patio.
How do you spruce up an outdoor deck?
If you've decided to build an outdoor deck, now is the time to start putting your plans into action. If you want to add a deck or patio to your backyard landscape, you need to plan ahead.
Pick your materials and decide on a location
Plants, trees, shrubs, and fences can be used to make a border around your backyard landscape. For example, if your deck is near a swimming pool, local laws may require you to put up a fence as a safety measure to prevent people from using your pool without your supervision. If this is the case, you should include a fence in your landscaping plan.
You can also narrow down your choices by knowing which plants or shrubs might be appropriate for your landscape design and how much sunlight, water, and overall care they will require.
Start work
You should also plan to dig up any existing grass, set borders, and lay down landscape fabric to reduce the amount of grass or weeds that could harm your carefully planted backyard landscape.
Planting and adding materials
After you've planned out your landscape and made sure the ground is ready, it's time to complete your plan and plant your plants in place. You can also put mulch or rock beds on top of your landscape fabric. By using these materials in your design, you can reduce the time it takes to mow your yard or take care of it. You can also use different types of mulch or gravel to add color or pattern. This is the last thing you need to add to your dream backyard landscape.
In addition to plants, mulch, and stones, there are other design ideas and features to consider for your backyard. Some of the best ideas for backyard decks and patios are colorful pillows, places to grill or eat outside, and different lighting options to make the space feel warm and welcoming.
Landscaping Ideas for Outdoor Decks and Patios
Your deck and patio can be made to look even better with the right landscaping for your home and yard. Check out our gallery of composite decking and patio landscaping ideas for inspiration and tips on how to use these ideas in your own yard.
Plant trees and flowers around your deck
By planting colorful and fragrant flowers in the bushes around your deck, you can not only make a natural border but also improve the view. Consider flowers and plants that bloom repeatedly. Hydrangeas, for example, grow best in partial shade, so a few small trees can give them just the right amount of shade.
Around elevated decks, there are trees and bushes
Consider the height of the shrubs and plants you want to plant around your raised deck or patio. Tall bushes can help hide ugly crawl spaces and fill in the space where your deck rises.
Have rock beds and simple landscaping
A rock bed may be a great way to separate your patio from your lawn. You can plant small shrubs or trees here, but grass or weeds are less likely to grow and take over your yard. This will save you time pulling weeds and keep the area around your patio tidy.
Place flower beds and planting boxes around your deck or patio
Planting boxes are easy to make and are a great way to place plants on a raised deck. Large planters made of the same type of wood or composite material as your deck will go well with your deck. Plants and flowers can be placed in these pots, and then you can place them on your deck. Ivy or pergolas that grow up in a stylish way can add interest without a lot of work.
Use mulch to control plants
By laying mulch over your landscape fabric, you can discourage weed growth and place plants as well. This multi-level deck and patio looks like it's been landscaped because of the built-in planters. You don't have to mow or pull weeds to take care of it.
Make a pond in your yard with rocks
Your yard doesn't have a spring? No problem! Rocks pieced together in creative ways can be used to surround an artificial pond. You can make your yard look good around it by adding mulch and shrubs.
Use mulch and gravel to keep plants from growing too big
If your deck or patio is not raised off the ground, there are smart ways to avoid mowing or weeding around it. Even better, you can use these design tips to create a beautiful oasis in your own backyard. Mulch can be placed on top of an area around the deck that has been dug up and covered with landscape fabric. Adding a gravel bed can also stop unwanted plants from taking over. You can also mix different colors of gravel to make a prominent pattern.
Consider the land surrounding the house
Large houses with unique features and floor-to-ceiling windows often need a large, impressive raised deck to match. This deck is made of beautiful stone, and each of the many stairways is illuminated by LED lights. White railings match the white trim on the house, while light-colored stonework on the deck ties the entire look together.
Keep your ideas about landscaping simple so they don't get lost in these beautiful features. By laying the same brown ground cover as the paving stones, you can discourage overgrowth and give some shrubs a prominent place.
Make the most of your space
In this backyard space, the stone DIY paver patio under the raised platform is fully utilized. The patio is surrounded by rock beds and different colored mulch, and space for some beautiful plants to enjoy.
Make your view brighter
Adding lights to your patio or deck landscape allows you to enjoy the beautiful view of your backyard even after the sun goes down. Make raised decks more interesting by making borders around them with trees, shrubs and flowers of different sizes. Lighting at the base of the deck draws attention to the carefully placed shrubs and makes the area feel warm and inviting.
Post a Comment
We'll contact you within 24 hours. Check out the spam box in case that the mail is blocked.