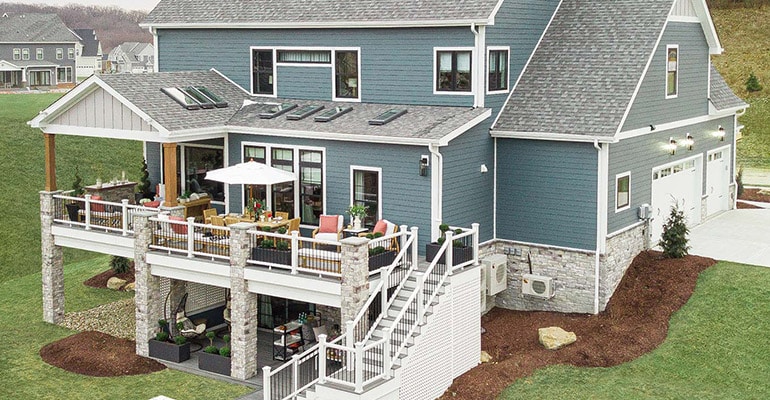 7 Design Ideas Under Elevated Decks | Composite Decking
A raised deck is a great addition to any outdoor space. It provides an elevated platform for outdoor activities and is a stylish addition to your property. However, the space under a raised deck often goes unused and can become a dead space for storage or clutter. With a little creativity and design, the space under a raised deck can be transformed into a functional and attractive outdoor living area. In this article, we'll explore some creative design ideas for under-raised deck spaces that can enhance the beauty and functionality of your outdoor space.
Add a lattice or skirting
If your outdoor raised deck is low to the ground, lattice or skirting can be a beautiful addition. Most lattice is made of wood strips or composite decking material that are put together in a crisscrossing pattern. This will make your outdoor deck look great and will allow air to flow under your deck.
If your deck is low to the ground, you may not be able to make the most of your space for a party. But if you cover it up with skirting or lattice on your deck, it can be a great place to store things you don't want people to see. You can add a door to the lattice or skirting so you can store things there. It looks good, works well, and is a fun project to make yourself.
What can I use instead of lattice?
Lattice is a great decoration, but you may be more interested in how it works than in how it looks. Lattices are pretty, but they don't do much else. You can do a lot of good with the space under your raised deck, and that's a good thing.
It doesn't matter if you want to add more space for outdoor entertaining or make room for storage or a hobby area. Take a look at some of our favorite ways to cover the area under your deck and how you can make the most of it.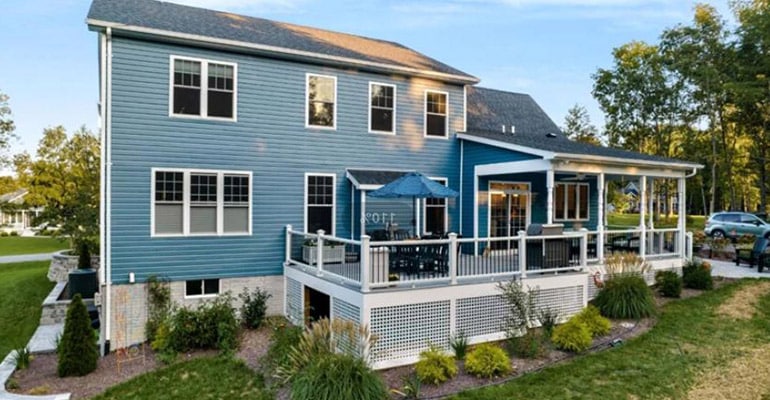 How it looks from below
If your yard isn't very large, you can plant shrubs and flowers under composite decking to make it look beautiful. Make sure to choose plants that don't need direct sunlight, as your composite decking may block some sunlight.
You can also build a garden or garden box to grow fresh herbs or vegetables. Many greens, such as lettuce, Swiss chard, kale, and spinach, can be grown in the shade and do not necessarily need direct sunlight.
Set up a dining area
The space under your composite decking boards is cool. It's also protected from rain. This means you don't have to worry about the weather ruining your outdoor party. You can continue the party under the deck where it's cool and dry.
Take out the grill, set up the table and chairs, and call it a day. The area under the deck can be romantic, casual, fun, or formal, depending on what you want.
Build a play area
Need more things to do under the deck to keep the little ones busy? Build a playground or play area under your composite decking so your kids and their friends have a place to play. You can hang swings or climbing ropes around the edges of your composite decking boards, and it can also serve as a place that doesn't get so hot in the summer.
You can give the kids a great place to play, eat and do other things outside by setting up some benches or picnic tables.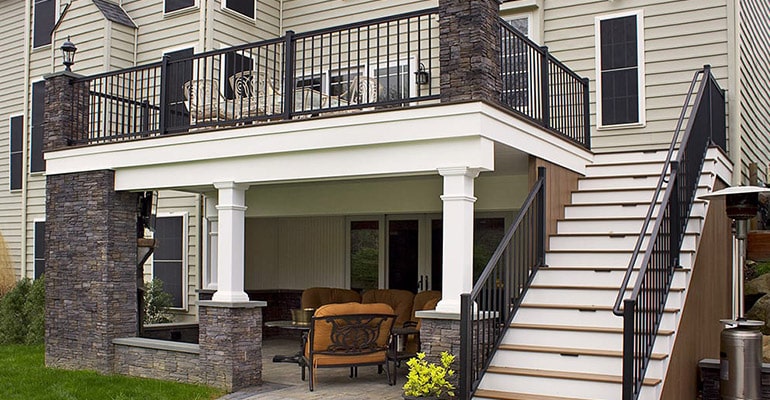 Can you build a room under your elevated deck?
Have you ever thought about building an outdoor room under your raised deck? Depending on where you live, the main part of your outdoor deck may not be available for use all year. But the area under your deck is in the shade and not so exposed to the weather. Take advantage of this and build the room of your dreams, whether it's a sunroom, a spa, a gym, or something else. There are many ideas for under-deck enclosures that can help you make the most of your deck in the rain, snow, cold, or hot sun.
Build a porch or sunroom
If you have a deck outside, you're probably going to enjoy life there as much as possible. But the truth is, you can't use that space all the time. Sometimes it rains or gets too hot, or there are too many mosquitoes to keep you from enjoying life there.
You can still enjoy the outdoors by making an enclosed under-deck space. Put full-length windows around the area under the deck so you can enjoy the outdoors without being disturbed. If you add some chairs, this will be a warm, inviting place to spend your summer evenings happily.
Build a shed
If you enjoy gardening or have a large yard to take care of, you probably have plenty of tools and supplies to keep your outdoor space in good shape. If you don't know what to do with the space under your deck, you can turn it into a storage space. You can use it as a place to store lawnmowers, snow blowers, rakes, and shovels that are easily accessible.
You can also work on woodworking or craft projects in the space under your deck. This is a good idea if you like DIY projects but don't have enough space to do them.
Build a spa room
If you want a place to relax, you can turn your under-deck space into a spa. Whether you turn the area into a room or not, it's a great place to put things like a hot tub or massage table.
If you add candles and music that make you feel calm, you'll have a place to get away from your busy life. Can you think of a better place to relax and get away from stress after a long day?
Build a gym
It can be difficult to find space for big, bulky gym equipment in your home. Whether you have a rack full of hand weights, or just a treadmill or stationary bike, an enclosed space under the deck is a great place to store it.
Not only will this space hide your workout equipment, but it will also give you a place to work out. As an added benefit, you can add an outdoor shower to your enclosed under-deck gym so you can cool off after your workout.
Post a Comment
We'll contact you within 24 hours. Check out the spam box in case that the mail is blocked.