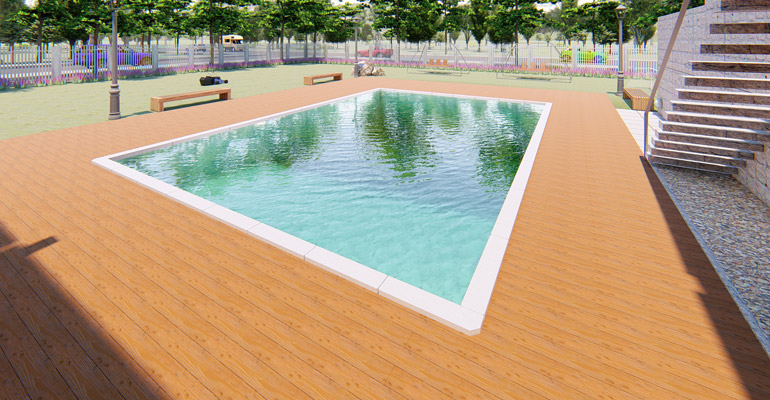 9 Tips: How to Design Great Outdoor Composite Decking
Building a great outdoor composite decking is a very personal task. A good design style should be an important part of the house, otherwise, it will feel out of place. Over time, each city has developed its own unique style of architecture. As builders borrow from each other, your city begins to take on a style of its own. You can then choose from among different brands of composite decking. From the past to the present, there have always been many decorating ideas about composite decking boards.
House, Yard, and Landscape Design
Most people make the same mistake when installing composite decking boards. That is, just fixing the deck to an already existing sill plate or building a new deck that is identical to the old one. This approach will limit your options and prevent you from coming up with new ideas. Most of the time, decks and ledger boards are added at the end of the building. It may also not come together correctly.
The door to your home is the main pathway to your deck. Where your door is will determine where the first level of your deck is. Composite wood decking that is less than 30 inches off the ground does not need guardrails. They do not appear to be very high, so they do not pose a safety risk.
When composite decking is taller, they look more like a floating deck. Because they are taller, people need a composite railing to keep them safe. You may also need to install a very long staircase made of composite material. When you have composite decking boards that are taller, you can stand on the high deck and look around.
If you want to build a double deck, you can make full use of the space under the deck. It is a good idea to put things under the deck. You can also build a room with a screen in the space under the deck. So you can rest here whether it's hot or raining.
What does the area around your house look like? Is it a beautiful mountain with snow on it, or an ugly water tower? Spend some time in this space at different times of the day to get an idea of what it looks like during the day. Do you have trees in your yard that provide shade for only certain parts of the day? If you don't have any shade, you may need to add something. Is your yard flat or does it go up or down? Do you have a garden, a hot tub, a pool, or an outdoor deck?
Poor design makes people feel disappointed, while the good design will attract people's attention. The shape of your lot may affect how big your outdoor deck is and where it is placed. You can change the landscaping, small trees, vents, and air conditioning units if you wish. Large trees can sometimes be used to frame the design of your deck.
Determine your needs
Most people want to design their own composite decking, but they don't know where to start. According to us, this is how you should start. Try to see the big picture, use your imagination, and don't get stuck on the details. If you're still saying things like, "I want a deck like our last house," you're not trying hard enough. You may want your own private space, an elegant balcony, or some other exterior space. Most of the time, this approach is better than trying to replicate your neighbor's outdoor deck.
You may not be able to use all of these ideas, but if you can use some of them, it will be worth your time. Now, let's figure out what you really need to build your dream deck. Do you need a way to get from your high deck door to your backyard? Need a place to put your grill? Need a place to eat, play, and have people over in the summer? To talk about your design goals, you need to know what you need, and what you want, and say what they are.
Traffic on the stairs
Think about how people will walk up and down your composite decking boards. Make sure your furniture and grills don't get in the way of people walking around. Your stairs and house doors should be easy to find and accessible from anywhere on the composite decking boards.
In most cases, composite railings will protect the edges of higher composite wood decking. For lower decks where guardrails are not needed, short railings or benches can help direct traffic so people don't get lost. People need sidewalks inside the deck so they can walk around. You might be able to divide the space by changing the direction of the trim boards. Putting diagonal decking in a certain direction is a smart way to get people to move in a certain direction.
The stairs connecting the composite decking boards to the yard are the main way to get up and down the deck. Use the height of the composite decking to figure out how many steps you need. You can make long stairs less abrupt by wrapping them around the deck or putting a platform between them. You don't have enough headroom to put stair treads under the deck frame.
You can move people around your deck in interesting ways, but be aware that sudden and drastic changes in height not only look bad but are dangerous. It's easy to trip over steps that are at the wrong angle or hard to see. For low decks, you may need to walk down at an angle and wrap the stairs in layers of wraps to help the deck blend into the yard.
Choices for decorating
Choosing the right decorations for your outdoor deck design is important. Some people like the look and feel of cedar, redwood, and hardwood. But more and more people prefer composite decking materials because they don't require much maintenance and come in different colors and textures. If you want to make the best decisions for yourself and your life, do your research on decorative materials.
Because screws and nails are hidden, they are not on the floor. When it comes to composite decking boards, nails are better than screws. This is because they hold better and don't leave mushroom-shaped screw holes.
Color is an important part of how things look. Borders with interesting contrasts can bring a spark of life to any deck. Large decks with lots of the same kind of flooring can look too plain. Placing trim in a diagonal or herringbone pattern can draw attention to an area or view. Some deck designers have even added interesting flooring inlays to make their decks more interesting.
Planning a way of life
Start with big ideas of how composite wood decking can improve your life. What are you going to do with your deck? For example, if you're not into large gatherings, you may want to put more thought into quiet places to eat and hang out. If you like to grill, make full use of your outdoor kitchen. Ask your family what they'd like to see on your new deck. Think about having an outdoor theater, a private garden, or a spa with a pool.
Plan how you will access and use that area.
Once you know what's most important to you, plan a composite wood decking for the outside. then you'll have plenty of room to do the things you like and easy ways to get around in and between them. Most of the time, you won't notice these areas until you move the furniture around. You can think of the different areas of your deck as "rooms" where you can eat, relax, cook and see people. Make sure there is enough space around the dining table for chairs, a small coffee table or lounge furniture next to the coffee table, and potted plants.
Selection of decorative things
For the choice of materials for things like dashboards, decorative panels, and railings. People spend a lot of money on WPC materials, PVC, and other materials that don't require much maintenance. Others choose decorative panels made from pressure-treated wood, which is a much cheaper material to invest in. Although they are less expensive to purchase, they are not less expensive overall. About once a year, most wood surfaces need to be pressure washed and sealed. But if you like the way things look when they are natural and don't mind doing regular maintenance, this may be a good option for you.
Size and Form
Some people say that outdoor decks shouldn't be more than 20% of the size of your house so they don't look too big. However, if you spend a lot of time on it and break it up into different rooms, a larger great composite decking will look and feel like home. Square decking is great, but if you want to make it more interesting, you can add angles or even curves. They will take more time to build, but they can make the set feel unique and different from everyone else's. Use a "theme and change" approach to your design so that you can use certain angles or curves in different places and perhaps different sizes.
The right place for cooking and eating
If you like to cook outside and talk to other people, a barbecue may be for you. Please build a large outdoor kitchen with a counter and lots of cooking tools. You may want to put a table with stools next to the cooking area so people can eat, taste, and give you advice while you cook. If you want to make food prep easy, you can make a small alcove on one side that is just big enough to hold the grill. You can do all your cooking there, too. The law doesn't require you to have a grill.
See the view
Think about the view from the deck and inside the house. Your deck won't look as nice if you can't see what you want to see because of a big railing. Here are some possible solutions. The railing will be lower when you walk down a decked or sloped section, and may not even be necessary. You can also choose glass panels or railings with thin posts. Also, if one view is better than the other, set your deck so that people naturally look in that direction.
A bridge connects the house to the yard.
You can build a great composite decking that fits your home's style. or you can make it more like the outdoors by changing its location. Most of the time, there are materials under the deck that lead to the yard that look and feel best. Stone, pavers, and brick look great next to almost any kind of deck, whether it's made of wood or something else.
Vertical elements
Most of the time, we think of a deck as just a floor, but it's the railing, skirting, and structure above that really stand out. Railings come in so many different styles and pieces that it can be hard to know where to start. Take some time to find the right railing for your room. If the composite trim boards are raised, you may need to put skirting around them to cover the bottom. If there is enough space under the deck, you may need to install a system to keep it dry so you can take shelter from the rain under the great composite decking.
Decorate the deck with plants
If you don't live in a sunny area, you may enjoy your deck more in the summer if you have a structure that keeps the sun out. Most people say they have a composite pergola. Depending on the spacing of the rafters, it can provide varying degrees of shade. If the sun is too bright, you may need an awning or something similar. One or two seeds will also make most sets look better. Or, you can plan to put your plants in large pots. The pots can be placed on a bench or on a railing.
Post a Comment
We'll contact you within 24 hours. Check out the spam box in case that the mail is blocked.