Christmas decorating ideas for outdoor deck
Christmas is just around the corner and it's time to start preparing for your Christmas season. Indoor decorations may be limited by your home's Christmas decorating, but you can do something completely different on your porch or deck.
You need to think about how you will decorate your outdoor deck to make this festive season better for your family. Christmas is great for bringing the family together and what better way to do that than to enjoy the holiday season outdoors? Now, we're here to offer you some fantastic Christmas decorating ideas.
Decorate with natural elements
Christmas decorations can be expensive and require a lot of space to store. A simple solution to change this is to include natural elements in your deck design. Take a walk in the woods and collect interesting-looking natural decorations such as branches or pine cones. You can use pine cones or logs for DIY Christmas decorations. Magnolias are not only beautiful but also particularly hardy and can be used for festive wreaths and porch decorations.
Christmas tree
Christmas is not perfect without a Christmas tree, and a tree can complete your Christmas decorations. Once you have a theme for your decorating ideas, you can plan your Christmas tree and other decorations as you see fit. If you want to place your Christmas tree on your deck or front door, make sure it can withstand the cold winds. Or place it close to the house to avoid the cold wind blowing it over.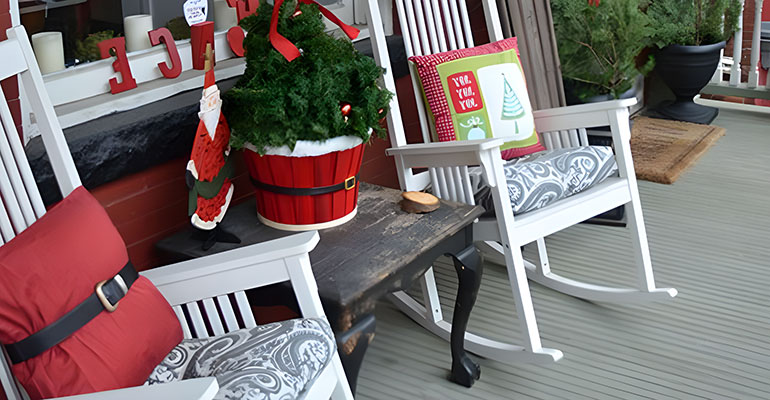 Festive planters
To make further decorate your outdoor deck, you can choose silver buckets or coloured boxes, or you can make your porch or deck more festive with planters. During this cold season, you can choose other hardy plant varieties such as tri-coloured violets or ornamental cabbages to better decorate your outdoor living space.
Choose green plants
There is nothing more beautiful than dark green and red Christmas decorations. Decorate the entrance to your patio with pine or cedar trees and invite guests to your home for a party. If you choose artificial greenery, then you need to preserve it well to avoid damage. When you take it out, freshen it up and fluff up the branches to create a fuller, more natural look.
If you have a light fixture or chandelier under your deck, consider hanging greenery over the fixture. Add a pop of colour with beautiful coloured ribbons to give your Christmas more colour.
Vintage decorating style
Don't limit yourself to modern pops, you can also use Victorian-style decorations if you like. You can use vintage items such as carriages, sleighs, old skates or antique bicycles to create a vintage Christmas porch. Use chalkboards with handwritten festive greetings and use lanterns and lamps for lighting, rather than strings of lights.
Add Christmas decorations elements
Add huge Christmas decorations to your tree. Choose large Christmas decorations or light up the largest tree in your yard to accentuate the Christmas tree decorations. Purchase sleek silver pots and place greenery or small evergreens in each pot. Then hang a wreath with a pretty bow. Isn't it perfect?
Light up the festive season
Whatever style of festive decor you choose, you will need to add some Christmas lights to make your Christmas more festive. If you want a modern pop of Christmas decor, then you can add string lights of coloured or white lights. LED fairy lights are both energy efficient and bright, and they are particularly suitable for door decoration. If you prefer vintage-style white Christmas lights, then lanterns are always a festive favourite.
Create a personal space
If you prefer peace and quiet, then you can choose to create your own personal space. There's nothing cosier than a rustic Christmas, and you can create a full living room space on your front porch or deck with hand-painted wooden signs, plaid ribbons and pine garlands. Then add a wooden bench and a fun outdoor Christmas pillow.
Add colourful decorations to your deck, such as cheerful pink, blue-green, yellow and purple pom garlands. Arrange them around your front porch to provide a cheerful greeting for any guests. Use red lanterns and vintage sleighs to further decorate your patio look and use burlap, cream and greenery to create a more neutral and natural look.
Festive decorations should be fun, not onerous. Choose a theme that brings you joy and leave the rest to your imagination. Merry Christmas!
Post a Comment
We'll contact you within 24 hours. Check out the spam box in case that the mail is blocked.