Comparison of Composite Decking vs Wood Cost
A pressure-treated wood decking pricing is between $1.5 to $2.5 per square foot including installation. Cedarwood deck will cost $3 or more per square foot. Composite decking costs $1.8 to $3.5 per square foot installed.
Wooden decking
The earliest and most common decoration choice for wood flooring. It is durable, cheap, pays attention to regular maintenance, and can be used for more than ten years.
Most wood floors are made of pinewood after pressure treatment, which is a cheap wood that can prevent moisture, rot, and insect damage after treatment. High-quality wood floors such as cedar and mahogany do not require any type of pretreatment because they contain natural preservatives.
How much does the wooden deck cost?
The price of wood flooring is determined by the type of wood, the size of the finished product, and the difficulty of installation. Cheaper wood floors, such as yellow pine, cost about US$1.5-2.5 per square foot, and high-end wood floors, such as cedar and mahogany, cost about US$2.5-3 per square foot. Of course, both prices include material and installation costs.
Suppose you plan to build a 10×25 foot floor. Based on the above price range, the total cost of pressure-treated pine flooring is between 375 and 625 US dollars, while the total cost of cedar or mahogany is between 625 and 750 US dollars.
Benefits of wood decking
1. Surface-The wood grain on the surface of the treated wood floor is more natural, so many people think that the wood board is more attractive than the surface of the wood-plastic composite decking.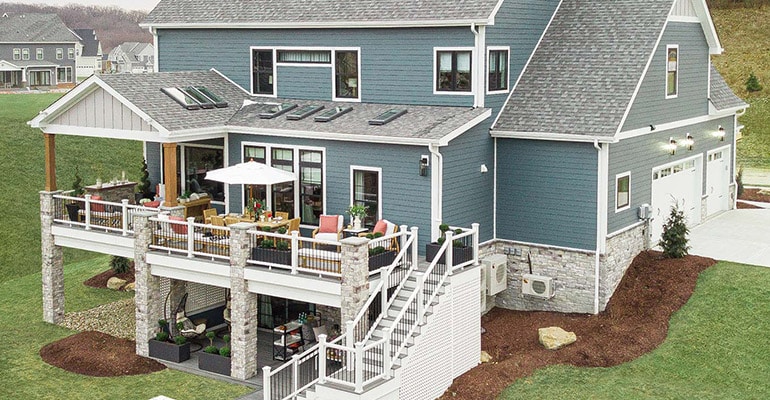 2. Cost-The cost of wood decking is usually lower than that of wood-plastic composite decking. The price of treated pine wood flooring is only half the price of wood-plastic composite decking, while the price of high-quality wood deckings such as cedar and mahogany is slightly lower than that of wood-plastic composite flooring.
Disadvantages of wooden decks
1. Maintenance-Most wood floors require maintenance (staining or sealing) every two to three years. If the maintenance is not thorough, the wooden floor will fade and eventually rot.
2. Damage-the wooden floor is easy to crack or warp, especially in bad weather. Pressure-treated wood is particularly susceptible to warping.
Composite decking
Wood-plastic composite decking has been accepted by more and more people. It is made of a combination of wood fiber and recyclable plastic. Wood-plastic composite decking surface designs are also imitating wood grain and you can customize the colors.
How much does composite decking cost?
The composite decking installation cost is usually about 1.8 to 3.5 US dollars per square foot. For a 20×20-foot deck, the price is between US$720 and US$14,00.
Why wood-plastic composite decking is more expensive than a wooden deck? They are expensive to manufacture, but wood-plastic composite decking requires almost no maintenance, and they have a longer service life.
The benefit of composite decking
1. Maintenance-The composite decking does not need maintenance. It never needs sanding, sealing, or dyeing. You only need to wash with soap and water twice a year.
2. Durability-WPC decking has high durability and can withstand inclement weather. It will not split or rot.
3. Ultraviolet resistance-wood-plastic composite decking will not fade or brighten over time, they can maintain the original color for many years.
The disadvantages of composite decking
1. Not real wood-WPC boards surface imitation wood grain, but it is still not real wood (composite decking brands are important).
2. Price-the best wood-plastic composite materials are much more expensive than ordinary wood floors.
3. Unable to repair-when the composite boards start to show signs of wear, you cannot repair or repair them. The only option is to replace it.
Welcome to contact us! Our experts can solve any of your questions, and we have the best price composite decking to provide you. At the same time, we can also provide you with free samples.
Post a Comment
We'll contact you within 24 hours. Check out the spam box in case that the mail is blocked.