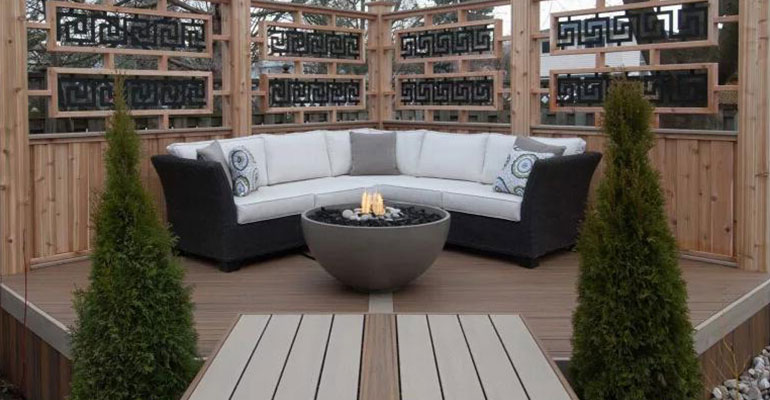 Composite deck heater ideas in outdoor living space
As a private space for relaxing and entertaining, an outdoor composite decking creates a lot of fun for you. Then when winter comes, it can get cold to continue enjoying life on the outdoor deck. So, do we have to go indoors? The answer is no. Even in the cold winter months, we can transform your composite decking and add a deck heater to keep you warm in the winter and extend the use of your outdoor living space.
Warm up your dining area
Dining al fresco with friends and family is one of life's simplest pleasures. So we can extend our pleasure with the help of an overhead heater.
We can use a weatherproof electric design that will go perfectly with modern outdoor dining ideas and which will complement the stylish furniture on the composite decking. Fixing such a heater directly above the dining table means that everyone can enjoy the warmth and it's an excellent space-saving solution.
This design not only provides heat but also adjustable light. So you can set the ambience exactly the way you want it, so get moving.
Keep it modern
Add a touch of luxury to your composite deck with floor lamps in a striking oversized dome design that can be placed outside all year round. Adding a powder-coated finish makes them sturdy and durable, and pairing them with monochrome furniture creates a cohesive scene. Floor lamps provide a cosy glow as well as a large range of warmth that can liven up your garden party at night.
Create a focal point with a fire pit table
Burning fire pit tables attract guests with their flickering flames and give off a warm glow. The rest of the table can be set up with drinks or snacks. And allowing you and your friends to chat to your heart's content. Matching furniture to create an overall look, flickering lights and comfortable seating are a must for a stylish outdoor entertainment centre.
Freestanding deck heaters
If you are short of outdoor space then you can opt for freestanding deck heaters. Freestanding deck heaters are a great option for smaller outdoor spaces as they warm you up while taking up less space.
This discreet and elegant design can be tucked away in a corner, bringing a cosy warmth and a welcoming deep orange glow to the surroundings. The softly curved poles and circular design will suit all types of modern gardens. Add a comfortable chair next to it, set out some drinks and it will soon become your favourite spot.
Tabletop heat lamp
You can place a tabletop heat lamp on your table as an additional heating source, or place multiple ones around your space. For smaller composite decks, an output of 1500W will provide enough heat to keep you comfortable. At the same time, you can add some flower lights to brighten up a nice evening that can be enjoyed by you and your family.
Timeless fire bowls
A metal fire bowl will give you a traditional feel. Once lit, it will create a magical atmosphere that the whole family will love. And the heat it generates will keep everyone cosy as the night falls. The high-quality steel is designed to last, while the copper is even better. Or, you can try one of the many DIY fire pit ideas.
How do I choose an outdoor deck heater?
Choosing the best deck heater for your garden depends on a number of factors, such as your budget and your personal style. It also depends on how exactly you want to use it. Do you want to place it in the centre of your deck, or tuck it behind your seat?
If you need a low-maintenance heater, you can't go wrong with an electric deck heater. Plug it into the socket and flick the switch for instant heating. Of course, this means you'll need an outdoor outlet.
Propane gas heaters are another simple option and you don't need an outdoor plug. As with electric heaters, no smoke or sparks are produced. But with gas, you can still enjoy the flickering flames. The downside is that you need to change the tank regularly, which can increase running costs. Alternatively, you can get a patio heater that is connected directly to the gas line. There is a higher upfront cost to install and once installed they are difficult to move, but in the long run it will save you money.
Post a Comment
We'll contact you within 24 hours. Check out the spam box in case that the mail is blocked.