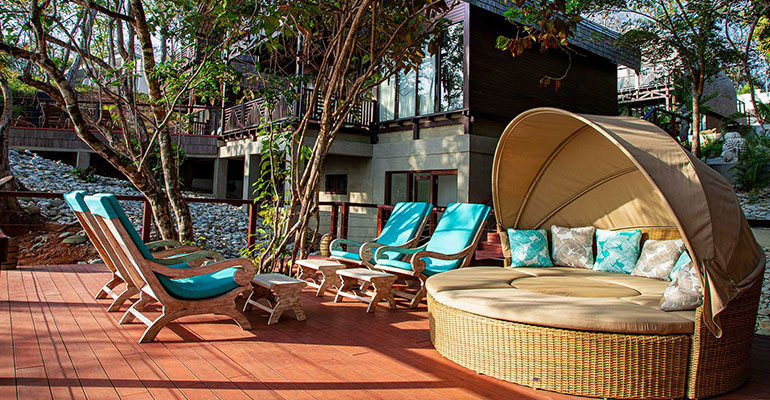 Composite deck patterns and design ideas
When you are ready to build your outdoor composite decking, you may spend some time designing different composite deck patterns, choosing matching composite decking colors, and other outdoor furniture decorations.
These are all important factors to consider when creating your deck boards. So we have provided you with some outdoor deck patterns for your consideration. We have divided these deck boards patterns by the complexity of the installation so that you can choose the look that best reflects your unique style.
Simple Deck Pattern Patterns
Single width
As you might expect, single-width is a simple deck pattern where the entire outdoor composite decking consists of an inlay of boards of the same width. The consistent lines deliver a classic style, one that will work well with other design elements. Whether these are items such as outdoor living furniture or a more permanent composite pergola.
If you desire a timeless deck design that exudes class and adheres to balance and structure, then this deck pattern is for you.
Benefits of the single width style
Easy to install. This deck pattern can be installed using the most straightforward of installation methods and with a standard frame. And you can expect a contractor to install it in a timely manner. If you're interested in going the DIY route, single-width decking is an easy project to complete.
Versatility and scalability. The machinability of this pattern means that it works well on any size of the deck. When used on a larger deck, the unadorned pattern echoes the airy nature of your outdoor living space. On a smaller deck, straight lines don't pull the eye downwards, maximizing the sense of openness and eliminating clutter.
Moderately difficult deck pattern patterns
Picture Frame Deck
A framed deck pattern is one that has at least one layer of decking around the perimeter of the deck project. A mirror frame pattern gives your outdoor deck boards a polished feel without competing with other additions such as composite railings. For those who lean towards a more traditional style but want a subtle touch to their outdoor living space, a mirror-frame deck pattern will have your neighbors treating your deck as a work of art.
The benefits of the mirror-frame style
Hides the end of the composite decking. Adding a picture frame detail to your composite decking ideas will both protect the deck and bring out the high style. A picture frame with trailing edges will give a great finished look while also creating a natural cover for the end of the composite decking.
It won't compete for the focal point. Picture frame designs give your outdoor living space a visually pleasing look without detracting from other features such as lighting or railings. They also keep your outdoor deck ideas subtly modern.
Pinstripes
A crisp pinstripe is one of those outdoor deck patterns that evoke the good life bathed in sunshine. Traditionally made up of two narrow boards with standard boards on either side, pinstripe patterns can give you a cottage vibe even if you don't live in a tropical climate. If you tend towards subtle and detail-oriented designs, this is the deck pattern for you.
Benefits of pinstripe deck patterns
Enhances the look and feel: as far as deck patterns are concerned, installing a sophisticated pattern will go a long way towards conveying a holiday-ready feel. Likewise, just like a single or picture frame deck, a pinstripe deck pattern will not detract from the rest of the decor.
Reimagines Decking. Because this deck pattern is a new deck design idea. So you can show off your unique taste to family and friends while gaining even more appreciation.
Premium Decking Patterns
Diagonal Inlay
Nothing says "dynamic design" like diagonal inlay. With deck lines flowing from the left side to the right, diagonal deck patterns showcase unique stylistic sophistication and provide some additional aesthetic appeal. Diagonal inlay deck patterns are not for the faint-hearted, this design is dynamic and unique. So expect an outdoor living space that will spark conversation.
Benefits of diagonal inlay style
Attracts focus. Diagonal inlays can draw the eye, especially for larger decks, and diagonal lines can suggest a gentle flow of traffic. Particularly when furniture or dining tables are fixed at strategic points, they can reflect a multi-dimensional outdoor living space that clearly supports different uses.
Modern design. The diagonal is an undeniably fresh style statement that makes even more traditional homes look and feel modern.
Herringbone
Elegant, intricate, and textured, the herringbone deck pattern better reflects the feeling of a 'luxury terrace'. The herringbone pattern is formed by repeated instances of two decking boards intersecting at a 45-degree angle. This crisscrossing, interlocking design transforms the outdoor deck into something striking.
The benefits of the herringbone deck style
Has impact. This deck pattern has a rich visual impact that will enhance the style of your outdoor deck. Herringbone patterns are more suitable for larger decks as this pattern can be repeated.
Adapts to unique deck shapes. Depending on the shape of the deck, if your deck has a longer span than a single plank, a herringbone insert in the center of the deck will cover any natural breaks and minimize joints and gaps.
Post a Comment
We'll contact you within 24 hours. Check out the spam box in case that the mail is blocked.