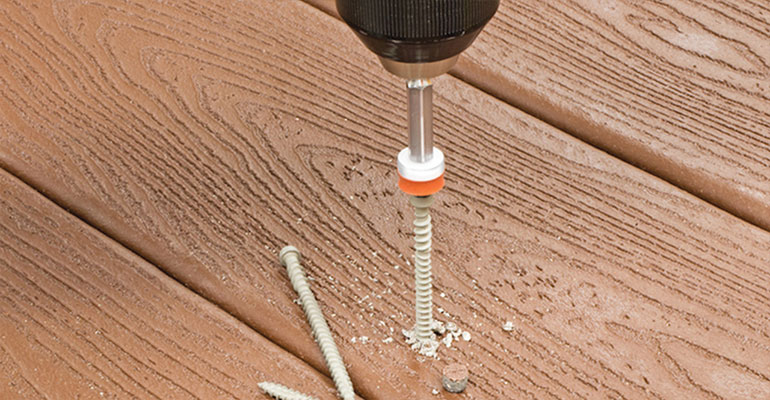 Composite Decking Hidden Fasteners vs. Screws
Whether you're building a new composite deck from scratch or refinishing an existing composite deck, it's easy to get bogged down making big choices. Choosing the size and shape of the deck as well as the color and finish of the deck is an exciting and very important part of the project. Choosing between deck screws and hidden fasteners seems boring and unimportant by comparison. However, this decision you make affects not only the aesthetic but also the structural integrity of the deck. So you need to choose wisely.
One of the problems many deck builders have is deciding which fasteners to use. Screws, nails, or hidden fasteners? While all function similarly, none of these options are interchangeable when it comes to building a deck. Different deck materials require different fastening methods and materials. For example, when installing wood decking, many choose screws as their preferred fastening method because of their strength and ease of installation. On the other hand, those installing composite decks often choose hidden fasteners for their seamless finish and long-lasting durability.
Nails vs. Hidden Fastener and Screws
First, let's learn why many deck-building professionals prefer hidden fasteners and screws:
Strength
While nails can lift over time and pose a safety hazard, screws provide excellent performance of board retention through their threads, keeping the attachment firmly in place. This helps keep the deck flat and smooth underfoot without hours of time spent pounding nails. For the same reason, hidden fasteners provide composite decks with superior holding power while remaining completely hidden. There are no unsightly screws or nails to see or trip over, which is great for anyone who's ever caught their toe in a nail.
Corrosion resistance
In addition to great holding power, screws won't corrode. Stainless steel deck screws are even coated with zinc epoxy for increased corrosion resistance. This durability factor will support a long-lasting deck, ensuring it can withstand high foot traffic and the elements. Meanwhile, hidden deck fasteners for composite decking boards not only resist the threat of corrosion, but because the decking surface is never punctured, they also reduce damaging water penetration.
Easy installation
In the past, many deck builders chose nails because they thought they could drive nails much faster than screwing them. In fact, the screws take about the same amount of time to install and have more holding power. Similarly, hidden fasteners also provide deck builders with quick, hassle-free installation. This is done by placing the serrated edge of the hidden fastener down into the groove of the board, then the clip edge bites into the board to provide a secure hold. Plus, when you're ready to install the next board, simply slide the board into the other side of the hidden fastener. This makes the process faster with perfectly spaced gaps.
Hidden Fastener vs. Screws
Deck screws and hidden fasteners are all popular choices when building a deck, and they both have niche applications. In the end, you, the judge, will have to make a choice based on your personal preferences. However, hidden fasteners are certainly a smart choice for composite decks and can give your deck that stunning look you'll love.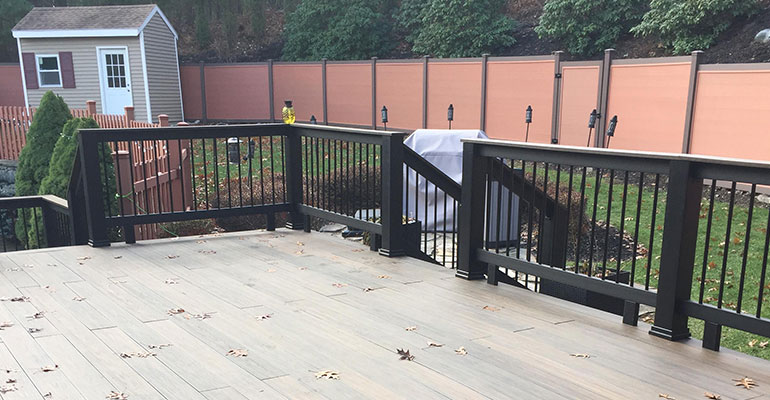 Pros of deck screws
Deck screws have been used for many years as the traditional fastening method for composite and wood decks. These old guys are an economical choice, and in most cases are available in a variety of colors to help match the screw heads with the deck surface. As for the repair, it's usually easy to remove the screws to replace damaged boards as needed, which tends to happen more during the lifetime of a natural wood floor. Also, in areas with extreme seasonal climates, it is best to install face screws, which usually provide better control over lateral movement caused by expansion and contraction.
Cons of deck screws
With deck screws, each screw is drilled through the top of the deck, so the screw heads will remain visible on the face of the board. Since two face screws are required for installation at the intersection of each joist with each board, many homeowners find this aesthetically not preferable. Additionally, using deck screws is very time-consuming, as installation not only requires drilling each screw into the board but also requires the installer to carefully monitor the consistency of the gap. Inconsistent gaps can result in an unsatisfactory appearance across the deck surface. Also, some composite decking may require pre-drilling before the screws are inserted, which can bring time and expense to the deck project.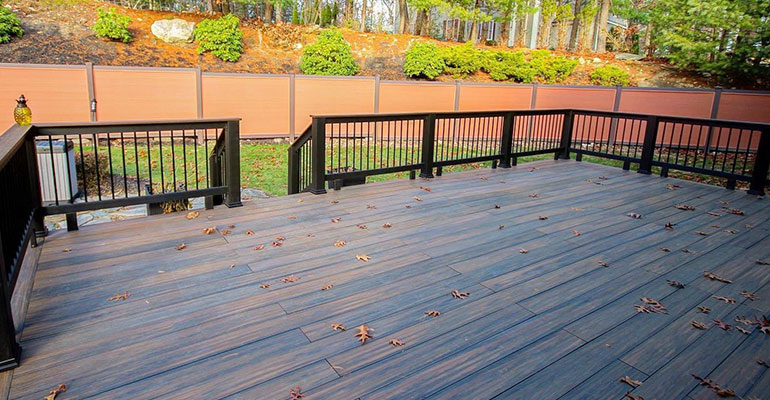 Pros of Hidden Fasteners
Hidden fasteners actually have many merits as a fastening option for composite decks. Let's look at three main reasons why hidden fasteners are a favorable alternative to traditional fastener systems:
Protection from the elements
Hidden deck fasteners have a key functional advantage over traditional face screw systems as they are less likely to suffer damage such as rain, ice, or pests. While deck screws may be able to withstand the elements, they can still degrade over time and can begin to allow water and ice to leak from between the decking boards, compromising structural integrity. Hidden fasteners secure the boards to the sides of the boards, keeping them safe and dry. A hidden fastener completely covers the joists below, helping to prevent water from pooling and seeping into the wood, providing additional protection from the elements and prolonging the life of the entire structure.
Easy installation
With EVODEK Decking's fastener system, you only need to install one screw instead of two. Also, using a plug system to hide screw heads is more tedious because you have to insert a color-matched plastic plug for each screw. During face fastening, good contractors also use a chalk line to make sure each screw head is perfectly straight for good aesthetics. With hidden fasteners, you don't need that.
Aesthetically pleasing
Not only are hidden fasteners functionally advantageous but also provide a better appearance. It can be difficult to get exposed deck screws to blend perfectly with the rest of the deck, even with a superb paint job. The best composite deck boards have realistic wood grain, and screws can ruin the appeal. Hidden fasteners work where they can't be seen for a consistent and elegant finish. Additionally, choosing hidden fasteners that completely cover the joists greatly improves the look of the deck, as the wood is completely hidden from view.
Conclusion
Both deck screws and hidden fasteners are contenders, and there are specific situations where they really make a difference. At the end of the day, it's really a split decision based on your personal preferences. However, when it comes to composite decking, hidden fasteners are always a good option to keep your decking looking stunning for years to come.
Post a Comment
We'll contact you within 24 hours. Check out the spam box in case that the mail is blocked.