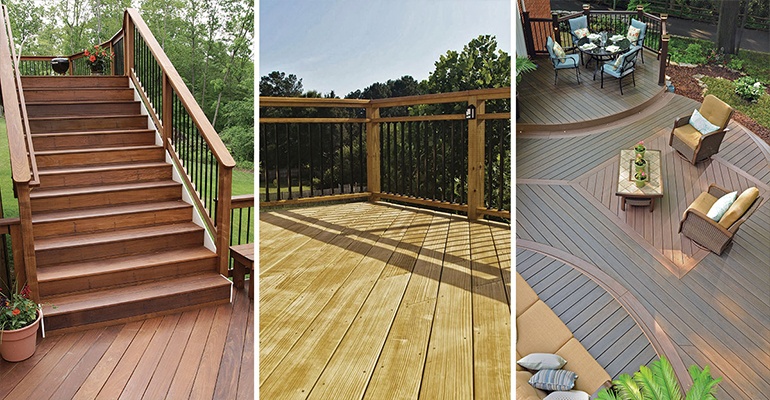 Deck Material Comparison: Wood-Plastic Composite, Wood, and PVC
When you are planning an outdoor deck, perhaps the most significant decision you'll have to face is which type of material to use for the deck build.
While most deck builders use pressure-treated lumber for the substructure (i.e., posts, beams, joists), decks can be built using a completely different material. The top three most common decking materials are the following: pressure-treated wood, wood composites (composite material made of wood fiber and plastic), or PVC.
Pressure-Treated Wood
| | |
| --- | --- |
| Pros | Cons |
| Cheap, sturdy | Splintery |
| Easy to acquire | Costly maintenance |
| Easy to install | Shorter service life |
As a classic and still the most common deck material, wood decking is usually softwood that is pressure-treated, such as hemlock, fir, or pine.
More premium types of wood decking include mahogany and exotic hardwoods, such as teak or ipe. These expensive lumbers are usually not pressure-treated, but rather, they must be finished to keep them from weathering to a gray color.
What are the pros of wood decking?
When you want to save money, don't want anything to be complicated, and plan to install the decking yourself, natural wood is your best choice. Standard wood decking is sold at local lumber yards and home improvement centers, while exotic woods must be ordered through a specialist lumber dealer. Solid wood decking also has a natural look and feel that other materials don't.
What are the cons of wood decking?
If you're not willing to regularly maintain your deck by scrubbing or power washing it and repainting it every two or three years, you should try to avoid natural wood decking. Also, be well aware of the cost of refinishing during the lifespan of wood decking. Long-term maintenance costs for wood decks should be factored into the initial cost of materials. Wood decking may also need to be replaced sooner than other decking materials because it is prone to rot and decay.
What is the cost of wood decking?
Pressure-treated lumber is easily the cheapest way to build a deck. Redwoods are comparable to wood composites, while exotic hardwoods can be much, much more expensive. Pressure-treated lumber is also the least expensive material to use for non-deck components such as stairs, guards, and railings.
Wood-Plastic Composite
| | |
| --- | --- |
| Pros | Cons |
| Environmentally friendly | High initial cost |
| Low maintenance | Smaller joist spacing |
| Hig-performance | |
Wood-plastic composite (WPC) is a mixture of high-density polyethylene and wood particles along with preservatives and additives. Wood composites are environmentally friendly because they are made from recycled wood fiber and plastic recycled from milk jugs and detergent bottles.
What are the pros of wood-plastic composite decking?
If what you need is a low-maintenance material, wood-plastic composite will be your best bet. Some composites can also resemble exotic woods, giving you the best of both worlds. If you have kids or like to go barefoot, composite wood will keep you from splintering. But the great thing about wood laminate flooring is that it's guaranteed not to rot or crack, and it doesn't require stain or other protective finishes.
What are the cons of wood-plastic composite decking?
WPC decking is more expensive initially than wood. Many composite products require joists to be spaced no more than 16 inches apart; if your joists are 24 inches apart, you will need to add more joists to your composite decking.
What is the cost of wood-plastic composite decking?
Wood composites are about twice as expensive as pressure-treated lumber, but not as expensive as, or even less expensive than exotic hardwoods.
PVC
| | |
| --- | --- |
| Pros | Cons |
| Lightweight | Most expensive |
| Never rots | Not environmentally friendly |
| | Special fasteners needed |
Also known as plastic or synthetic decking, this material is made of porous polyvinyl chloride (PVC). It is lightweight and some PVC decking is capped, which means a protective shell is added to the surface to make it more moisture-resistant.
What are the pros of PVC decking?
If you want a lightweight material, you may give PVC decking a try. Like wood composites, PVC decking will not rot and will never need polishing. Some homeowners prefer the look of PVC over other materials. It resists invading pests, mold, and fading. PVC looks high-end, and since it doesn't need to be repainted or stained, it's extremely low-maintenance. PVC decking is also manufactured using a foaming agent, which makes it lighter and easier to move when installed.
What are the cons of PVC decking?
Compared to natural wood and WPC decking, PVC decking looks the least like wood. In addition, it suffers from all the same disadvantages as wood decking. Finally, composite manufacturers typically use a higher percentage of recycled materials, whereas PVC is often made from virgin materials. If reducing your carbon footprint is important, research the recycled content statements of the manufacturers you're considering.
What is the cost of PVC decking?
PVC decking materials are typically 10% to 15% higher than wood composites.
Summary
| | | | |
| --- | --- | --- | --- |
| | WPC Material | Wood | PVC |
| Lifespan | 25 years or more | 15-25 years under decent maintenance | 30 years |
| Color Stability | Highly fade-resistant | Requires frequent painting | Fades easily |
| Termite Resistance | High | Becomes food for termites | High |
| Surface Hardness | Resistant to scratch | Prone to splintering and scuff | Gets scratched easily |
| Water-resistance | High | Relies on painting or oiling to resist moisture | High |
| Fire-resistance | Bfl-s1 fire rating | High risk of being lit | Highly inflammable |
| Eco-friendliness | Recyclable, made from recycled material | Contributes to deforestation | White pollution |
| Maintenance | Low-maintenance | Requires frequent, costly maintenance | Low-maintenance |
| Affordability | Cost-effective in the long run | Ends up costing more after several years | Very expensive |
| Weather-adaptability | Highly resistant to elements and weathering | Naturally prone to humidity and heat | Deformed easily due to heat |
| Safety | Non-toxic, 100% safe | Carries harmful paint | Fire-hazardous |
Post a Comment
We'll contact you within 24 hours. Check out the spam box in case that the mail is blocked.