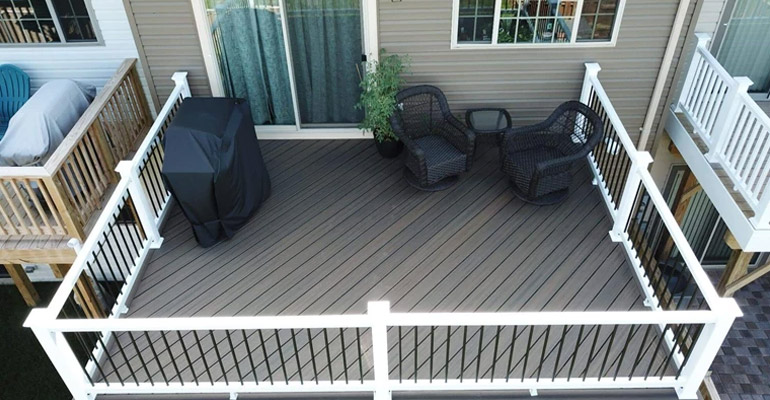 Design Ideas for Outdoor Gray Composite Decking
An outdoor deck is a great idea when you want to build an outdoor recreational space. But when you are planning to build an outdoor deck, you need to consider more than just the materials and cost. An aesthetically pleasing outdoor deck can provide you with better enjoyment, so the color and design of your outdoor deck are also important. Your house will look better if your deck has the right color and style. When it comes to choosing a color for composite decking, gray is one of the most popular choices. Gray composite decking boards come in a wide range of colors, from light gray to dark charcoal and everything in between. Composite decking has grooves and textures that look very much like natural wood grain, while also giving you more color options.
Composite decking in gray can give your exterior space a clean, modern look. EVODEK composite decking boards give you many different options. From smoky gray and space gray, which are light gray composite decking, to lime gray, which is dark gray composite decking. At EVODEK, no matter what your design needs are, you can find the right composite wood decking color.
Design ideas for Composite Decking in Grey
Gray tones range from warm "grays" with tan and gray tones to cooler grays with blue undertones. In fact, when planning a deck for the outside that suits your style. There are many exciting composite wood decking color options to consider. It is more important for homeowners to choose the right composite decking. Because of this, we have given you many design ideas. These grey composite deck board designs will help you to get the right outdoor composite decking.
Choose the right shade of gray for your composite decking. It can help you make your backyard feel like an extension of your home and give you a place to hang out outside. Find out how to put together different colors, materials, lighting, and railings. Make a look that is unique and fits your own style. If you've thought long and hard about your dream deck, or are looking for ideas on how to make the perfect deck, read on. See below for design ideas for gray composite wood decking.
Elegant dining room with gray and white walls
Installing soft gray composite decking diagonally under a bright white pergola can be a nice dining place. The black table and chairs with white trim look classy and give guests plenty of places to sit.
Gray decorative panels with bright dots
For a clean, monochromatic look, composite decking boards in light gray can be the exact same color as the banister. In this case, the gray siding and shingles on the house complement the deck and railings. Turquoise blue pillows, bright yellow flowers, and a bright yellow dining table arrangement add welcome color.
Lighting and vibrant colors built-in
On this multi-level deck, white is used as an accent color to draw attention to the staircase leading to the deck. In the evening, this path is illuminated by LED lights built into the deck. The lights on the staircase match the lights on the ceiling of this covered deck.
A simple design to frame a beautiful view
When you have a nice view, you want your outdoor deck to add to it, not take away from it. The dark posts and trim on the glass railing complement the simple pattern of the pebble-lime composite decking. When put together, these design elements create a lush landscape. It's a great place to enjoy the deck and surrounding countryside.
Traditional and comfortable
Don't let the cool tones of a gray deck fool you. It can make an outdoor space look charming and cozy. The warm brickwork of this home makes the light gray deck stand out. Complete the look with dark gray posts.
Gray and tan deck look
You can opt for gray composite decking boards that look a little worn. it can add cool tones to your outdoor decor in a tasteful way. Some of the cooler tones in the rattan chairs and matching wicker planters are brought out by the gray composite decking. The gray and white stripes on the cushions match the gray of the composite decking, making the whole thing look even neater. Since the railings are made of glass and dark metal, this patio has a modern, mixed-media look.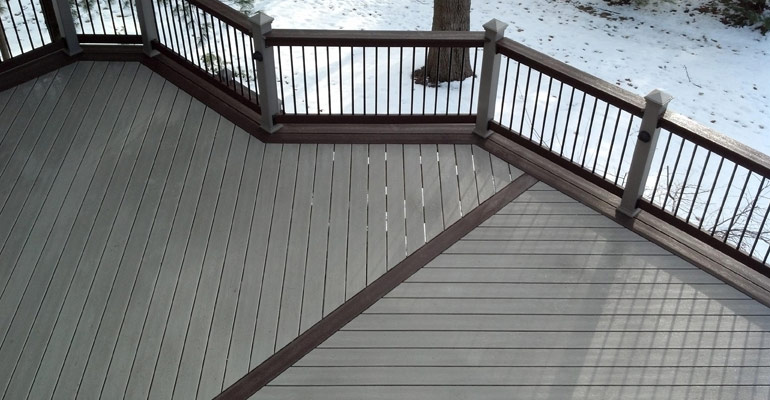 The gray flooring looks great with the cooler shades of brown tones
Once again, the gray laminate flooring shows its versatility. Thanks to the gray and soft brown tones, this enclosed outdoor space has a rustic-meets-modern feel. A cool brown stone fireplace with light brown tones complements the gray finish. Combining two different color families looks great together. Even if you mix neutral colors that look different, like gray and brown. They also work well together if you choose a cooler shade of the base color.
Gray decorative panels make the natural world around you stand out
Light gray accent panels look great against the cream-colored railings and frame of this screened-in porch. Colorful pillows on dark Adirondack chairs create a simple yet striking contrast. Spanish moss and natural plants look great with the brass wall sconces and large plants in cream planters.
Set up a large living and dining area outside
Light gray composite wood decking allows the space to feel more open and airy. The charcoal patio furniture stands out against the dark gray metal rod railings surrounding it. The room feels light and airy because of the bright white pillows and colorful plants. Create rectangular planters and flower boxes from the same gray composite decking and fill them with bright flowers for a finished look.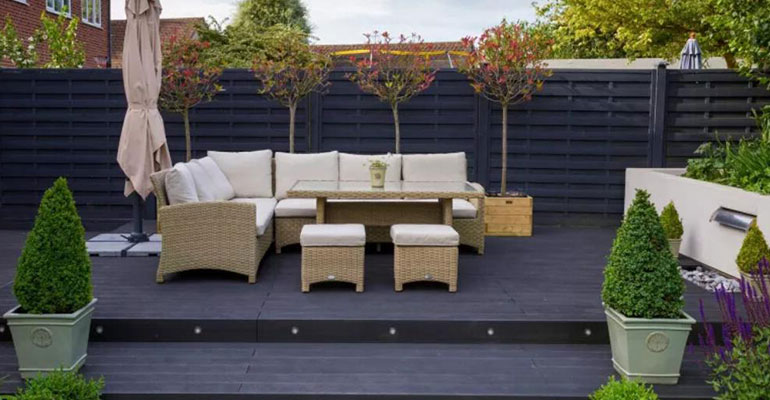 Create a beachy feel
When used to make an open deck, an ethereal gray outdoor deck can make you feel like you're in a coastal town. You can use natural parts of your home, such as built-in pillars, to set up different dining and lounge areas. Or, make a border by putting a wooden rocking chair in the area.
Built-in seating on the floor makes your deck larger.
You can make the most of your deck space with multi-level decks that have some interesting features, such as built-in sunken seating. Add some colorful, comfortable throw pillows to the steep steps to make more seating. With a fire pit, this is the "perfect" spot for a campfire chat on your deck.
Cabin-style indoor-outdoor decks
The poolside indoor-outdoor deck has gray lodge-style indoor-outdoor decks that may look a little worn. It gives the impression of driftwood and does not require any maintenance to improve. This bright cottage-style deck has glass railings that give a great view of the pool. At the same time, they divide the dining area, making it easier to enjoy the outdoors.
Small room, big style
Because the light gray deck is laid out in simple parallel lines and surrounded by clear glass railings. And the small, slightly raised deck gives the impression that the space is larger than it is. A comfortable seating area is made with dark gray statement chairs and a matching wicker table. Large floor lamps and plants bring color, character, and light to the room.
Light it up
The two-toned gray lodge-style interior and exterior decks combine lighter and darker grays to make a simple but striking deck-style deck. Using different shades of gray with cooler tones creates a unified look where all of the style elements work well together. Thus, the medium gray pergola roof and bright white columns pick up the light and dark colors of the gray composite flooring. By putting fairy lights on the top of the pergola and LED lights on the high steps of the deck. You can make this outdoor oasis feel like a place from another world.
Post a Comment
We'll contact you within 24 hours. Check out the spam box in case that the mail is blocked.