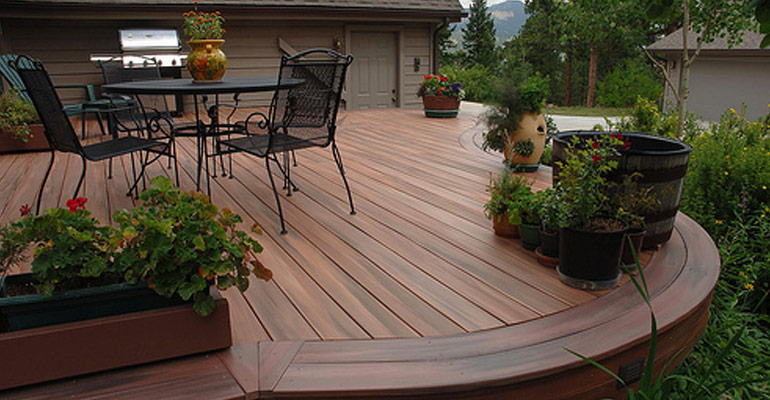 Do you leave gaps between composite decking boards?
If you see decks in your daily life often enough, you may have noticed that there are usually gaps between individual decking boards. I've had many people ask me if they can install composite decking boards without gaps reserved in between. The short answer is always that you should leave gaps between decking boards and never hold them too tightly against each other. Why is that? Does this tiny thing really matter? Let's find out.
Why Should You Leave Gaps Between Decking Boards?
Drainage. Gaps between composite decking boards encourage water runoff. Decks are built on a substructure that should provide "paths" for water to flow away. If we build a deck without gaps, the water will be stuck on the decking surface and the pooling water will gradually cause some harm to the decking boards.
Expansion and contraction. Gaps between decking boards provide the space necessary for decking boards to expand and contract. Almost every object on the earth undergoes thermal expansion and contraction, which is a natural phenomenon. When it's cooled, it contracts; when it's heated, it expands. If a deck is built without gaps, the boards will crash into each other. In areas where violent temperature swings are expected, this effect will become more prominent. That's what makes it necessary to leave gaps between decking boards.
Safety. As mentioned above, pooling water on decking surfaces may result if there are no gaps reserved between decking boards. Pooling water not only damages your decking but also incurs some safety risks. The decking surface would become slippery if covered with water.
The last reason that you shouldn't build your deck without gaps is for ventilation. Without gaps, vapor that rises from the ground will be stagnant underneath the decking boards. What will happen next is that the accumulated moisture gradually damages the decking.
How Wide of a Gap Should be Reserved?
How wide a gap is should depend on the climate and length of your boards. The longer the boards are, the more they will expand. Likewise, if you build your deck in an area with large temperature swings, you should make the gaps between the boards wider. Deck-building specialists usually suggest that the gaps reserved between decking boards be between 1/4-1/2''(6-13 mm). One thing that you also should know is that darker boards absorb more heat, thus expanding more when heated. You may want to choose deck boards of lighter colors if you want something extra to counter the effect of thermal expansion.
In summary, gaps between decking boards are essential for decks. How wide the gaps should depend on the climate and board length. The common gap between two abutting decking boards is 1/4-1/2'(6-13 mm).
Post a Comment
We'll contact you within 24 hours. Check out the spam box in case that the mail is blocked.