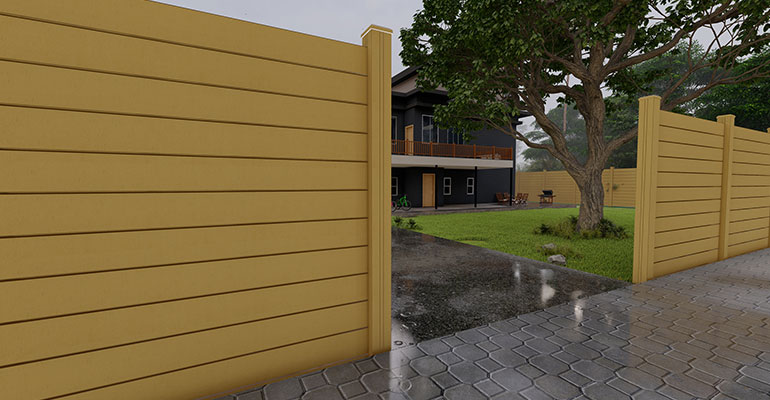 Does a composite fence add value to a house?
A composite fence as a decorative accessory for composite decking will not only improve the aesthetics and security of your home but also increase the value of your home.
Of course, in addition to composite fencing, you can also use fencing in different materials on your deck. For example, metal fencing, wooden picket fence, or even glass fencing. Amongst these fences, composite fencing stands out for its unique features. Generally speaking, composite decking can increase the value of your home. So, will a composite fence also increase the value of your home?
Will a composite fence increases the value of your home?
I can answer you in the affirmative, yes. Building a new fence in your yard with composite decking will increase the value of your home. Firstly, composite material is a high-tech and environmentally friendly material that can be manually customised in different colours and finishes to add different design styles to your home. Secondly, composite materials are more popular because they are water, moisture, mould, insect and long-lasting.
Therefore, if you choose a composite fence. Not only can it better match the style of your house and make your house more beautiful, but it can also save you the trouble of frequent maintenance and bring you more enjoyment.
When you sell your home, composite decking and composite fencing will increase the resale value of your home. Compared to traditional wooden decks and wood fences, composite materials can last for decades without the need for maintenance. Homebuyers will be more likely to buy a home with a composite fence because they know the many benefits of composite materials.
Benefits of composite fencing materials
Aesthetics
Compared to other fencing materials, composite fencing is much more selective. Composite manufacturers can tailor the composite fence specifically to your design ideas. Such a composite fence will not only fulfil your design ideas but will also give your house a distinctive look. If you use composite materials to build a fence in your home, it will enhance the appearance of your property.
Durability
Composite fencing will not suffer from moisture or rot, so it is not as susceptible to damage as timber fencing. Composite fencing material will also not rust like metal. This is one reason why composite fencing can add value to your home.
When it comes to longevity, composite fences have an advantage over other fencing materials. Composite materials made from a mixture of wood fibre and recyclable plastic can last up to 30 years or more. A more durable fencing material offers greater value and is more in keeping with what people want. As a result, more and more people are building composite fences in their gardens.
Good environmental adaptability
Composite fences have good environmental adaptability, it is not affected by cold or heat and can effectively withstand the various effects of nature. In rain and snow, composite materials do not suffer from moisture as wood does. Moreover, the composite material will not deform or crack due to weather factors. It is a sturdy composite fences material that resists the elements and will enhance the value of your property.
Easy to maintain
Traditional wooden decking and fencing require regular maintenance such as sanding, staining and sealing. Not only does this take extra time for you, but it also entails subsequent costs.
With regard to maintenance, composite fences can take care of your worries. Due to the nature of the material, composite materials do not need to be sanded, stained or sealed as often as wooden fences. If there is dirt on the fence, you can wash it with soapy water and keep the composite fences looking beautiful for years to come.
The ease of maintenance of composite fence materials will help save on maintenance costs and give you more time to enjoy your outdoor life. This is the reason why composite fencing is so widely used.
Conclusion
Can composite fencing add value to a home? Yes, it can. From the above analysis, we know that most composite fences can increase the value of a home more than a wooden fence and other fencing materials. Moreover, composite fencing can also provide more convenience to people to enjoy it better.
Post a Comment
We'll contact you within 24 hours. Check out the spam box in case that the mail is blocked.