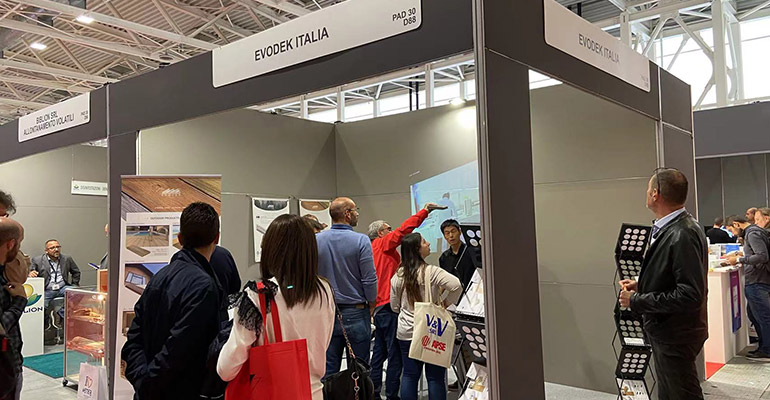 EVODEK was invited to Bologna International Building Materials Exhibition in Italy
Bologna International Building Materials Exhibition (SAIE), world-renowned building materials and interior decoration exhibition, is one of the three prestigious international building fairs in Europe, which has been established for 57 years. Every year, SAIE Bologna attracts nearly 200,000 professionals from Europe and internationally.
SAIE 2022 is designed to meet the needs of companies and to be a gas pedal of market and community development. The show offers a comprehensive view of production in the construction industry through four thematic exhibitions, venues of excellence, and special initiatives dedicated to the hottest issues in the sector. Experience and historical references in promoting the direct and profitable interconnection of construction professionals, providing business opportunities for all those involved in building design, construction, management, and maintenance.
EVODEK was invited to the show to demonstrate in detail the outstanding performance and benefits of WPC products. Let more people understand why WPC products are the best alternative to traditional building materials. At the same time, EVODEK also discovered a large number of potential customers on the basis of consolidating existing relationships and laying the foundation for developing new markets.
EVODEK® Wood Plastic Composite (WPC) is made from FSC-certified 100% recycled HDPE, wood flour, and a number of additives to optimize performance, such as UV and anti-aging agents. Using our patented extrusion technology, we perfectly encapsulate the wood flour pellets with HDPE, giving it the appearance of wood while retaining the rich color of HDPE. After years of research into non-coextruded WPC production technology, we have successfully brought 3D wood grain and artistic colors to floor and wall panels.
EVODEK® WPC products have excellent properties such as high strength, high hardness, acid resistance, corrosion resistance, no deformation, no formaldehyde, easy recycling, etc. They can be made into various shapes and hold the natural characteristics of solid wood. At the same time, our wood-plastic composites are also good at overcoming these disadvantages of wood, such as cracking, insect infestation, and weak durability. In addition, the excellent performance of wood-plastic materials makes it unnecessary to paint or maintain.
We focus on customer service, and our business philosophy is to focus on customer needs, to be infinitely closer to consumer needs, and to make every effort to improve customer delight. Our guiding principles of customer service are: serving customers before pursuing profits, communicating with customers in a fair and sincere manner, and achieving the ultimate goal of win-win cooperation with customers.
Post a Comment
We'll contact you within 24 hours. Check out the spam box in case that the mail is blocked.