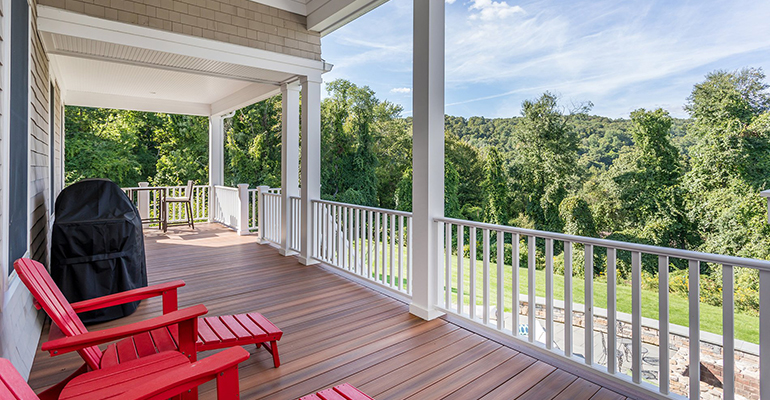 Front Porch Composite Decking: A Complete Guide
A front porch can be a great addition to a home, allowing you to enjoy your outdoor life in the fresh air. While its purpose is similar to that of a deck, you may be wondering what the architectural difference is between a porch and a deck. Generally speaking, building a porch can be a more involved process than other outdoor projects.
Front porch deck projects, well, sometimes are more difficult to build than decks. It takes more effort and needs to be durable and safe. However, a front porch project is a beautiful project that can make the entrance to your home more welcoming and inviting. In this article, you'll learn what you need to know to start your front porch project!
Key Considerations Prior to Installation
Front porch decks need to support 80 pounds per square foot, while decks need to support 55 pounds per square foot. An extra 25 pounds is needed to support your home's roof and the snow it can collect on snowy days. Also, the front porch needs a roof, so your porch floor has to support more weight. Porches with gabled porch roofs often require foundations. The foundation is large in size and needs to be positioned so that the support columns can transfer the roof load directly to the solid foundation through sound framing.
The reason front porches need to be more durable is that they generally have to support more weight. They need to support not only the weight of a person but also the weight of the porch roof. This extra weight can make it difficult for a wood porch deck to be as strong as a regular deck.
Adding a roof over a porch is a complex project. Usually, there will be a roof over the porch since it is already part of the house. However, building a roof over your porch can be complicated if you're adding or expanding a porch to your house and your home doesn't have enough of an existing overhang for a porch roof. While standing on a ladder at a height, you will be carrying heavy loads. You will need several helpers for the project, as it will definitely take more skill and physical effort than building a typical patio project.
But don't let that stop you from making the porch your next home project. If you decide that a front porch will add value and enjoyment to your home, knowing the steps involved make you more prepared. Let's get started.
Location Assessment
Adding a front porch to your home can give you extra outdoor living space, and it will also cut off the light in your home. If you want the sunshine to come in, consider its location before choosing to build a porch, since a porch will reduce sun flooding.
Take Your House's Architecture Into Consideration
A Victorian home would need a very different porch than a 1920s bungalow. If you live in a historic home or historic district, you should definitely visit your urban development and planning office to see if there are any regulations that you need to follow. Older homes may have restrictions on the types of materials that can be used.
Even modern communities with newer homes can have certain restrictions, so check with professionals before you start building. You may need a permit to build your porch as well. Getting all approvals beforehand is one of the biggest steps towards building a porch.
Railing and Porch Stair Planning
Before you start building, you'll need to assess the home's existing look, style, structure, and materials. Make sure everything matches. Some porches are a simple wooden raised porch with plain railings and a roof, like you'd see on a farmhouse. Other porches have been turned into railings. It all depends on the look of your home.
Once you know what porch style is right for your home, it's worth exploring your options with a knowledgeable friend or seek the help of a local home improvement store to come up with the right porch design plan.
Choose Your Porch Construction Material
Now that you have a rough design for your porch, you know how big it will be. You'll also know if you'll be building it entirely with wood, laminate floors, or if your design will feature stone floors or even tile or brick. When you put building materials together, you also need base materials.
Build the Porch Foundation
When building a porch foundation, evaluate your terrain, porch size, and the climate in which you live. The larger your porch, the more foundation your foundation will need to support. If you live in a snowy climate, the foundation needs to be below the frost line for stability so your porch can hold the snow without bowing. Research frost line depths in ZIP codes for specific measurements. Before you start laying the foundation, you may want to call your local utility company to find out if there are any cables buried under your future porch.
Install ledger boards on your house for support. Then, dig holes for the foundation with an auger or post excavator. If you live in a cold area, you may need to dig down four feet to prevent frost heave. You will need foundation pipes, cement, rebar, columns and column anchors. Put the foundation tube into the hole, pour cement, and fix it with steel bars. Next, you'll anchor the columns to the foundation. Your porch frame will be attached to these posts.
Joist Installation
Joists sit on top of foundation beams and support your front porch floor. You'll need to place them evenly apart to support the weight of the porch. The joist spacing depends on the size of the porch, as well as the decking manufacturer's recommendations for allowable joist spacing. Fix them to the frame with galvanized screws and check if they are level. When you're sure they're aligned, attach the joist fasteners to hold them in position.
Install the Railing Posts
Mark with a pencil where the railing posts will go around the edge of the porch. Before you install the decking (in the next step), you'll need to notch some of the posts to make sure they fit the railing. With the railing posts held in place, you can now measure and fit the decking in place without leaving any gaps between the porch decking and the posts.
Install the Porch Decking
Install decking boards so that there is a small gap between each board. There will be a slight overhang at the edges of the decking boards. Later, you may want to sand your new front porch and clean it of any debris in preparation for painting or staining it (if that's part of your plans).
Finishing
Once you've finished building your new front porch, you'll want to sand the railings and floors, choose a paint or stain to tie your look together, and if you've chosen wood decking, polish the look. Proper finishing will help keep your porch looking fresh for years to come. If you choose a vinyl, plastic, or laminate flooring material, no painting or staining is needed.
Post a Comment
We'll contact you within 24 hours. Check out the spam box in case that the mail is blocked.