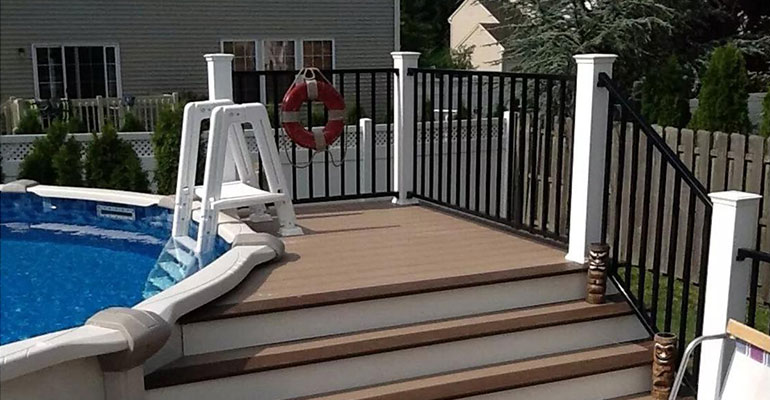 How Do I Select the Best Outdoor Deck Railing?
Outdoor deck railing performs a vital purpose. They not only improve the overall aesthetic appeal of your outdoor decking. But they also improve the functionality of your outdoor space. You may believe that selecting the correct deck railing is challenging. Choosing the correct composite deck railing, on the other hand, is a piece of cake. This is due to the fact that composite deck railings are available in a number of colors and styles. Whatever style of house you have, you can locate the ideal composite deck railing to match it.
If your outdoor deck is raised, or if you have stairs leading to another deck or lawn. Then it is critical that you construct a suitable outdoor deck railing. This is done to improve your family's security. If you have children in your home, you must choose a railing with a pleasant grip and hence a high level of safety. Consider the size of a child's hand when selecting a composite deck railing.
What to think about when purchasing a deck railing
Before placing it as an essential feature of the outdoor living space, we should carefully examine a number of issues. Avoid facing other issues that may disrupt your life after installation.
Safety specifications
Before putting up an outdoor deck railing. We must first learn the code standards for deck railing height. Please speak with the appropriate local authorities before the start of the project to avoid any unneeded complications later on.
Materials
The most prevalent and least expensive type of wood is pressure-treated wood. However, its use necessitates a significant amount of maintenance. Above all, which might enhance your maintenance expenditures. It also necessitates a significant amount of your time.
Deck railing prices
The cost of composite, aluminum, or extruded fiberglass with a lid will be higher. They are, nevertheless, long-lasting and require little upkeep. Allows you to enjoy it for a longer period of time after the installation is completed.
Color
Natural wood comes in a variety of colors, but it does not complement all types of outdoor architecture. Composites in a variety of hues can be tailored to any kind of outdoor design. You can even have a composite maker tailor it to your exact design style.
How do I pick the best deck railing?
As one of the most crucial elements of your outdoor deck. Outdoor deck railings can improve safety while also boosting the appearance of your outdoor living space. As a result, selecting the proper outdoor deck railing is critical.
Selecting high-quality railing materials
When selecting deck railing, keep in mind that you'll have more time to enjoy the outdoors later on. We should utilize high-performance, low-maintenance materials so that we may spend less time on maintenance. Although basic wood deck railing is a timeless and low-cost alternative.
However, wood railings must be stained and varnished on a regular basis. If not properly maintained, the wood railing is also prone to mold and rot. Aluminum and composite deck railings are both easy to use and require little to no maintenance, making them ideal for long-term use.
Style matching
A deck railing that complements the style of your outside design will improve the appearance of your property. Choosing railing colors and types can be enjoyable, but with so many options available, you may become overwhelmed. To make the procedure easier, we can utilize the following ways to select the appropriate deck color.
Coordinate-Selecting a railing that is the same color as the outdoor deck. Gray composite decking, for example, has gray railings. This results in a relaxed, well-coordinated appearance.
Contrast-If you're willing to branch out, consider employing a railing in a contrasting hue. Brown composite decking with white balusters is an example. Contrasting colors are also a timeless and fashionable option that can be used in practically any outdoor location.
Additional features
Deck railings can use for more than just safety. "Cocktail railings" provide numerous benefits for those who enjoy entertaining outside. The deck is used as a top rail in this design to provide a flat surface ledge at just the appropriate height for holding beverages and dishes. The area is fully used while obtaining a style that precisely compliments the deck by employing rails that match the deck.
System of deck railing lighting
Installing outdoor lighting on the railing posts and canopies will enhance the elegance of the railing and allow you to spend more time on the deck. Bright lighting not only sets the mood but also provides a sense of security.
Post a Comment
We'll contact you within 24 hours. Check out the spam box in case that the mail is blocked.