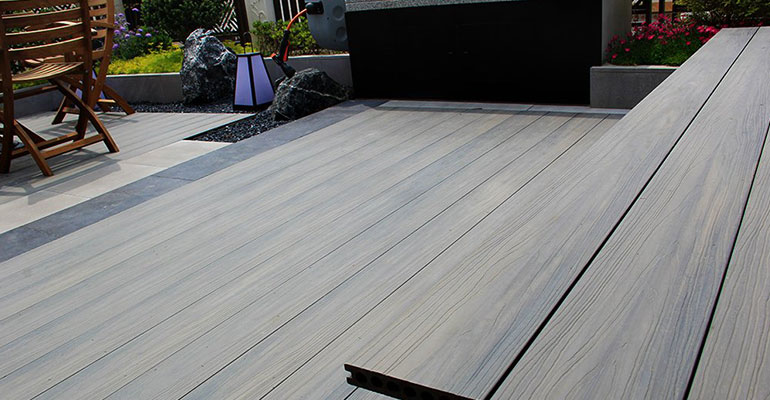 How do you install composite deck flooring with clips?
Outdoor composite deck flooring, as we all know, is an increasingly popular building material that is widely used in a variety of construction situations. Such as private home courtyards, garden decking, backyard decks, official buildings, scenic spots, and so on. EVODEK composite wood decking has a 25-30 year service life and is of high quality. It is the preferred material for many mid-to-high-end villa projects.
Professional composite deck board installation, on the other hand, is critical for the long-term outdoor use of composite decking. A high-quality composite deck flooring with simple deck ideas for your lovely home. That can use for an extended period of time and will undoubtedly add luster to your home.
Then let us take a look at the professional installation process.
Get the installation tools ready
EVODEK decking is easy to install and is a great choice for do-it-yourself composite decking. Some tools are needed before designing the deck. For example, rubber hammers, drills, and other standard carpentry tools are sufficient. If you don't have these tools at home, you can buy them at a nearby hardware store.
Although EVODEK's composite decks are easy to install. But if you are not interested in a DIY installation by yourself or want to finish your outdoor decking project quickly. Then, you'd better contact a local contractor to do the composite decking installation work.
Prepare to install outdoor decking accessories
EVODEK offers outdoor composite decking as well as a full range of accessories. Joists, starting clips, composite decking clips, screws, colored screws, expansion screws, and other similar items. EVODEK can offer one-stop procurement to ensure that your installation runs smoothly.
Install the joists
At the start of the outdoor composite deck construction. We'll need to figure out the installation infrastructure and how you'll lay out the composite decking. You must measure your site in order to obtain the necessary number of composite deck boards and arrange the frame borders.
Take measurements of the installation site's length and width. Make a script to guide you through the process of laying out the composite deck boards one by one. Another option is to construct a frame with beams. This step is entirely up to you. You can also directly layout composite decorative panels.
When installing joists, keep the joists' center spacing in mind. 300-350mm is the recommended span. To secure the joists to the hardened ground, use expansion screws. The expansion screws are spaced 0.5m apart.
Install composite wood decking
Install the first decking board along one side of the joist. First, use the EVODEK starting piece to secure one side with composite decking clips. And then secure the other side of the composite deck flooring with the start clip.
Then install the second supporting board, and the second supporting board and the first supporting board share a clip for fixing. Next, follow the same steps to install the other composite decks.
It should be noted that at the end joints of the two boards, a certain amount of expansion joints should be reserved. As we all know, any product used outside will expand and contract as the temperature changes, even if it is made of relatively stable metal. It is necessary to reserve expansion joints in order to keep the composite decking's expansion and contraction within a reasonable range.
In terms of the size of the expansion joint. Please consult your professional sales consultant or follow the professional installation instructions provided by EVODEK.
Install the composite decking edge trim
EVODEK offers a variety of corner guards, with the L corner being the most commonly used for edge banding. It can cover the floor's edge as well as the joists. Ensure the project's integrity and unity.
It should be noted that when installing the corner protector. It is necessary to pre-drill the hole before screwing it in place. Pre-drilling can protect the plate from damage and prevent it from cracking due to direct external force loss.
EVODEK has been in the wood-plastic industry for 21 years and is an expert in the field. Serving customers comes before making a profit. Remove concerns for many engineering customers, composite decking sealers, and distributor customers, and grow steadily with them.
At the same time, we completed a number of outdoor decking projects for customers and received positive feedback. It is unquestionably affordable composite decking of high quality.
Post a Comment
We'll contact you within 24 hours. Check out the spam box in case that the mail is blocked.