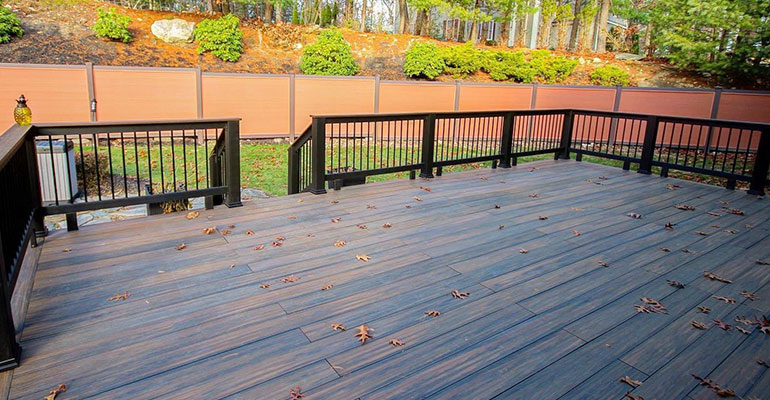 How do you install composite decking?
As a replacement of wood, WPC decking is more and more widely used in the world market due to its good performance, waterproof, anti-UV, no crack, no rot, no painting or maintenance. More and more clients choose WPC decking when building the house, for deck board, balcony, terrace, swimming pool, seaside, walkways, etc. Then, do you know how to install composite decking?
EVODEK composite decking is ideal for home improvement DIY as it can be easily installed with standard woodworking tools including rubber hammers, power saws and drills, level, and tape measures, etc. It's ok to hire woodworkers for installation, or professional builders. Of course, if you like, you can also install composite wood decking by yourself.
I will introduce how to install composite deck boards
Firstly, it needs to make sure the ground is flat and hard, such as concrete floor is a good choice. A proper slope for drainage, e.g., 2-5 degrees, is compulsory to keep a dry condition under the deck. Pls note that the composite decking can't be installed on a solid surface directly, it will affect ventilation, drainage, contraction, and expansion.
Secondly, install the joist onto the ground with a suitable spacing. For the spacing data, you can refer to the installation instruction by EVODEK. And for the joist materials, there are many choices, like natural lumber or pressure-treated lumber. EVODEK composite or metal joists are recommended are preferred as they are designed specifically for EVODEK decking.
Thirdly, install the starting clip onto the joist, this is for fixing the first piece of decking board. The starting clip is only used at the beginning, also it's okay to use screws to fix the first piece.
Fourthly, lay the first piece of decking board on the structure with the starting clip. Then put the hidden fastener on the joist as this photo showed. This helps to fix the decking onto the joist, and no need to screw on the decking directly. It's okay to use screws to fix the hidden fasteners onto the joist, it can fix the decking tightly in this way. Then, install the rest piece one by one like that.
Fifthly, at the decking joint, it needs to leave the expansion gap. as temperatures fluctuate, composite deck boards will naturally experience thermal expansion and contraction. That's why the deck board ends should never be installed tight against one another. There should always be a slight gap. How much of a gap? That will depend upon air temperature at the time of installation. It is very important to follow the manufacturer's instructions when installing the composite decking material.
Lastly, the end piece or edge can be covered by an L corner or fascia board. A perfect deck will be ready like this.
Contact us
No matter you are a personal user or a building or wholesaler, you won't need to worry about everything about the installation. EVODEK can supply the one-stop service for the clients, we can supply the full accessories to installing composite deck boards, such as clips, joist, screws, cover edge, etc. What's more, we will supply detailed installation instructions and videos for each client. And for some long-term partners, we can also supply professional installation train.
If you are interested in WPC decking and want to know more about the installation guide, welcome to visit to download the installation video. Also, you can inquire about us directly.
Post a Comment
We'll contact you within 24 hours. Check out the spam box in case that the mail is blocked.