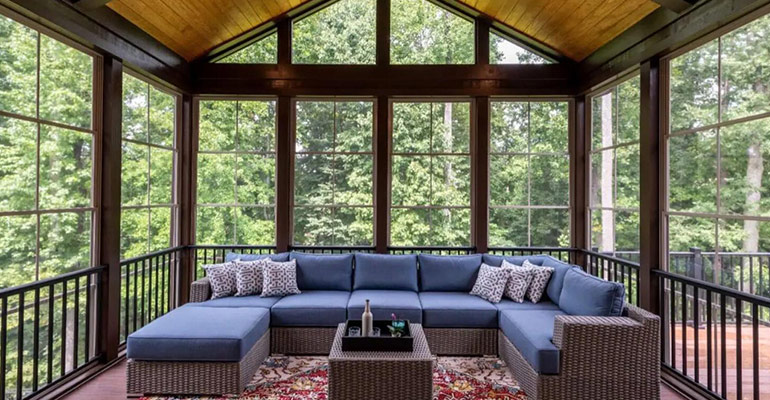 How much does it cost to enclose a deck?
When you are on your outdoor deck gathering with friends, windy or rainy weather prevents you from enjoying the outdoors to the fullest. Are you annoyed by this? And is there a way to avoid this? The answer is yes, we can enclose the outdoor deck. If you enclose your deck, then you can use it as a safe place no matter what the weather is like. Next, let's take a look at what it might cost to enclose a deck.
How Much Does It Cost to Enclose a Deck?
Enclosing a deck can cost anywhere from $600 to $3,500, with the average cost being roughly $1,200. Of course, the cost of the project depends on the size of the project, the materials used, and whether or not a professional was hired.
Is the cost worth it? If you have a porch with screens, you can ignore nuisance bugs. With the screens closed, you can also use the deck in the winter. Of course, to keep the cold air out, you'll need to install windows around the deck, insulate it, and then heat the deck.
Depending on the difficulty of the job, you may just need to wrap some sturdy screens around some support poles. On the other hand, adding windows and a roof can make enclosing the deck much more expensive. You can build a simple screened-in porch or a sunroom with heating and cooling. There are many different types of enclosed deck projects to choose from.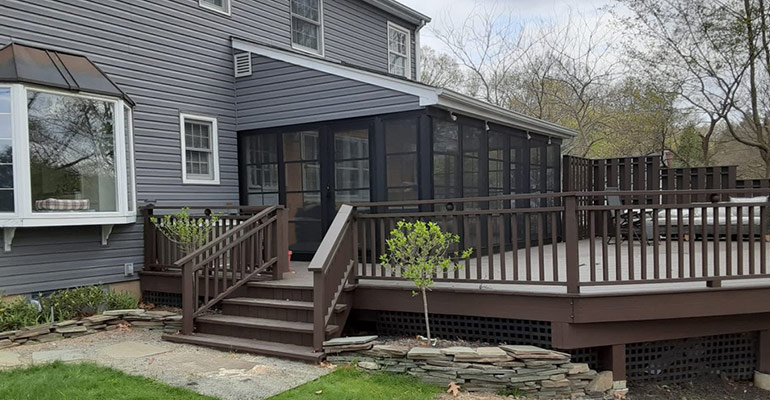 Factors Affecting the Cost of Enclosed Decks
Even with the same size deck, the cost to enclose it varies. There are many factors that affect the cost of enclosing a deck, so let's find out what those factors are below.
Type of Deck
The type of outdoor room you want has a lot to do with the cost of enclosing your deck. Making a deck into a sunroom with windows, utilities, and a solid roof is going to be much more expensive than a screened-in porch with just a few posts and an awning on either side.
If you want to use it in the winter, you'll also need to add some insulation and warmth, which will also add to the cost of the project.
Size
The cost of an enclosed deck depends simultaneously on how big the deck is. You can only get a better estimate of the cost once you know the exact size of the deck, the materials required, and the quantity. The same type of enclosed deck is built using the same materials. Undoubtedly, the larger the size of the deck, the more expensive it will be to enclose it.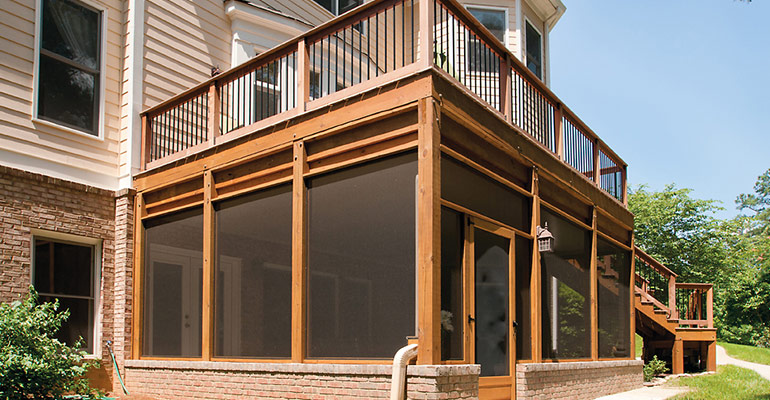 Existing Structure
What kind of structure do you want to build around your deck? Sometimes, outdoor decks are separated from the house on three or four sides and only touch the ground. You'll want to find a way to connect the deck to the main part of the house. What changes you can make to it will also depend on whether it already has a roof.
Buildings you already own may also change the type of license you need. If you excavate your home or add a structure to it in order to build a deck or patio, you may have to pay a permit fee. This depends on the building codes and regulations in your area, so find out the specific prices in your area.
Materials
Depending on the type of materials used, project costs may increase or decrease. A simple screened-in porch made from wood poles can enclose a porch. The cost of this type of enclosed deck is very low.
On the other hand, a room that can be used in any season may require a roof, double-paned windows, and soundproofing. With the addition of a heater or window air conditioner, the price of an enclosed deck can rise quickly. Still, an outdoor space that can be used year-round is worth the cost.
Construction Costs
If you do the work yourself or with a friend, it will be much cheaper. You only need to purchase the items you need, and then you can complete the project at your own pace with family or friends. You will need different tools and skills to complete the project in different amounts of time.
Hiring experienced workers will increase your costs. The cost of hiring will vary from area to area. The good news is that skilled and professional workers can complete the job in less time.
Some Extra Features
What do you want to do with your enclosed deck? Are you planning to use it all year round to gather with family and friends? Or do you just want to keep the kids away from bugs?
If you want to use your outdoor kitchen, lighters, or strings of lights, adding a cord or two will help. To keep temperatures and energy costs down, you'll need an insulated porch. As you add more things, the cost increases.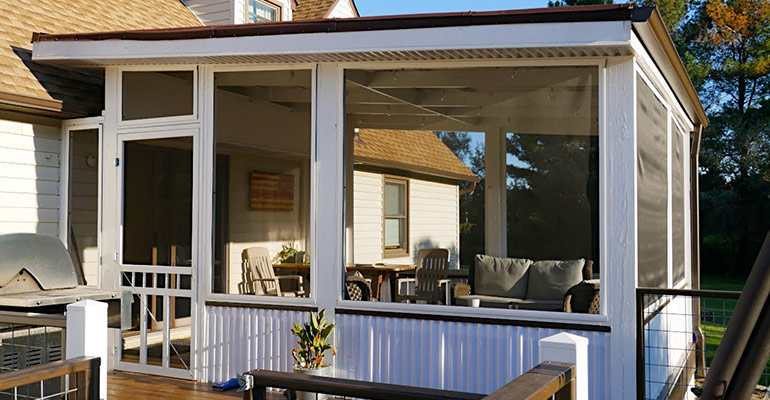 How Much Does It Cost to Enclose Different Types of Decks?
The cost of the project depends on the type of enclosed deck chosen. Now, let's talk about how much it costs to build the four most common types of enclosed decks.
Simple Enclosed Porch
Different types of materials to enclose a simple porch can cost between $600 and $3,200. For example, a nice metal screen is much more expensive than a mesh screen. When you add in the $600 cost of labor, it costs about $1,200 to enclose a covered deck.
Can be Used in All Three Seasons
The average cost of an enclosed deck that can be used in all seasons except winter is between $10,000 and $40,000. The cost of materials ranges from $5,000 to $30,000 and usually requires rubber, metal, or wood for framing. Windows, which range in price from $150 to $1,000 each, are the most expensive item here.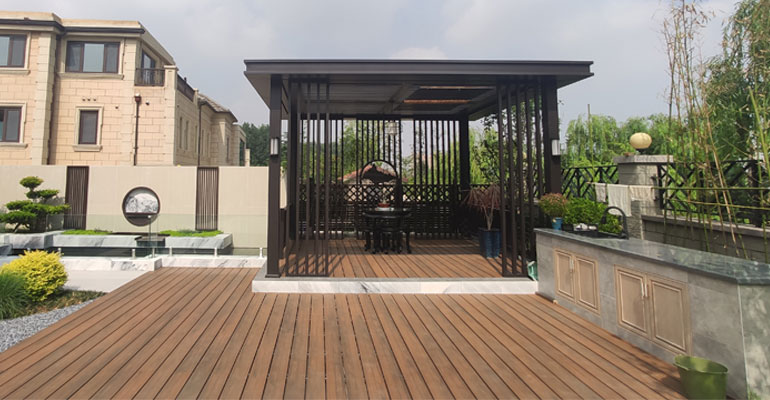 Four Season Porch
Typically, a four-season porch that can be used year-round costs between $25,000 and $80,000. The cost increases due to the filler used. Fiberglass batts range from 30 cents to $1.50 per square foot and will keep your enclosed deck warm. Spray or rigid foam can cost up to $2 per square foot.
Greenhouse or solarium
Since most greenhouses or solariums are made of glass, you can grow plants year-round. This type of deck with a roof acts like a greenhouse attached to the house. Solarium kits range from $2,650 to $3,850 if you don't consider the cost of the work. If a greenhouse is built specifically for you, it will be much more expensive.
In a nutshell
With an enclosed deck, you can enjoy the outdoors for longer. Choose the remodeling option that best suits your needs. Once your enclosed deck is complete, you will be able to enjoy more outdoor activities with your family.
Related Post
Post a Comment
We'll contact you within 24 hours. Check out the spam box in case that the mail is blocked.