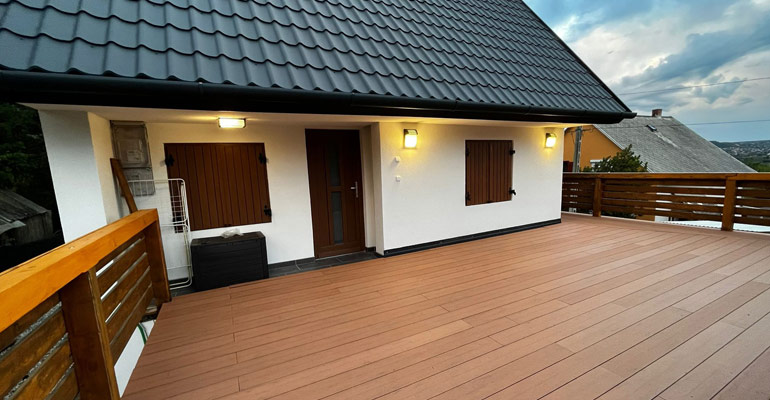 How much does it cost to replace and restore an outdoor deck?
An outdoor deck that is in good condition allows you to enjoy the outdoors better. It can also make your home more valuable when you want to sell it. But most wood decks require regular maintenance such as painting and sealing to keep them safe and beautiful. When the cold winter months are over and the warm spring months are upon us. You may need to thoroughly clean your outdoor deck and then inspect its condition. After that, decide if you need to repair and replace your outdoor deck.
The cost of replacing or repairing your outdoor deck can vary greatly, depending on the size, material, and extent of the damage. It also depends on whether you repair it yourself or hire a professional to do it. There are several factors that typically affect the cost of replacement or repair:
The cost of replacing the deck
Cost of replacing deck railings
Cost of replacing a rotten or damaged deck
The average cost of repairing a deck
Cost of repairing a decaying deck
Cost to get rid of termites and pests
How much does it cost to replace a deck?
The size of the deck, the materials used, and who replaces it will all affect the cost of replacement. Generally, the cost to replace a deck ranges from $25 to $43 per square foot for natural wood decking and $30 to $60 per square foot for composite decking. A 400-square-foot wood deck will cost between $10,000 and $17,000. If composite decking was used instead, the cost would increase between $12,000 and $24,000.
This is a big price difference at first, but composite decking has a long life span. In addition, you won't need to maintain composite decking on a regular basis. this will save you a lot of money in maintenance costs and will also result in a higher resale value for your home. When you hire a professional to replace your deck, the cost of materials is usually about a third of the total cost. If you do it yourself, you only pay for the materials.
What is the cost of replacing deck railings?
For materials alone, replacing wood deck railing costs $12 to $20 per square foot. Composite railing costs $25 to $50 more per foot upfront than other materials, but it doesn't require as much maintenance.
But money isn't the only issue to consider. What's important is that composite decking material, aluminum, or a mix of both will last longer and require less maintenance than wood railing. How much it costs to replace a railing depends on the number of railings and how complex they are.
Labor costs will go up about $20 per linear foot. Obviously, if you want to install the deck railing yourself, you will only have to pay for the materials.
The price of replacing a rotten or damaged deck
It's hard to say how much this will cost because if the deck planks are in poor condition and need to be replaced, it's likely that the structure or frame of the deck will need to be repaired or replaced as well. If the structure or frame of the deck is rotten or broken, it can be a significant safety risk. So, if you don't know how to inspect the framing, have a professional look at the structure before you replace any deck boards. You can also ask them how much it will cost to fix the deck or buy a new one.
It can be expensive to hire a licensed contractor to fix a few broken boards. But they know how the outdoor deck was built, what materials were used, and how high off the ground it is because that's their job.
The average cost of repairing a deck
How much it costs to repair a deck depends on how much and where it is broken. As we have already talked about, the cost to repair the damage that does not affect the building itself is minimal. But if the damage is caused by a deteriorated, rotting part of the structure, it is difficult to give an estimate because the entire deck may need to be rebuilt. When a railing breaks, it is usually easier to repair because it is made up of separate pieces that fit together between the posts. You can even buy pieces of railing already assembled in lengths of 6 and 8 feet. The cost per foot always varies depending on the type of material, how difficult it is to build, and whether you do it yourself or hire a professional.
Cost to repair a rotting deck
Decks made of wood can develop rot, and the cost to repair them varies depending on their severity and location. For example, it is generally cheaper to replace trim boards than to replace joists. That's why it's important to know how to prevent, stop and repair joist rot.
If the damage is not too severe, it can cost anywhere from $300 to several thousand dollars to have a professional fix the rot. But most restoration jobs are small and simple enough that you can do it yourself and save a lot of money. Since most contractors like big jobs, it's hard to find people to do small restoration jobs.
Cost of removing termites and other pests
Finding bugs on your deck, mainly termites, is also a very important job. Some pest control companies will give inspections, or add inspection fees to any work you have them do. Plan to spend $100 to $200 to hire a licensed pest control specialist.
If you have termites on your deck, repair any damaged boards and cover the entire deck with a coating that will protect it from termites. The average cost of skilled termite treatment is about $600. But large infestations that require tenting and fumigation can cost $2,000 or more. You can avoid these higher costs if you use composite decking boards. This is because pests such as termites cannot survive and reproduce on composite decking materials.
Should I try to repair my deck or replace it with a new one?
In most cases, whether to repair your outdoor deck or replace it depends on the severity of the rot or damage. It is less expensive to restore something that is already there than to make something new. This is especially true if you pay someone to take your outdoor deck apart and put it back together.
If you're not sure which option is better, have a professional look at the deck before you make a choice. Depending on your situation, a skilled contractor may be able to make a sound recommendation for you.
Post a Comment
We'll contact you within 24 hours. Check out the spam box in case that the mail is blocked.