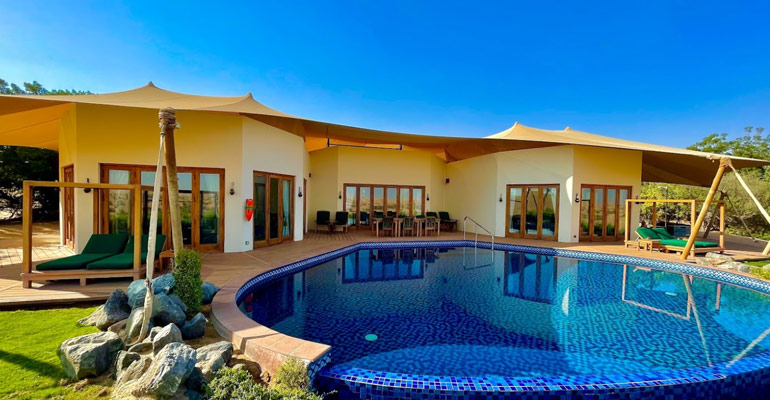 How Much Does the Cost of Outdoor Deck Installation?
For many homeowners, a useful outdoor living space is a must-have. With a powerful outdoor deck, you can enjoy a great weekend on your patio. This is the number one desire of many homeowners and people who want to buy a home. Installing an outdoor deck not only makes a home look better than ever, but also increases its resale value. According to the National Association of Realtors (NAR) Remodeling Impact Report, outdoor decks have a return on investment of up to 80%.
For a new outdoor project, one of the first key factors to consider is cost. If you're wondering how much it costs to install a deck, we've compared different types of decks and building materials below. We'll tell you everything you need to know about installing an outdoor deck. Whether you want to use it for entertaining, relaxing, or just to add value to your home.
The average cost of a regular deck
The cost to build an outdoor deck can range from $20 to $50 per square foot. This includes the cost of materials and the cost of the work, the latter of which can account for half to two-thirds of the total cost.
If you choose a less expensive material, such as pressure-treated lumber, the cost can drop to about $20 per square foot. And if you choose some high-grade lumber, such as IPE, and mahogany. then the cost per square foot of deck can go up to $50 or more.
The average cost of different sizes of decks
The price of a deck can be closely related to the materials used, the type of foundation, labor, additional costs, and size. Since most deck projects are priced by the square foot, you can get the best idea of cost by looking at the average price of different deck sizes. Of course, the larger the size of the deck the higher the cost will be.
When looking at prices for different deck sizes, keep these things in mind:
Labor: Labor costs can vary quite a bit from area to area, so you can ask a contractor near you for specifics.
Cost: The prices below are an approximate range, and different deck materials can have a big impact on the price. Decks made from cheaper materials are at the bottom of the price range. At the high end are materials like rare wood and composite decking, which are more expensive.
| | | |
| --- | --- | --- |
| Deck Size | Square Footage | Average Cost Range |
| 8' × 10′ | 80 | $1600-$4000 |
| 10' × 10′ | 100 | $2000-$5000 |
| 12' × 12′ | 144 | $2880-$7200 |
| 10' × 20′ | 200 | $4000-$10000 |
| 12' × 20′ | 240 | $4800-$12000 |
| 16' × 16′ | 256 | $5120-$12800 |
| 16' × 20′ | 320 | $6400-$16000 |
| 20' × 20′ | 400 | $8000-$20000 |
Labor Costs
The average labor cost to build a deck is $15 to $35 per square foot. Materials like wood and bamboo that are easy to install are cheaper. And heavy and different-looking tiger wood will cost more.
Want to know how to find a good deck contractor? You can ask friends or community members around you, and you can also search Yelp and Google above for nearby deck contractors.
Material cost
There are many decking materials available in the market today, but they can usually be divided into two categories: wood decking and composite decking.
Cost of Composite Decking
The cost of purchasing composite decking material alone is $10 to $20 per square foot.
Most types of wood decking cost less than composite decking. it is important to note that composite decking lasts longer than wood decking. Also, composite decking has the advantage of being low maintenance, which can save you a lot of money in maintenance costs for the next 30 to 50 years. Because composite decking materials are typically made of wood fibers and recyclable plastic, they won't splinter or rot and come in a variety of colors.
Cost of wood decking
The cost of purchasing lumber alone is $3 to $15 per square foot.
The type of wood used has a significant impact on the cost of a wood deck. Natural wood has a beautiful grain and can be stained. But most types of wood require regular care to keep it in good condition and looking its best.
Here are the average costs of some of the most common wood decking materials
Pressure-treated lumber. Costs $2 to $5 per square foot. This is wood that has been treated with chemicals to make it more resistant to weathering, rot, and insect attack. Regular maintenance work must be performed.
Bamboo. Costs $3 to $6 per square foot. This is a less expensive wood but requires annual maintenance to keep it strong and healthy.
Cedar. Costs $4 to $8 per square foot. Cedar decking is available in different grades and is usually sold untreated to maintain its natural ability to resist insects and rot. This softwood is more prone to denting than hardwoods and requires annual maintenance.
Redwood. Costs $7 to $9 per square foot. Redwood decking is inexpensive and does not warp easily, and is often used as a decorative board. This wood also requires regular maintenance or it may be subject to sun damage and rot.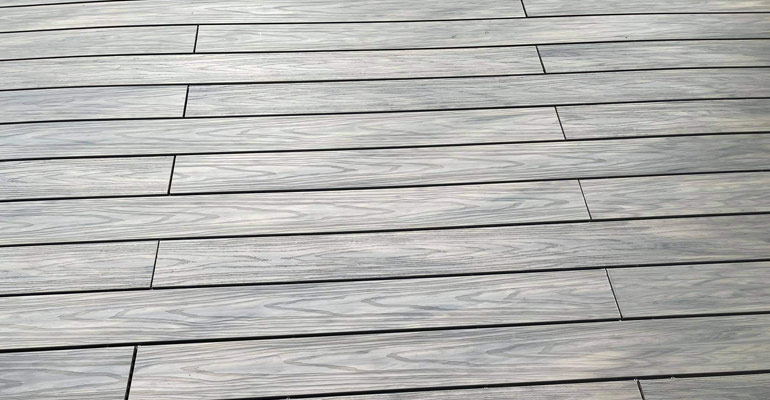 IPE. costs $10 to $15 per square foot. This South American hardwood is strong, heavy, and hard. It is one of the most expensive and longest-lasting types of wood trim panels.
Tiger Bark Wood. Costs $6 to $15 per square foot. This is another type of hardwood from South America that is thick and durable. It looks great because it comes in different colors and grains, but it can be difficult to install because of its varying hardness.
Deck Cost by Foundation Type
Material and size are the two most important factors that affect the price of a deck, but the type of deck foundation is also important. Next, let's look at the cost of different types of decks.
Floating Deck
The cost of a floating deck can range from $20 – $60 per square foot.
Most of the time, floating decks are three to five times more expensive than standard above-ground decks. They are called floating or freestanding decks because they are not attached to any building. Building floating decks are a great option for people who don't have space to build a deck next to their house.
Raised Concrete Decks
The cost of this type of deck is $30 – $75 per square foot.
Concrete decks are sturdy and can withstand the weather. In addition, they have a modern look. For routine maintenance, you can use a hose or pressure wash.
Ground Decks
Ground decks cost $10-$20 per square foot.
These decks do not require posts, stairs, or railings, so they are one of the least expensive options. Also, because they are like decks, they tend to be more accessible than other decks.
Cost of building your own vs. hiring a professional
If you have carpentry skills, you can build your own DIY deck. This will save you half the cost or more. Small-foot decks and single decks are the easiest to build. But for more complex projects, such as two-story decks or floating decks, hiring a deck contractor is a good option.
Pro Tip: If you build your own DIY deck and want it to last as long as possible. Then you should use a sealer to protect the deck and use butyl tape to seal the joists and bolts. If you don't, you may need to repair water-caused deck damage in a few years.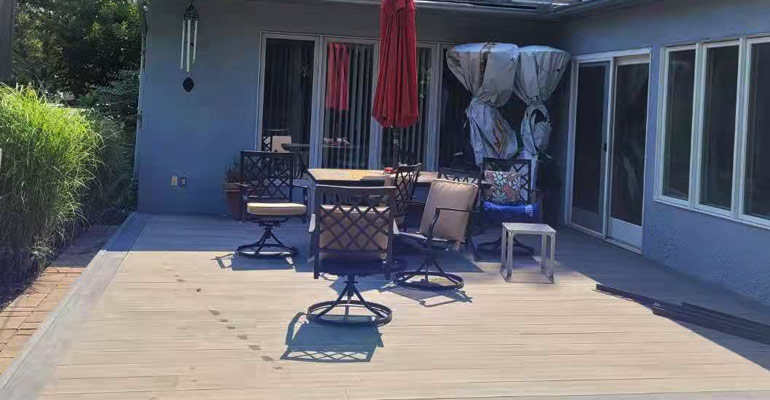 Additional costs and things to consider
Permits: In most cities and towns, if you want to build a deck, you will need to get a building permit. These can cost anywhere from a few hundred dollars to a few thousand dollars. Most permits are cheaper in smaller towns, while they cost the most in larger areas.
Longevity: Cedar and bamboo are the cheapest, to begin with, but they do not last as long as ipe and composite decking boards. Therefore, a longer-lasting deck will save you money in the long run. Because your deck will last longer.
Maintenance: If you do it yourself, keeping your deck in good condition is both costly and time-consuming. Therefore, you should choose your deck materials carefully before you start building. In most cases, cheaper materials will require more maintenance.
Existing decks: If you have an old deck that needs to be removed, then you will also need to spend extra money to remove it. The cost of removal usually ranges from $600 to $1,000.
Add-ons: When calculating the total cost of an outdoor deck project, don't forget to include the cost of any add-ons. An add-on can be a pergola, a hot tub, or some other item. A heater or fire pit can also make a deck more comfortable on cold nights.
How to spend less money when building a deck
DIY yourself: If you can do your own DIY deck installation, the total cost may be half or less. If you can't build your deck yourself, you can still save on removal costs by taking it down yourself.
Keep it simple: A simple deck design will cost less, and a complex design will take more engineering time. If you don't want it to be too monotonous, you can also decorate your deck with items like greenery.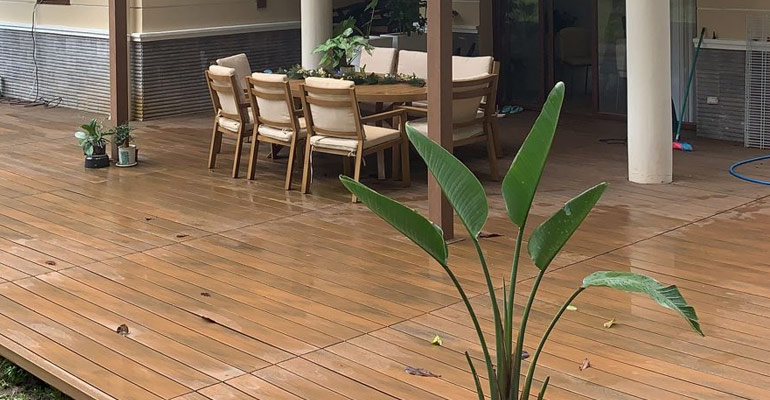 Get multiple quotes: Before you hire a deck contractor, get quotes from multiple places. You should check out the company's reviews and references before making your final choice.
Build against the season: Depending on your area, you can choose a contractor's off-season to install your outdoor deck. Of course, if heavy snow will cover your home in the winter, this advice may not be right for you.
Frequently asked questions about deck installation costs
How much does it cost to install a pool deck?
The cost to install a pool deck is approximately $20 per square foot. Therefore, for the railing needed for the deck, you can expect to pay between $12 and $35 per foot.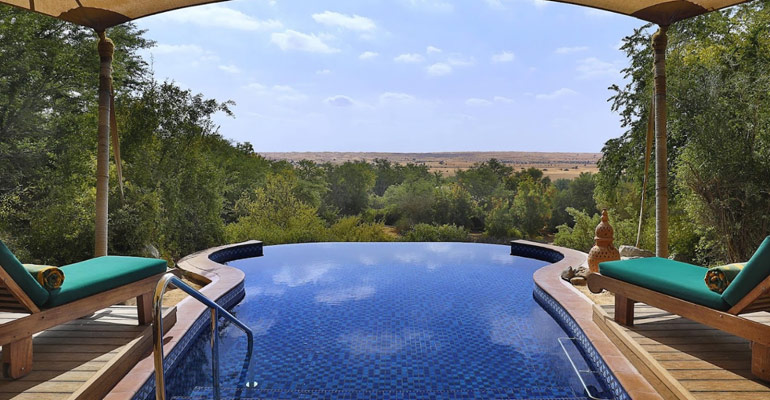 How much does it cost to install stairs on a deck?
Adding stairs to your deck will cost an additional $150 to $300. This cost will depend on what kind of deck you choose. On the other hand, the average cost per step is about $40.
Concluding Remarks
An outdoor deck is a great way to improve your home while making it more enjoyable and valuable. A good outdoor living space is a great place to hang out with friends, work out, sunbathe, or even spend time by yourself.
That's why it's important to choose the right materials, such as composite decking materials that are strong, durable, low-maintenance, and long-lasting. After all, a well-built and well-maintained deck can last 20 years or more, so you'll have plenty of time for friends and family to enjoy your new deck.
Post a Comment
We'll contact you within 24 hours. Check out the spam box in case that the mail is blocked.