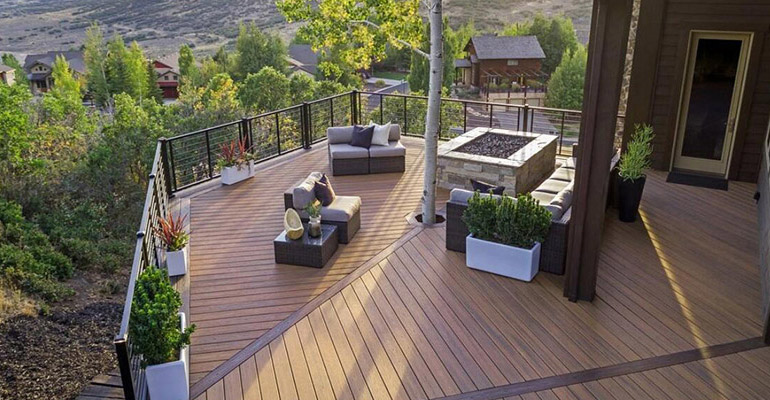 How to Build an Outdoor Raised Deck?
A raised deck not only gives you a place to hang out with friends and family outside, but it can also "enhance" the style of your home and backyard. People sometimes refer to raised decks as "raised decks". A raised deck is a great place to hang out with friends and family outside. You can enjoy the fresh air and beautiful views this way.
Besides giving you a great place to relax outside, this will also make your house more valuable. For an elevated deck, you also need to consider the topography, location, type of wood available, cost, and how long you think it will take to complete. This type of outdoor deck is great for people who live in houses on high ground near the ocean or in areas that are prone to flooding. It also works well for houses where the backyard is downhill.
Depending on the design ideas for your outdoor deck and how good you are at DIY projects, you can build your own raised deck in a few weekends. But before you install your raised deck specifically, you should do some research and make a plan. That way, you can build it better and use it for longer.
How to build a raised deck?
Step 1: Make a plan and design
You can search online to find the design style and layout you want. Or talk to an architectural expert to decide on a design. After that, you can talk to neighbors who have built similar structures to find out what your community can't do because of geography or topography.
Step 2: Determine your budget
Your budget will also affect what materials you choose, how large your deck area is, and what additional touches you may want to add. To make a raised-frame deck work and be safe, it needs steps and railings. However, built-in lighting or electrical work are nice extras that you need to include in your deck construction budget.
Step 3: Get a building permit.
In most cities, towns, and communities, you will need a building permit to build an outdoor deck. In order to figure out if it meets safety standards, they will need information such as size, height, and type of wood. If you're working with a contractor, you'll need to give them blueprints of the deck's design so they can make sure it meets safety standards and local building codes. If you want to do it yourself, you will also need to design blueprints and bring them to the building office to get permission.
Step 4: Buy what you need
Once you have the permit, you can buy what you need. You can buy the things you need at a store near you that sells building supplies. Things like the right size deck material, concrete for the foundation, and other things.
Step 5: Attach the ledger board
Once you have all the materials ready, you can start building the deck. First, you need to attach the ledger board together. This is a flat piece of wood that you can attach to the wall of your house to make your deck more stable. What size you need depends on how big your deck is. For example, a 24-foot by 14-foot deck will need a 2-foot by the 12-foot ledger board. Make sure the ledger board is attached properly. Bolts rather than screws should be used to secure it. The details of your addition should also be bolted to a solid part of the house to meet building codes. If you do not attach the ledger board properly, your deck may fall apart.
Step 6: Dig a foundation for the deck
Use string to sketch out the base of your raised deck. Typically, there are four foundations for a deck. To stay below the frost line, each foundation should be 12 inches wide and 48 inches deep. This is important for stability, but even more important in colder places where you need to know how deep your soil will freeze in the winter. You can dig the foundations by hand or rent a power auger to help.
Step 7: Install the support posts
After you've dug your footing hole, put your support posts in, making sure they are perfectly vertical. Before you pour the concrete, check them again in case you need to move them.
Step 8: Mix the concrete and pour it
You can mix the concrete with a wheelbarrow or rent a small cement mixer. Once it is mixed place it in the hole to hold the column in place. After that, you need to let the concrete set thoroughly, a process that takes about 48 hours.
Step 9: Set up the temporary support posts
Once the cement has been set, you can add crossbeams or rim joists to the posts to make them more solid. Once your crossbeams or rim joists are in place, use brackets to hang the crossbeams. Use a level to measure and cut the tops of the posts so that they are all the same height. This will make your deck look nice and even.
Step 10: Put on the joists that will stay there
If your deck has joist hangers, it can hold more weight. There are many different sizes of lumber to choose from. You can use them to connect the joists to the ledge. Place a block of wood between the joists that is the same size as the joists. This block is called a baffle and will prevent the joists from turning.
Step 11: Install the trim boards
Now that you've laid your foundation, your raised deck is starting to look like the outdoor deck you've always wanted. Put your trim boards together and place them in the middle of the deck for now. Install the first row with deck screws at the sill transom or along the side of the house, perpendicular to the joists. If this is your first do-it-yourself project, you probably shouldn't attempt something as difficult as pattern inlay. But if you stagger the boards on your deck in rows, you can make the most pleasing pattern for your deck and give it a polished look, even if you're new to DIY.
Step 12: Prepare the stairs for your raised deck
Most home improvement stores sell stair kits for raised decks, or you can follow the steps in this guide to build your own deck stairs. Whichever choice you make, you will need to pour a concrete pad for the stairs. This pad is 4 inches thick most of the time.
Step 13: Stair Foundation
Depending on how large your deck is, you will need to make a base for the posts that support the upper level of the stairs and four bases for the stairs themselves. You can choose between a stair design that goes straight to the ground or one that turns 90 degrees, depending on what works best for your home and backyard.
Step 14: Install the column anchors
Use a heavy-duty anchor drill to attach the post anchors to the base of the deck. If you place these anchors on the stairs, they will remain stable and secure.
Step 15: Framing and attachments
Now that most of the pieces are in place, you can start putting them together. Guide your posts down so they stay straight, then put the landing frame on. Make sure your posts are straight and the floor framing is in place, and secure your floor to the joists.
16: Building the stairs
The treads are the part of the stairs that you can step on. Stringers are wide planks of wood that run at an angle and support both sides of the stair treads. To make sure the stairs and stringers meet the specifications, you must do some math.
Step 17: Install the stair railings
Stairs must have guardrails with handrails to follow building codes and safety rules. The railing on the deck must be at least 34 inches high. You can bolt the posts to the stair risers or struts at the top and bottom, then make sure they are level and do the same for the next post.
Step 18: Install the deck railing
Make sure your railing meets building codes and your approved plans by measuring where your posts are and how high the railing is. Depending on how big your deck is, you can space the posts 4 to 8 feet apart and the railing 36 to 42 inches high. If you want to add something, be sure to leave extra space on your posts. Making sure your posts are spaced correctly is important for safety, but making sure you have enough room for your cover is just a matter of taste. You've put a lot of work into your outdoor deck, so to get your money's worth, you should make sure it looks its best.
Other things to consider when making a raised deck
Building an elevated deck can take some time, but it's worth it. Before you break ground and start laying the foundation for a deck that you will enjoy for years to come, you should consider the different parts of building a deck and how they will affect your choices. When planning an elevated deck, you need to consider the land, the location of the deck, your budget, the materials you will need, and how long it will take to complete the project.
Terrain. Is the land hilly or filled with rocks? The slope of the house or ground will affect the depth of the posts, and the slope of the ground will affect how difficult it is to dig holes for the deck posts. Be sure to take this into consideration to ensure that everything goes smoothly and that the deck is safe.
Location. Depending on how your deck relates to your house, any trees on your property, and your backyard, it may get a lot of sunlight. If your deck gets a lot of sunlight when you want to use it the most, you may want to build a roof over it or add a roof.
Materials. Today, you can build a raised deck with many different kinds of materials. These include natural wood (such as cedar), pressure-treated wood, and composite decking materials. Composite decking looks like wood, but it is made of recyclable wood and plastic. Because of this, they last longer than wood decking. Find out what your best options are by doing some research. How you want your deck to look, how much money you have, and how much maintenance you want to do each year will all influence your choice.
Timing. Give yourself enough time to build your elevated deck. This is not an easy thing to do at home. Even if you're an experienced do-it-yourselfer, building a deck the right way will take several weekends if you take your time or work with a partner. You'll also need to plan for things that may change your schedule, such as snow or heavy rain.
Post a Comment
We'll contact you within 24 hours. Check out the spam box in case that the mail is blocked.