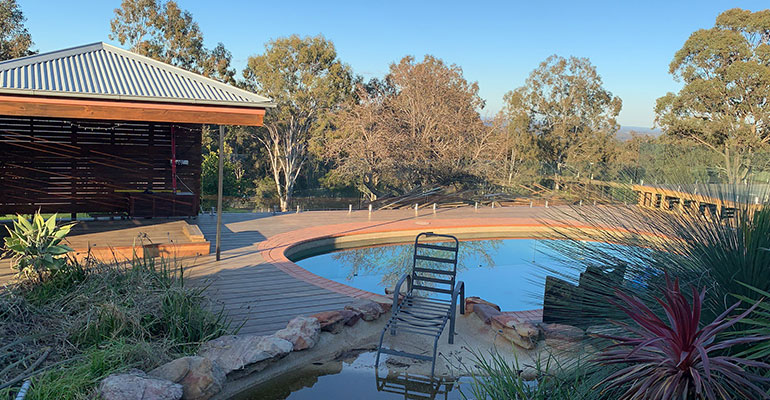 How to choose and when to replace a garden deck?
As a place for your family to get together outside, your outdoor deck boards need to be used often. Mold, rot, cracks, and other problems can happen to your patio deck boards over time. Then you need to build a new garden deck.
So, do you want to know when you should get a new deck? If you have a traditional wooden deck, you might want to think about upgrading to a composite deck. Or if you want to make your outdoor living space bigger, it's important to know a lot about your garden deck.
When something goes wrong with your deck, you can either fix it or get a new one. The replacement of a new deck is split into two separate projects.
Outdoor deck replacement classification
Deck Boards Replacement
"Resurfacing" is another name for this project. For this kind of deck replacement, the original substructure stays the same and only the deck surface boards are changed. Of course, if needed, the substructure may need to be fixed or made stronger.
Most decks need to be replaced because their surfaces are wet, rotten, warped, or cracked.
Whole Deck Replacement
The whole project to replace the deck involves taking it all apart and building it all over again. This means that everything from the substructure to the deck surface and railings needs to be replaced.
Most of the time, a full deck replacement is done because the joists, beams, or posts of the substructure have rotted all over, putting your life and the lives of your family at risk.
In short, whether you replace the deck surface or the whole deck depends on how well your deck is in general and how much money you have to spend.
How do I decide whether to fix my deck or get a new one?
Most of the time, fixing a deck may be cheaper than replacing all of the boards. We can figure out the best way to move forward with your deck project by doing three things.
Check to see how good your garden deck boards are.
Think about how long you plan to use the deck (how many years)
Think about how much it will cost to fix or replace.
Think about these things to decide if you need to fix or replace your deck.
Step 1: Check your deck's health.
Before you decide to replace your deck, you should first find out how well it is in shape. You will need to carefully check both the deck's surface and its foundation.
Some problems that could happen with the deck are.
Rot, mold, and mildew on the inside or outside of the building
Rusted or loose screws or bolts in the foundation or surface
Loose sill plates, which are an important part of the foundation
There are things to watch out for with wooden decks' surfaces and foundations.
When it rains, traditional wood decking can get wet, which can lead to mold and rot in the structure of the deck. In fact, a traditional wood deck with good maintenance only lasts about 10 to 15 years, so it will have to be replaced at some point.
Look out for these common problems with wooden decking when you check the health of your deck.
Mold and rot
Humidity can cause water and mold to grow on your deck, which can weaken the structure of your deck. Deck joists and uprights are often damaged by water, so pay extra attention to these parts.
Things that can be fixed: Small spots of rot, mold, or mildew on the surface of your deck are easy to take care of and can be fixed right away.
When a full replacement is possible: when there is widespread rot in the deck's substructure that affects the deck's structural integrity.
Rusty or lose fasteners
Can happen anywhere on a deck outside.
The problem that can be fixed: There are some rusty or loose fasteners on the deck that are easy to replace.
Full replacement: If there is a lot of rust or loose screws in the substructure, it means that the deck is badly damaged by rot or insects.
Loose Ledger Board
The Ledger Board is the part of the deck's support structure that holds the deck to your house. To see it, you will have to go under the garden deck or take out the deck boards closest to the house.
Situations that can be fixed: Debris is building up between the sill and the house, which shows that there is a small gap.
When a full replacement is possible is when there is a lot of decay and the sill has come away from the house.
How to fix common problems with wood garden decks
If your deck's problems aren't too bad and just need to be fixed, you can get it back to its best state by doing these things.
Problems with rot and mold
Use a deck cleaner to get rid of the mold.
If a wooden deck or substructure is rotting, we recommend that you replace it.
Rusty or lose fasteners
Replace any screws or fasteners that are rusty.
Tighten any screws or bolts that are loose.
Use a hammer to push in nails that are sticking out.
Loose ledger panels
Clean out the space between the ledgers.
Tighten the fasteners to keep the ledger board in place better.
The ledger needs to be replaced if it has become loose because of wear and tear.
Problems that could happen with composite decking
If you already have an EVODEK composite deck or a co-extruded composite deck. Your outdoor deck will be protected from mold and moisture, and the surface won't warp or crack. But the base of your building may be made of wood. Check the wooden substructure of your composite decking when you look at it to make sure it lasts.
Step 2: Think about how long your garden deck will last.
How long do you plan to stay where you are? How long do you want to use the deck you have now? If you think about these questions, you can figure out how to save money. Or if you will get more value in the long run by replacing the whole deck.
If you want to move in the next few years
Then you might want to choose to fix your deck instead. Or just change the surface of the deck. If there are problems with the way your deck is built, you should fix them or replace them to keep everyone safe.
If you want to stay for a long time
Then you should think about replacing your whole deck or upgrading your wooden deck to composite decking for an outdoor living space that will last longer and require less maintenance. If you want to use a higher-quality composite decking instead of traditional wood decking, it may cost more upfront. In the long run, though, it will save you a lot of money on repairs. You'll also have more time to spend outside.
Step 3: Figure out if it's cheaper to fix or replace.
If the cost of fixing the deck is close to or more than the cost of replacing the whole thing, it would be better to replace the whole thing. A full deck replacement will be more valuable in the long run. With a full deck replacement, you can also change the style of the design and enjoy living outside in a different way.
Post a Comment
We'll contact you within 24 hours. Check out the spam box in case that the mail is blocked.