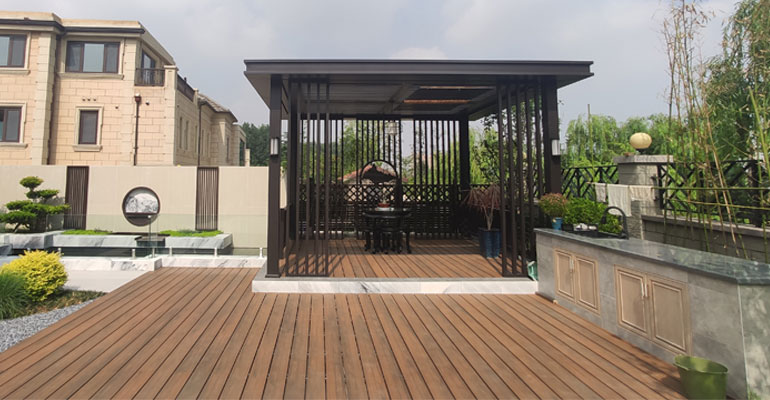 How to choose the best color combination for your house and deck?
Choosing the perfect color combination for your home and deck is a critical step in creating a harmonious, visually appealing exterior design. The color you choose for your deck can greatly affect the overall aesthetics of your home. The right deck color will complement the architectural features of your home while reflecting your personal style.
From classic and timeless combinations to more modern and bold choices, it's important to find the right color palette. Factors to consider include the architectural style of your home, its surroundings, and your preferences for creating a harmonious and welcoming outdoor space. Whether you choose shades that complement each other or choose contrasting hues. A well-thought-out color scheme can really enhance a home's appeal and create a striking visual effect.
Color Choices for Outdoor Decks
Whether you're building a new outdoor deck for your home or repainting it, you can give the exterior of your home a fresh new look. It's important to consider all of the styles you have available to you so that you can choose a style that will make your neighbors look at you more.
Make sure that the deck color matches the house so that you get the most out of it. If the styles don't match, your deck may look out of place for all the wrong reasons, which can detract from the beauty of the home. Outdoor decks can really improve the appearance of the exterior of your home, so don't rush into building a deck without giving it a lot of thought.
When picking a deck color, consider the style of your house and the style of other houses in the neighborhood. Consider how the color of the deck will match the color of the house. Before deciding on the color of your outdoor deck, let's take a look at some of the most popular choices. Some of these types are more hip and modern, while others are more antique and rustic. Despite the variety of styles, browns, reds, and grays are the most common colors for composite decking materials.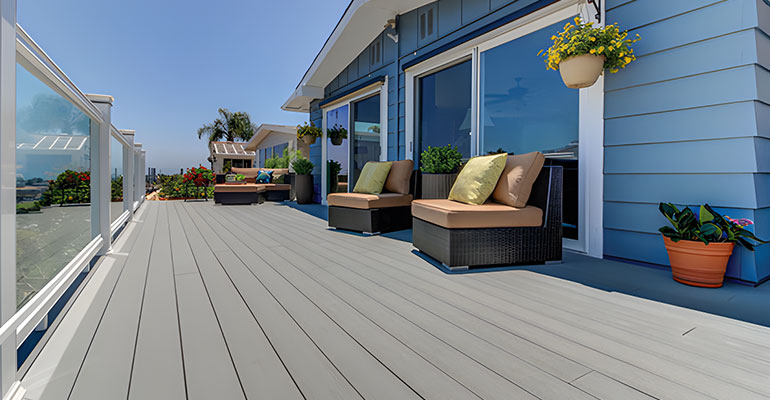 Deck Colors for Tan Homes
Tan is a classic neutral color that can be used on walls, decks, and many other places. Tan is probably one of the most popular colors because it can be paired with almost any color. When picking a deck color for your tan home, think about the style you want. Do you prefer an attraction style, or do you want something a little more modern?
For a more classic look, choose a darker color, such as dark brown. For a more modern look, choose a light gray. Pay attention to whether the deck color is warm or cool. This will help match the color of the house. For example, if your house is tan with cool tones and you want a simple gray deck. Then you can look for gray deck boards with cool tones that will help match the two.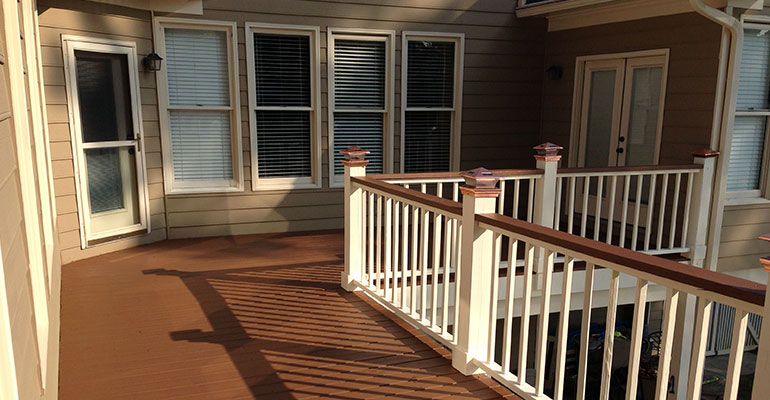 Deck Colors for Blue Homes
Whether you want blue composite cladding for your house or sky-blue doors and shutters. You can choose from many different shades of blue trim. Whether you choose a soft powder blue or a strong cobalt blue. These bright colors may look best on a sleek and modern deck.
Alternatively, you can think outside the box and use dark grays with cool tones or warm browns to create an outdoor living space to linger in.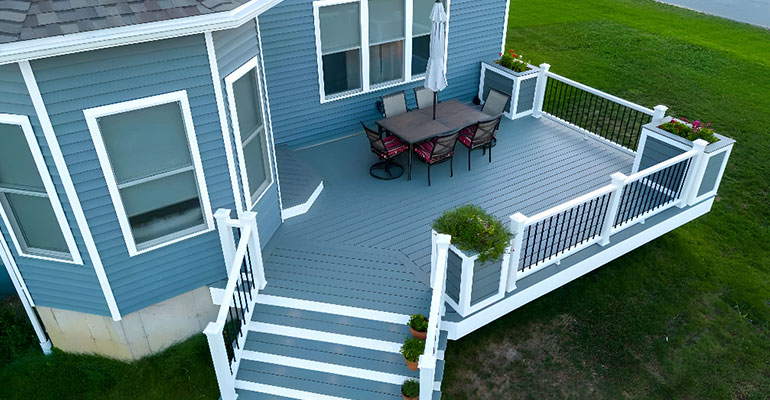 Deck Colors for White Houses
Many houses also have a white exterior because white goes with so many colors. Because of this, white has always been one of my favorite colors.
You can install a dark-colored outdoor deck outside of your white house, such as a chocolate or dark wood color. You can also cover your deck with a white cover to match the white color of your house. This will make your outdoor deck stand out and attract more attention.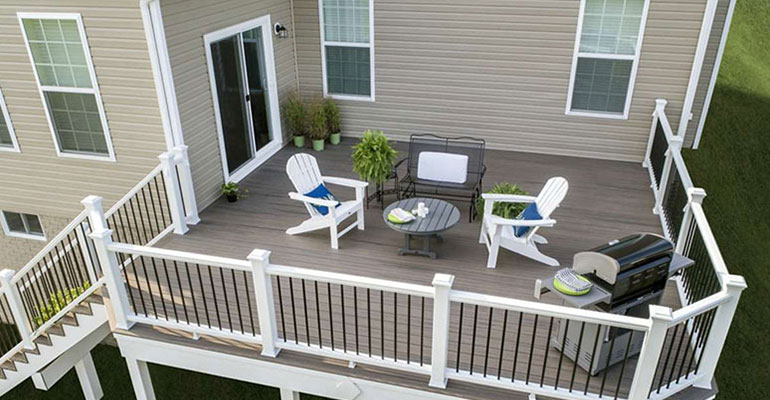 Deck Colors for Gray Houses
Gray houses are not common. However, if the siding on your house is gray, you can build a deck that looks interesting and strong.
The most important thing is contrast and difference! If the exterior of the house is light gray, then choose a dark gray for the deck boards. If the house is dark gray, then a lighter color (such as tan) will look great with it.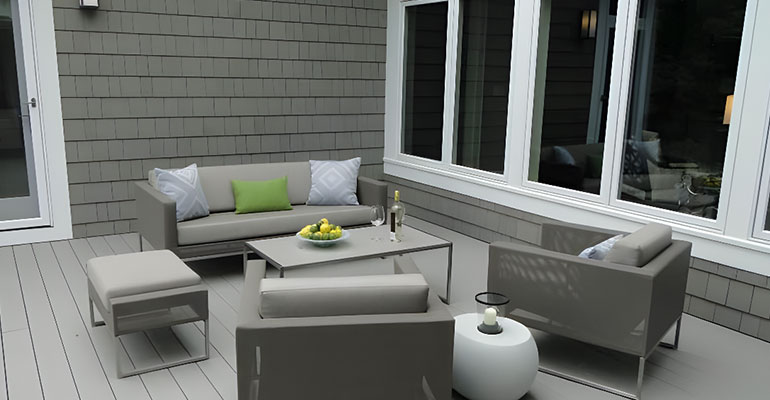 Deck Colors for Yellow Houses
Yellow houses are not very popular, but they are still lovely. If your house is light yellow, a dark brown deck will go well with it. Yellows such as soft buttercup yellow look great with natural wood styles with blonde tones. You can also add some white or light blue furniture to make your outdoor living area look cozy.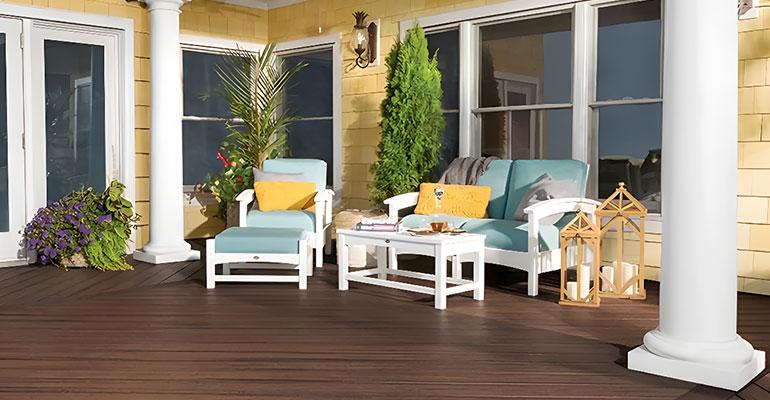 Match the color of your house and deck
Deciding what color to paint your outdoor deck boards is a big choice. The best way to start is to determine the style you want to use. Do you want old, new, or something different? Here are some ideas for you to consider.
Traditional forms have been around for a long time and won't go out of style anytime soon. For a classic look, choose one of these:
Light blue house with a brown backyard deck
White House for a dark gray deck
For a tan house, choose a darker-colored outdoor deck
Popular styles will make the exterior of your home look great. These styles are also good choices if you want to sell your home soon. Here are some things you should keep in mind:
A black and white house with composite decking will look like you are in the woods.
A light gray house with a deck that stands out because it is dark gray or black.
You can choose from the following styles for a unique and beautiful look:
Light yellow houses with dark brown outdoor decks
House in sky blue color, choose light brown deck boards
Deck Material Options
If you already have an outdoor deck and want to change its color. Then you can only choose to paint it to get the deck color you need.
If you are planning to replace or build a new outdoor deck project. Then it is recommended that you use composite decking material. Composite material has many different looks and color options, so you can choose the right color to match your house as you wish.
In addition, composite decking has excellent UV resistance. The color will not fade even after being exposed to the sun for a long period of time. This prevents you from having to repaint your outdoor deck as often as you need to in order to keep it looking beautiful.
Related Post
Post a Comment
We'll contact you within 24 hours. Check out the spam box in case that the mail is blocked.