How to maintain and care for your outdoor deck with your own DIY?
The outdoors can make your home and yard more interesting. In addition, it can make your home more valuable when you want to sell it. Regular maintenance and upkeep are key to ensuring the longevity and continued beauty of your outdoor deck. So how do DIYers maintain and care for their outdoor decks?
Different deck materials
Composite decking is easier to care for than wood decking. This is because composite decking materials are made from recyclable plastic and wood fibers. The performance benefits of the raw materials mean that composite decking has excellent water release and pest protection.
Wood decking, on the other hand, being a natural material, is more susceptible to weather and insects, which can eventually lead to rot or mold. However, if you take care of your wood deck regularly, you can make it last longer.
If you want your outdoor deck to look great and last a long time, it's important to take care of it and maintain it regularly. Let's discuss in depth how to care for your wood deck.
Look for wood that is rotting or deteriorating
Keeping your wood deck in good condition is important if you want to be safe for more than a decade. The North American Deck and Railing Association (NADRA) recommends that you should check your deck for rotting or decaying wood at least once a year.
When you look at your outdoor deck, carefully and thoroughly inspect every area, surface, and frame. Here are the best ways to maintain and inspect your deck annually, and you can do it yourself.
Check the ledger board. This is the piece of wood that holds your outdoor deck to your house or other building. One of the first places on your deck to show signs of rot is often the ledger board. Prevent rain and moisture from damaging your ledger board by making it a waterproof sill. Sill plates may also be more susceptible to rot if they are made from wood that is not resistant to rot.
Check the support posts and joists. The way your outdoor deck is built depends on the joists and support posts. Not only should you inspect the joists and support posts for signs of rot, but you should also do regular preventative maintenance.
Inspect the deck boards. Check the surface of your deck for signs of rot, insect infestation, or boards where the wood has begun to crack. Make sure each deck board is not loose, has small holes, or feels soft. Boards that are too loose should be straightened, and boards that are cracked or have rotted should be replaced. If you can, you should also look at the bottom of your deck boards for rot or insect damage. Also, make sure there is enough space between the boards of your deck to allow water to drain and air to circulate.
How can you tell if your deck is rotting?
Use a screwdriver. You can use a screwdriver to check if the wood on your deck is soft or breaks easily. This could mean that the wood is starting to rot.
Check for signs of pests. You can poke your deck with a screwdriver to find areas that may be rotting, and you should also look carefully for small holes. These small holes could be signs that termites or other pests have gotten into the wood, or that insects are living there.
Check that fasteners, steps, and railings are in good condition
You should check the nails or screws on your deck every so often. Make sure they are still in good condition. It is especially important to check the fasteners to make sure that the outdoor deck and fence are not wobbling.
The sill plate is one of the most important points to check. If it has loose screws, then your deck could become detached from the structure it sits on. Here's a short checklist to make sure your deck's fixtures are in good shape.
Ledger boards. Make sure your ledger boards are securely attached to something that can stand on its own.
Stairs and railings. Check your stairs and railings to make sure they are secure. And that they don't show any signs of decay.
Stair risers and struts. When you look at your stairs and railings, check the risers and struts. Check for any loose fixtures on your stairs to see if they feel stable and secure.
Check for loose screws or nails. Check your deck boards for loose or bent screws or nails. This can be dangerous because people can trip on your deck, or it could mean that your deck boards are detached. Knock out these nails and repair any loose or worn screws.
Inspect the screws, nails, and bolts. Look for rust or rust on any screws or bolts. Find any old nails or screws and replace them with new ones. If you live near salt water, use screws made of stainless steel.
Clean the deck and remove any debris
Even composite decking needs a good cleaning. By cleaning your deck often and making sure it is free of trash and debris. This will not only keep it in good condition, but it will also make it a better place to be. If you clean your outdoor deck often, mold can't grow, and if left unchecked, it can lead to rot.
Here are some ways to keep your deck clean.
Set up a regular cleaning schedule. In order to keep your deck in good shape, you need to stick to a cleaning schedule. Give your deck a deep clean at least once or twice a year. Cleaning your outdoor deck in early spring is a great way to get it ready for summer parties and other warmer weather activities.
Sweep your deck frequently. You should treat your deck as you would any other room in your home. If you sweep it once or twice a week, dirt and other things won't stick to it.
Clean up trash and leaves. Regularly clean up leaves and other things that can blow onto your outdoor deck. Examples include used napkins or plastic bags, as well as wind-blown leaves and other trash. Not only can these things cause trips and falls, but if they get wet or damp, they can also cause mold to grow on your deck.
Clean deck seams. Not only should you always sweep your deck, but you should also look between the board seams to make sure nothing is stuck there. Mold can also grow between deck boards if there are wet or rotting leaves stuck there. You can use a putty knife to clean between the boards.
Use the right cleaning products. Using the right cleaning products on your deck is important if you want to keep it in good shape. If you use something that's too rough, you'll hurt the surface of your deck.
Seal and stain your deck
As part of your deck maintenance, it's important to seal and stain your wood deck. This should be done once a year to prevent your wood deck from rotting and breaking down. There are a few important things to remember when you paint or seal your deck.
Sealer is the name given to the clear waterproof layer you can apply to your wood deck. When it dries, it creates a "seal" between your deck and the outside world. This keeps water from getting in and rotting the wood.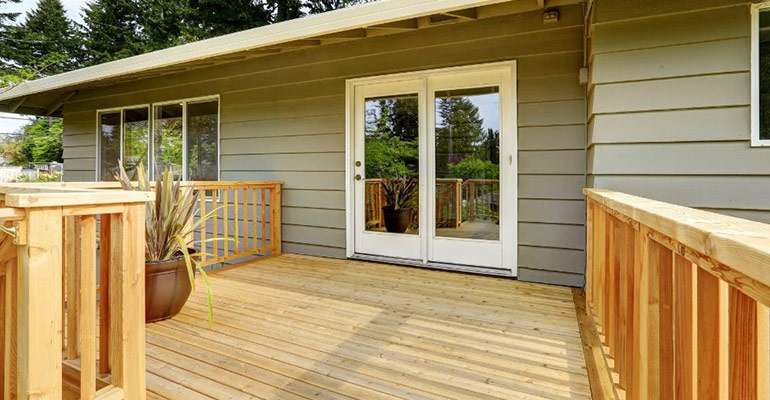 Deck stain is a product with tints or pigments that change the color or make a wood deck look better. While many of the deck stains available are designed to be waterproof, you should always check the label to make sure the deck stain is also a sealant.
If your deck color does not come with a protective sealer, you will need to add an extra layer of sealer to maintain your deck. This will keep the color from rubbing off in high-traffic areas and prevent your deck from looking uneven. More importantly, it will give your deck an extra layer of protection from water damage by making it less likely to get wet.
It's best to apply a sealer or paint when the weather is nice. Check the weather report ahead of time to make sure you can paint and seal your deck when the weather is dry. If it rains or snows, all of your hard work will go down the drain.
Before staining or sealing your deck, make sure you read the instructions from the manufacturer of the stain or sealer. Here are some things you need to consider when painting and sealing your outdoor deck.
Things to consider when staining and sealing your deck
Wait for the deck to dry thoroughly after cleaning. If you cleaned or washed your deck very well, you should wait at least 48 hours. Make sure it has enough time to dry before you stain or seal it. But if your deck is in a shady part of the yard and doesn't get much sunlight, you may need to wait longer to let it dry completely before you stain or seal it.
Look at the weather report. Before you do this maintenance work, you should look at the weather report. Make sure the wood has time to dry before you paint or seal it. The optimal temperature for paint and sealer adhesion is between 50 and 90 degrees Fahrenheit.
Remove furniture. Before you paint your deck, remove any furniture, plants in pots, or anything else on it. Stains or sealants can harm plants or furniture, so be sure to cover them and nearby grass or shrubs with plastic sheeting, tarps, or garbage bags. If you have a high deck, you can put a tarp on the ground below to keep the stain or sealer off the grass or other things.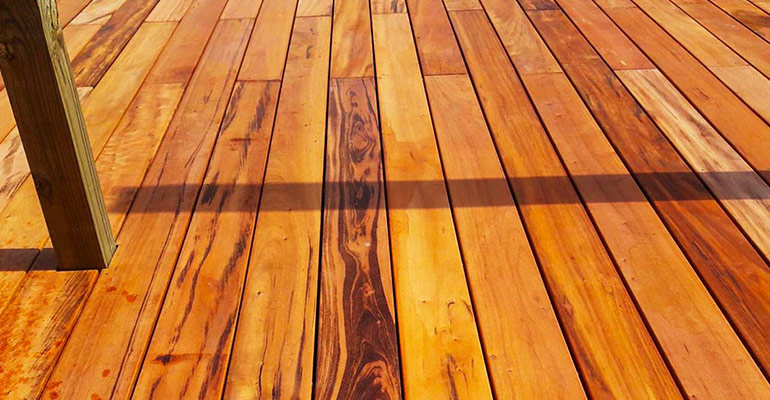 Sand the deck. If you haven't sanded your deck in a long time and there are many layers of sealer or stain on the surface of the deck, you should do this. You should sand your deck before you stain or seal it. This will make it easier for the paint or sealer to stick. When you sand your deck, you can remove any old paint or sealer and smooth out any wood chips. Use 80-grit sandpaper to smooth the surface of your deck. If you don't want to sand on your hands and knees, you can use a pole sander instead.
Stain or seal the cleaned deck. Make sure you sweep the dust and grit off your deck after cleaning it. You can clean or use a hair dryer to remove the dust. Make sure your deck is clean before you paint or seal it. This will help your paint or sealer stick to your outdoor deck and prevent any dirt or debris from being "sealed" inside. Don't use a hose to remove dirt! Your deck needs to be dry before you paint or seal it.
NOTE: If the stain you want to use does not have a built-in sealer, you will need to stain your deck first and then wait for the stain to dry before adding the sealer. The stain will need time to dry, so wait at least a full day before adding the sealer or moving your furniture back onto the deck. If you need to apply a sealer to your color, you should wait 24 hours before doing so. Then, wait another 24 to 48 hours and walk on your deck while the sealer dries.
Post a Comment
We'll contact you within 24 hours. Check out the spam box in case that the mail is blocked.