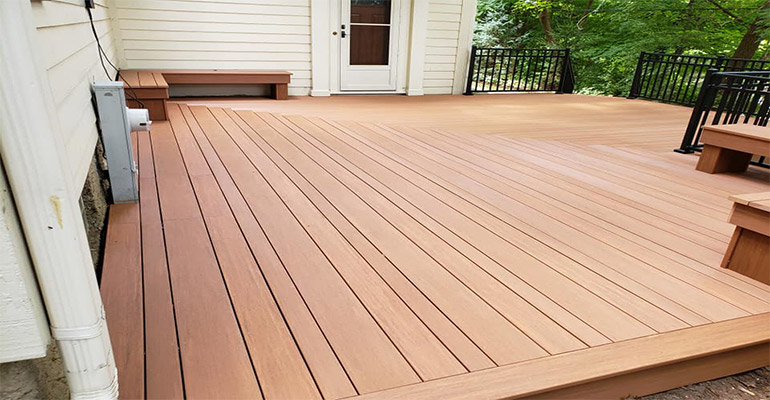 How to make composite decking less slippery
Outdoor decks have become an increasingly popular choice for homeowners who want to provide an additional living space. Composite decks are a popular choice for outdoor deck building projects due to their superior performance. But despite its superior performance, it still requires some maintenance to prevent slippage, especially in wet environments. In this article, we'll go over how to make composite decking less slippery, as well as some deck maintenance measures to prevent accidents.
How to make composite decking less slippery
If your composite deck is becoming very slippery, you need to take some simple steps to minimize slippage. You can easily reduce the risk of accidents by doing something simple.
Keep your deck clean
One of the easiest ways to reduce slippery surfaces on composite decks is to clean them regularly. Keep your deck clean to prevent the buildup of dirt, debris, and leaves. Use mild soapy water and a hose to clean the surface of your deck, and regularly use a leaf blower to remove loose leaves.
These maintenance measures do a great job of removing residue and dirt from the surface of the deck and preventing mold and mildew from appearing on the surface. Regular cleaning likewise helps maintain the life and performance of your deck.
Apply a non-slip coating
Applying a professional non-slip coating to the surface of your outdoor deck is also a simple and effective way to do this. A professional non-slip coating provides extra traction for the homeowner and increases the friction on the deck surface. There are a wide variety of anti-slip coatings on the market, so try to follow the manufacturer's instructions to choose the right one.
Clear non-slip coatings will keep the original look of the deck intact, and tinted coatings will give you the ability to enhance the color of your deck. Make sure to choose a higher quality non-slip coating that is compatible with composite decks to ensure that the coating lasts.
Non-slip coatings can be a great change to a slippery deck, but they require a permanent remodeling of your outdoor deck. And it can be a complicated job that will take a lot of time.
Non-slip mats
Some homeowners don't want to change the surface of their composite deck, so consider using non-slip mats. Cover the top of the deck surface with non-slip mats. Even if the deck surface is completely smooth, non-slip mats provide extra friction to avoid slips and falls. And using non-slip mats can be removed at any time to show off your composite decks.
While non-slip mats can be effective in increasing traction, they also present a danger. Homeowners walking on the carpet are likely to trip over the edge of the mat and have a dangerous accident.
It is important to note that you need to clean the underside of the non-slip mat regularly to avoid moisture and water buildup. This can cause the composite material to rot and crack.
Anti-slip tape
If you need a more convenient solution to make your deck less slippery and don't need to clean it as regularly as a non-slip mat. Consider anti-slip tape, which is easier to install and use and is fully customizable.
All you need to do is install it on the surface of your deck and use it, just like traditional duct tape. But its sandpaper-like material provides extra friction and traction.
Installing handrails
To further increase the safety of your outdoor space, you can install handrails at the deck stairs. Handrails don't directly provide extra friction and traction, but they are effective in adding stability and support. It can effectively reduce the risk associated with slips and falls.
Use a mold remover
Slippery decks are usually caused by mold and algae. Conventional wood is very susceptible to water buildup that can lead to mold and algae growth. While composite decks have a good resistance to moisture and humidity, mold can still appear on the surface. You can use warm soapy water, bleach, or a professional mold remover to remove mold and algae from your deck.
Use a sprayer to completely cover the surface of the deck with the remover and soak it for about 30 minutes before cleaning. This will effectively remove algae and mold and maintain the durability of your deck.
Choosing textured composite decking boards
If you are planning to replace your existing deck or intend to install brand-new composite decks, then consider decks with deep textures and finishes. Textured finish decks are effective in increasing traction and friction and reducing slippery decks. The texture provides excellent grip even when wet, making it safer and more secure for the homeowner.
Keeping the deck dry
Keeping the deck surface dry at all times is important to minimize slips and falls, and also maintain the performance and longevity of the deck. Promptly remove any standing water or moisture from your deck by using a mop or broom to sweep the surface. While composite decks won't be easily disturbed by moisture, keeping your deck dry can effectively prolong its life.
In addition to sweeping, you can place fans or maintain ventilation to speed up the drying of your deck.
How to maintain your deck to keep it non-slip
If you want to prevent your deck from getting slippery through care and maintenance and don't want to use additional measures, then read on. We'll bring you details on how to maintain composite decking.
Deep cleaning twice a year
In addition to regular deck cleaning, you need to deep clean your composite deck at least twice a year. Thoroughly cleaning your deck in the spring or fall will help prevent the buildup and growth of mold and algae.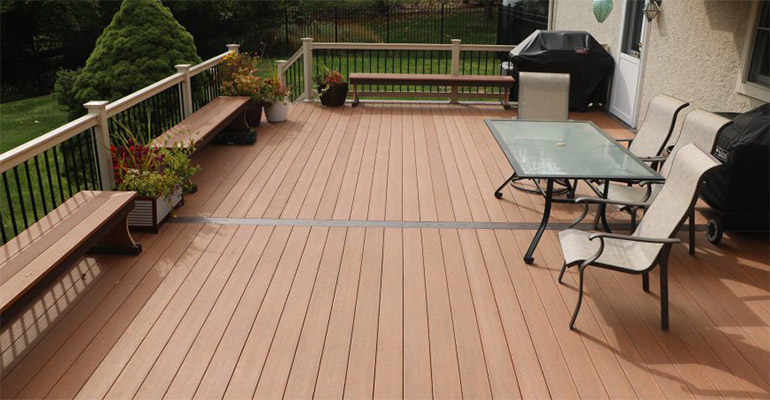 Deep cleaning keeps the deck non-slip most of the time and also ensures a long life for the deck.
However, it is important to note that you should try to avoid using the pressure washer multiple times during the deep cleaning process. It can cause serious damage and wear and tear to the deck's surface, affecting its performance.
Maintain the gaps in the deck
Proper gaps between the decks not only make the outdoor space look neater but also enhance the slip resistance of the deck. Gaps between decks ensure effective drainage, avoiding moisture buildup and clogging with debris. This minimizes the possibility of slippery composite decking surfaces.
Snow and Ice Removal
If you live in a cold and often snowy environment, clean your deck of snow and ice, which can make it slippery.
Try to avoid using rock salt when cleaning snow and ice, which can damage composite materials and leave unsightly marks on the deck.
To summarize
Taking steps to increase the slip resistance of your deck is critical to homeowner safety. How can composite decking be less slippery? We've provided a variety of convenient ways to do this in the article above.
Keeping the deck clean, adding a non-slip coating or pads, installing handrails, or replacing the textured decking are all effective ways to increase friction.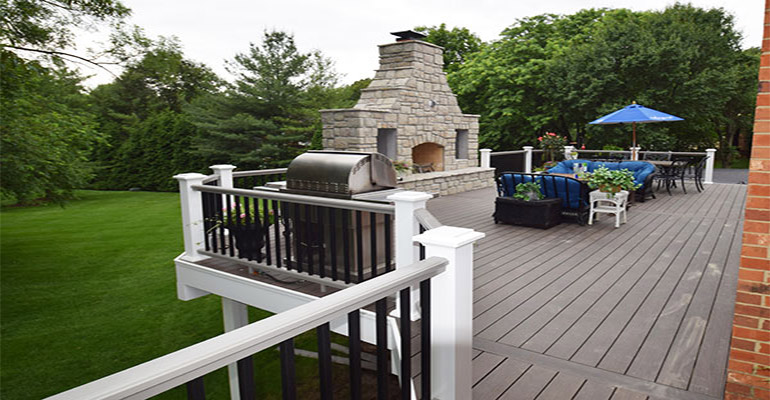 For some homeowners who don't want to change the style and look of their deck, we also offer ways to maintain a composite deck. Examples include keeping the deck deeply cleaned, clearing snow and ice, or keeping the deck dry. With these effective and simple measures, we believe that homeowners can create a safer and more slip-resistant outdoor space without having to worry about slips and falls.
Related Post
Post a Comment
We'll contact you within 24 hours. Check out the spam box in case that the mail is blocked.