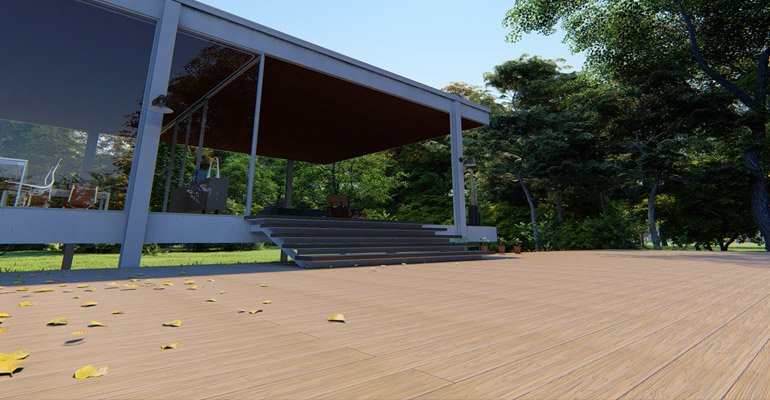 How to use the composite deck to its fullest in the summer?
Your family and kids are ready to play outside in the sun now that summer is here. Make the most of your composite deck so you can spend more time outside. With a little planning and work, an outdoor composite deck can be the perfect place for a family. With a good outdoor deck, you and your family can have more fun, get through the hot summer months, and make some great memories.
Improve safety and security
Even if you don't have kids or pets, it's important to make your outdoor area safer and more secure. Make sure your outdoor deck is safe before you start spending time outside. Change your deck to meet the following requirements to make it safer outside.
According to the Residential Safety Code, your deck must have handrails and a fence if it is 30 inches above the ground. At least 36 inches should be added to the height of the composite railing. The composite railing should have less than 4 inches of space between each post. Also, there shouldn't be more than 4 inches between the bottom of the railing and the top of the composite deck surface. These are there so that kids won't get stuck or fall through.
Put treads on smooth steps to keep people from tripping and falling. But put gates at the top and bottom of the stairs and child safety locks on the outside doors to keep kids from climbing up on their own.
When you want to relax on your deck, you could put some furniture there. When putting furniture in a room, make sure to keep it away from the composite railing. This keeps kids from climbing the furniture and railings.
Make sure the composite railing and deck stairs are secure and in good shape.
Make space for kids
So that they can be quiet for a while, children are always busy. You can add some things to the composite deck to make it quieter for them to play. You can set up a kids' table and chairs on the composite decking for your kids. Your child's bubbles, outdoor toys, and watercolor paintings can also be put away. Make them fun places for the whole family to hang out.
If you have a high deck with composite decking, you can build a play area under the composite deck board. Make an oasis for you and your kids under the composite deck. On the edge of an outdoor deck, you can hang swings or rocking beds to make a spot out of the hot summer sun. Don't forget to set up some benches and picnic tables so the kids can take a break and eat some snacks and fruits when they're done playing.
Spend a family night outside
During the hot summer months, it can get a little stuffy inside the house. So, why not plan some nighttime activities outside for the summer? For example, you could have a party with drinks and music in an outdoor living space. Or, you could build an outdoor movie theater and snack while watching a movie. Or you can just lie down with the kids and count the stars and tell them stories. What a wonderful summer night!
Set up a place to eat outside
If your kids don't eat much, you could take them on a picnic. A change of scenery might make them hungry! Bring out a picnic blanket and eat on the composite decking. You can also have a barbecue outside, of course. Keep the kids away from the grill to keep them from getting burned. You can add some tables and chairs, depending on what you need. The dining area on the deck can also be a fun and relaxing place to eat.
Make places with shade
There is still a lot of summer sun. So, if you want to spend the summer on your deck, you need to make sure there is a place with shade. A composite deck board that gives you shade can make being outside much cooler. A good area of shade can also keep your deck and outdoor furniture from getting too hot.
You can build an area with shade with a colorful shade umbrella. Or, you could put up a shade curtain on a composite pergola. You can also add shade with an awning that rolls up.
Set up a tent
Camping can be a lot of extra work, even though kids love the idea of sleeping outside. It can be easy and fun to set up a tent on your deck. Toast marshmallows over a nearby fire pit and talk about the night sky. Show your kids some of your favorite stars and constellations to teach them something. There is no sign of the Big Dipper. How about you, Orion? Is there anything else to see?
Planting a garden
Gardening on the deck is a great way to learn about science. In the container garden, you can find beautiful flowers and fruits, and vegetables that make your mouth water. This is a great first garden project for kids. You'll have fun watching your kids try to grow tomatoes or peppers by your back door. Make sure to water your plants often and put them on risers so that water doesn't damage your deck.
If you have a small yard, landscaping under your deck can give you a lot of space for plants and shrubs. Because your deck might block some sunlight, choose plants that don't need to be in the sun all the time. You can even build a garden or garden box to grow fresh vegetables or herbs. Many plants, like lettuce, Swiss chard, kale, spinach, mint, fine parsnips, cilantro, oregano, and parsley, can grow well in shade and don't always need direct sunlight.
Post a Comment
We'll contact you within 24 hours. Check out the spam box in case that the mail is blocked.