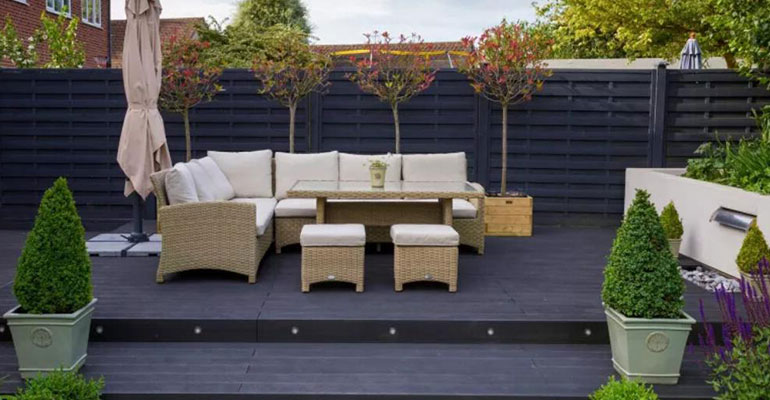 Ideas and Designs for the best outdoor deck lighting
The deck is a place for you, your family, and your friends to hang out and relax outside. During the day, we can relax on the composite decking or lay out in the sun. But if there isn't any outdoor deck lighting at night, you have to go back inside.
In the dark, there is a chance of slipping, and walking in the middle of the night can be dangerous. You can light up your outside space with bright floodlights or porch lights. The problem will be solved with ideas for soft decking lights. You can make sure your family is safe by giving them enough light. Still keeping the peaceful feeling of a beautiful night sky.
So, use great ideas and designs for outdoor deck lighting to turn your deck into a magical outdoor living space. With low-voltage deck lights, we can still enjoy the outdoors at night. We have a number of ideas for outdoor deck lighting that can make your home more beautiful, safe, and secure. It can also give you more time to enjoy being outside.
Lighting on Composite Decking
When it comes to lighting your composite deck boards, you have a number of low-voltage options. The best way to use deck lights is to put them in the corners of your deck or near steps and seating. Adding light and brightness under your composite decking stairs or composite railings can help you find your way at night and draw attention to parts of your deck that you might not notice otherwise.
Outdoor space deck Lights Ideas
Low-voltage deck lighting ideas, also called deck posts light, deck railing lighting, and recessed lighting, can help you make the backyard space you want for your home at night. Or, keep your outdoor deck bright with solar deck lights that are good for the environment, don't cost much, and don't give off much carbon.
Lights on the steps of composite decks
By putting lights on the risers and treads of your composite deck stairs, you can create a soft glow and make your deck safer at night. Light up places where people walk, like stairs and paths, with stair lighting and step lighting. Low-voltage LED stair and step lighting for indoor and outdoor lighting can make you and your family feel safer. Choose the perfect addition to your outdoor lighting space from a complete stair lighting kit or a unique step deck lighting design.
Decorations on strings of lights
Only use LED lights on strings during the holidays? Of course not! Hanging deck lights or string lights in different colors can make your composite deck space feel fun and festive.
String lights are easy to put up and make a stylish addition to an outdoor deck. That's because LED deck lights can be put up almost anywhere there is an electrical outlet. Perfect for any deck lighting project you do yourself.
The problem with string lights is that they may break more easily and don't last as long as other kinds of lights. They wear out more quickly than other options.
Starlights
Most star-shaped lights are string or hanging candles that add atmosphere to a small dinner party or another special event. String lights along the wall of a dining room to make something really amazing. Starlights take this theme even further, making an outdoor experience that is both artistic and unique.
Recessed deck lighting
If you have a composite decking with a roof over it, recessed deck lighting is the way to go. They don't need to be cleaned as often because they are protected from the weather. Columns that blend in with your composite decking boards are used to hold recessed lights that give off light. These small lights are mounted flush on your deck to make your outdoor living area look better.
Cap lights for posts
A deck cap lights are a good way to light up your deck by accident. Deck lights can be bought at most home improvement stores or online. They come in both LED and solar types. Low voltage post cap lights can be turned on and off with a switch or set to a certain brightness and length of time. White solar post cap lights can add safety and beauty to your outdoor space at night without using any electricity. Keep your energy costs and installation time low while keeping the brightness of your deck's post caps steady.
Lights on the deck under the railing
Use solar or LED lights under the rails of your deck to make a soft glow. Deck railing lights let you show off your deck even after the sun goes down. Installing lights on or under the railing will give off good light and light up the path.
Landscape Lighting
Don't forget that adding landscape lighting to other parts of your walkway, garden, or yard can also help. Landscape lighting comes in many energy-efficient shapes and styles, like spotlights, wall lights, and path lights, which can make your evenings brighter and open up your favorite outdoor spaces.
Under deck lighting
If your composite decking is above a balcony, you should get ceiling fans with lights. They look great and, along with the light and airflow, make this space even more useful. If this composite deck board also has a place to hang out under it, this is a great spot for under-deck lighting.
Lights for a Pergola
You can put LED lights powered by the sun in the rafters of a composite pergola or gazebo. These deck lights that hang from the ceiling show off the building's design. With lights on the sides, your deck will be the talk of the town at night. These lights are attached to the sides of your posts and shine to help your family find their way.
Post a Comment
We'll contact you within 24 hours. Check out the spam box in case that the mail is blocked.