Is composite cladding worth it?
When it comes to the appearance of your building, your EXTERIOR WALL has a big impact. Cladding can add more curb appeal to your outdoor wall and make the exterior wall strong and durable. It's an affordable and quick way to change the look of your building and increase the value of your home. Choosing the right cladding for your remodel is also important. Composite wall cladding offers excellent performance. So it is gradually becoming a popular choice for homeowners. But is composite cladding worth it?
Composite cladding is favored by more people because of its superior durability, low maintenance, and versatility. In the next article, we'll take a closer look at composite cladding and discuss is composite cladding is worth it.
What is composite cladding?
Composite wall cladding is a blend of recycled plastic and reclaimed wood. The combination of wood and plastic gives it unmatched durability and longevity, and it is available in a variety of finishes and colors.
Composite cladding boards are also very low maintenance. No need for tedious sanding and painting. Only occasional cleaning is required to maintain appearance and performance. So many advantages mean that composite cladding can save you more energy and time. It can effectively add beauty and practicality to your building.
Advantages of composite cladding
Composite materials have many advantages that make them the best choice for wall cladding. Like composite decking. Composite cladding has become more popular due to its excellent performance. is composite cladding worth it? We will be going over some of the key benefits in detail.
Lower Maintenance Costs
Composite materials are known to be extremely low maintenance, requiring less maintenance after installation. Traditional wood cladding requires regular staining, sealing, or sanding to maintain its performance. But the composite cladding board is completely different. It has excellent durability and remains resistant without maintenance.
Composite wall cladding also has excellent pest resistance and is not easily eaten by pests. Therefore homeowners do not need to use chemical-laden insecticides for prevention and treatment.
The only thing you need to do is to clean your cladding regularly to keep the surface clean. Cleaning can be easily done using warm soapy water or professional composite material cleaners. The simple and convenient maintenance needs and costs can save homeowners more money and time on ongoing maintenance.
Superior Durability
Homeowners want their remodeled interior walls to be strong and durable. Composite cladding boards are perfect for that.
As we described above, it is made from a mixture of recycled plastic and wood fibers. As a result, it can easily withstand extreme elements without warping, cracking, or rotting. Compared to traditional wood cladding, composite cladding has a much longer lifespan.
Weatherability
One of the main advantages of composite cladding is its excellent weather resistance. It is resistant to harsh environmental and climatic conditions. It will not be damaged by extreme weather. A composite material will not fade over time. Ensure that your building's exterior retains its original vibrant color.
In addition to the above, it is also resistant to mold and pests, further enhancing the durability and longevity of wall cladding.
Rich Appearance
Most homeowners choose composite cladding boards because of their varied appearance. Because of its recycled wood content, it has the classic beauty of traditional wood. The plastic component of the material offers a wider range of colors and looks, which means homeowners can easily find the right style.
EVODEK also offers homeowners a variety of textures and styles. So you can choose the type of cladding based on your outdoor style and personal preferences. EVODEK can be an effective way to increase the curb appeal of a homeowner's outdoor building, as well as increase the overall value of the building.
Easy Installation
EVODEK offers homeowners a quick and easy way to install composite cladding. All you need to do is use our specialized fasteners and follow the installation instructions.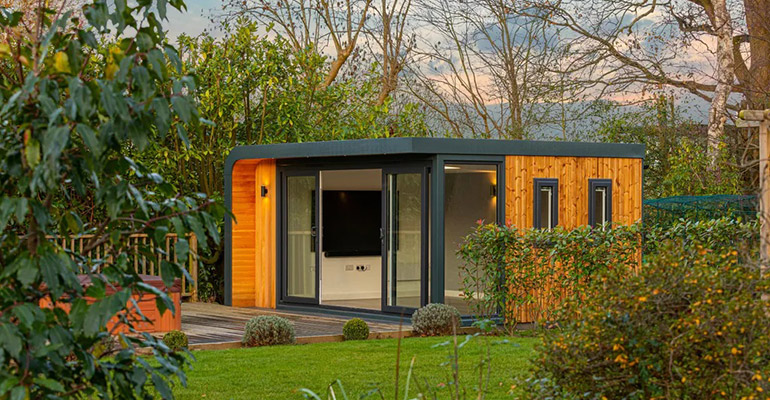 Easy installation saves you time and money. And you don't need to hire a professional installer.
Sound and Heat Insulation
Composite wall cladding improves the acoustic and thermal performance of your building. The cladding has excellent thermal insulation values. It therefore helps to regulate the ambient temperature in the room. Composite material minimizes heat transfer and maintains comfort. It can save homeowners more money on energy efficiency costs.
Environmentally sustainable
Composite cladding is a more environmentally friendly alternative to traditional wood cladding. It is made from recycled materials, thus minimizing wood cutting and waste. The recycling of plastics also reduces environmental damage and impact.
In addition, the composite cladding board is strong and durable. Frequent replacements and repairs at a later stage are therefore reduced. Choosing this material not only creates a superior outdoor style. It also contributes to environmental sustainability.
Increase the value of your home
The use of high-quality composite cladding effectively increases the value of a building when remodeling a home. Its durability, aesthetics, and low maintenance appeal to buyers. Making it a more valuable investment.
Composite materials offer long-lasting beauty and more cost-effectiveness. This can make your home more desirable when it's ready to sell.
Even if you don't intend to sell your home, adding value to the building isn't a bad thing after all.
A stylish and attractive facade will captivate your buyers. This is one of the main reasons why you should choose composite cladding. Its longevity is also one of the reasons why it adds value to a building. Buyers may prefer not to have to replace wall cladding for a long time. Therefore it is worth using composite cladding to remodel the house.
Composite cladding versus traditional wood cladding
Homeowners have been choosing wood cladding as a building material for a long time. Wood has a more classic look and texture, making it a pleasing material for homeowners. In the next section, we will compare the two so that homeowners can make the right choice.
More environmentally friendly
Composite cladding is more environmentally friendly than traditional wood cladding. Wood cladding requires a lot of trees to be cut down to make it. Composite wall cladding is made from recycled wood. And its longevity means fewer replacements and repairs.
Wood wall cladding requires extensive maintenance and upkeep. The chemicals used for staining and painting also have an impact on the environment. But composite cladding, like composite decking, does not require handling, sanding, or staining.
Moisture resistance
Compared to traditional cladding, composite cladding boards offer excellent moisture resistance. Wood is known to be more prone to absorbing water and is therefore susceptible to rot and damage. Rot and moisture are also one of the reasons why wood cladding does not last long.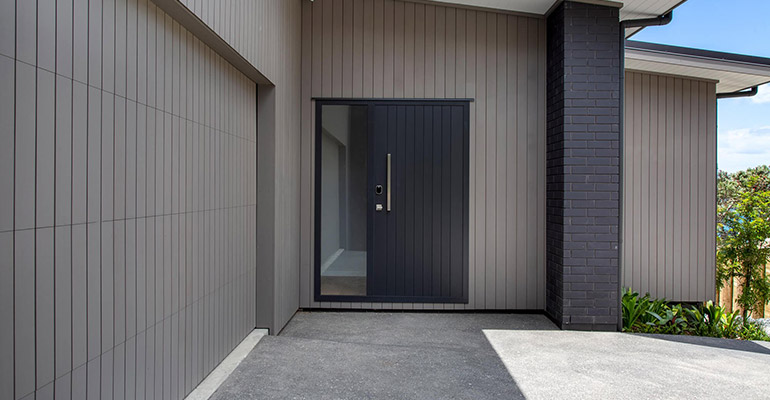 The plastic content in the composite material protects the cladding from absorbing water, so it won't warp or rot due to moisture.
Cost
Compared to traditional wood, composite materials tend to cost more upfront. This is due to its unique manufacturing methods and materials, which raise its manufacturing costs. However composite cladding has a lower post-maintenance cost, making it more cost-effective over time.
You don't need to buy expensive sealants and colorants to maintain your wall cladding. Simple cleaning is enough to maintain its performance.
FAQ
Why use cladding?
Wall cladding is a great way to protect the exterior of your building from the elements and extreme weather. It can add to the overall appeal and utility of a building, and even increase its value. Especially composite cladding, which has excellent properties and advantages. Therefore, it can provide better protection for building facades.
What types of cladding materials are available?
Generally speaking, the most common types of cladding material are composite cladding, timber cladding, PVC cladding, glass cladding, and concrete cladding.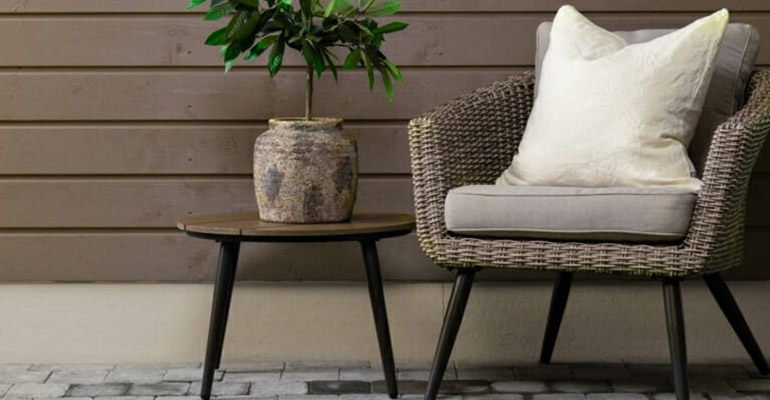 Apart from these, there are some metal cladding, brick cladding, and stone cladding. Different cladding materials have different benefits and uses. But composite cladding is one of the most suitable building materials.
Can I install composite wall cladding directly onto an external wall?
Without a doubt, yes. composite cladding is very easy to install, so you can install it directly on an external wall using specialized fasteners. However, it is important to follow the manufacturer's installation instructions. Proper installation will help ensure its performance and longevity.
Is Composite cladding fireproof?
Safety is of paramount importance to homeowners, especially in building structures that are used daily. EVODEK has added a unique fire-retardant material to the composite cladding. Therefore, it is very fire resistant.
Summary
To summarize, using composite cladding to remodel your building is worth it. It offers excellent durability, weather resistance, low maintenance, and a rich appearance. So it's a long-lasting and practical choice. Compared to traditional wood cladding. It is more environmentally friendly, moisture resistant, and durable. Composite cladding transforms the look of a building while providing a strong and durable performance.
In addition, composite wall cladding can effectively increase the value of a building. By choosing composite cladding boards. You can enjoy a more aesthetically pleasing and functional building envelope for years to come.
Related Post
Post a Comment
We'll contact you within 24 hours. Check out the spam box in case that the mail is blocked.