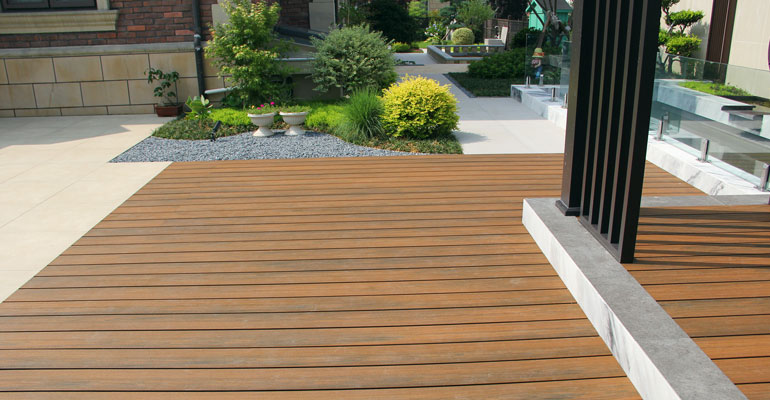 Is Composite Decking Material Better Than Vinyl Decking?
Wood has long been the most popular decking material. However, composite decking materials and polyvinyl chloride materials are becoming more and more popular every year as alternatives to wood. This is because they last longer and you don't need to maintain them as often. The choice between composite decking boards and vinyl decking depends on a variety of factors that meet individual preferences and project requirements.
Composite deck boards are made from a blend of wood fibers and recycled plastics and are praised for their natural look, durability, and resistance to fading, stains, and insects. It has the warmth of wood and requires less maintenance than traditional wood.
On the other hand, vinyl decking is composed entirely of polyvinyl chloride material, which provides excellent moisture resistance and is ideal for wet environments. Both options offer unique advantages. However, you should consider factors such as aesthetics, long-term maintenance expectations, and the specific requirements of your outdoor space when making your decision.
What is Vinyl Decking?
For those who are new to synthetic materials, it may be impossible to tell the difference between vinyl decking and PVC decking. When people talk about the pros and cons of different deck-building materials, most often PVC decks are referred to as "vinyl." Even though they are both made of plastic, this is not the case. They are completely different; vinyl decking is a thin, rollable "membrane" that is laid on top of a wood floor and then sealed with heat.
With vinyl decking, water cannot penetrate the surface of the deck. It looks more like a protective film than an actual deck material. You can't build a sturdy building with vinyl deck boards because it can't hold its own weight. You can only use it as a waterproof seal if you put something stronger on top of it.
Differences between PVC decking and vinyl decking
PVC decks are made with high-strength plastic, and you can also add foam to make them both strong and lightweight. You can build an outdoor deck with PVC trim boards just like you can with wood, composite decking.
Vinyl trim boards cannot be used to make outdoor decks. On the other hand, vinyl decking is a material that can be used to protect an outdoor deck when it needs to be waterproof. Therefore, PVC trim board can be used to build a deck, but vinyl "trim board" cannot be used in the same way.
What is PVC decking?
PVC, also known as polyvinyl chloride, which is is a strong plastic used to make PVC decking. PVC decorative decking won't scratch or stain like wood and doesn't require much maintenance. It is available in a variety of colors, sizes, and textures.
What are the advantages and disadvantages of PVC decking?
When considering the use of PVC decking, you should consider its advantages and disadvantages. Then decide if you need to use this decorative material.
Advantages of PVC Decking
It does a good job of preventing mold or fading of the deck, and it won't be infested by bugs.PVC decking is easy to maintain because you don't need to paint or stain it.PVC decorative decking also uses Styrofoam, which makes it lighter and easier to move around when installing it.PVC decorative decking is also made from a polyurethane material, which makes it easy for you to move around when installing it.
Many companies produce PVC decking materials that also come with a long warranty, which is an area to keep in mind. When purchasing a deck be sure to carefully read the warranty terms to ensure that important things like staining, fading, and structural damage are covered.
Disadvantages of PVC Decking
In most cases, PVC decking is more expensive than composite decking materials made by other companies that are of the same quality but made of different materials. PVC turns a different color when rubber is used with PVC products, such as in welcome mats. Most manufacturers state that these two materials cannot be used together.
Finally, composite materials typically use more recycled materials than PVC, which is usually made from new materials. If reducing your carbon footprint is important to you, then composite decking materials are more suitable for you.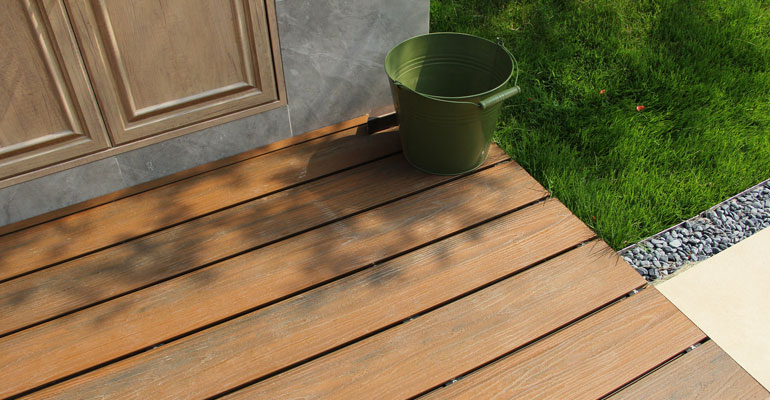 How does composite decking differ from PVC decking?
Appearance
People who are new to decking may not be able to tell the difference between PVC and composite material samples. The grain of many composite wood decking looks a lot like wood. PVC decking, on the other hand, has a straighter grain. But this is not a hard and fast rule; both are different.
PVC decking tends to be rougher than composite deck boards, which can be good or bad depending on your taste. For example, some people think that laminate made from PVC looks a lot like wood.
Cost
How much does PVC decking cost? There is no simple answer, as it depends on the quality of the material. Some materials weather better than others, and the cost of PVC decking in particular can change dramatically.
But in general, composite decking materials cost between $4.50 and $13 per square foot, while PVC decking costs between $10 and $15 per square foot.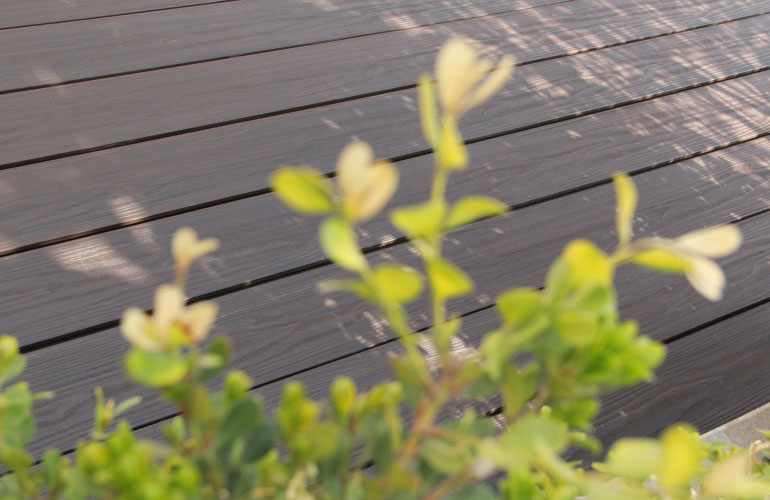 Lifespan
The length of a deck's lifespan depends on the quality of the material and the method of fabrication. For the most part, the average lifespan is the same as any warranty that comes with the product, but it's important to know what the warranty is. Most composite decking lasts between 15 and 30 years.
Therefore, if you want a durable product with a good warranty, a composite deck board is a good choice. Both products will last longer than treated wood decking. This is one of the most important considerations when choosing between wood decking and composite wood decking.
Maintenance
Wood is more difficult to care for than PVC or composite decking materials. Both PVC and composite materials should be cleaned or rinsed every so often to remove dust and other debris. This means cleaning the spaces between decking boards and cleaning up any spills so they don't get dirty. If the dirt is difficult to remove or there is mold, you may need to use a soft-bristled brush and soapy water. Both types of decking are maintained in very similar ways.
Environmentally Friendly
Both composite decking and PVC decking can be made from recycled materials.PVC is made from man-made chemicals and can be used over and over again. On the other hand, most composite products are made by mixing plastic and wood fibers together under heat and pressure, a process known as co-extrusion.
As a result, some composite materials made in this way cannot be recycled unless they can be easily returned to the manufacturing company. On the other hand, most composite materials are made from recycled materials and are therefore less harmful to the planet.
Easy to install
Both materials are easy to install. Since PVC is a lighter material, it is easier to work with on the job site. However, once it is in place, it will "pop" a little more than the composite material. Both materials can be worked with standard carpentry tools.
In addition, both materials can become larger or smaller as temperatures change, so the manufacturer's instructions must be followed carefully. The fixings for both PVC and composite decking materials are usually hidden. This gives the floor a more sophisticated, less cluttered look.
Related Post
Post a Comment
We'll contact you within 24 hours. Check out the spam box in case that the mail is blocked.