Is it cheaper to build a wood deck or composite deck?
Homeowners looking to build or remodel an outdoor deck are often faced with the question, what deck should I choose? For a long time, traditional wood was a common building material. But in the past few years, composite decking has rapidly gained popularity. It has become the choice of more homeowners due to its superior performance and benefits. But with that comes the question, is it cheaper to build a wood deck or composite deck?
Both wood decks and composite decks are considered the best building materials, and they each have their pros and cons. Some homeowners will choose a deck material based on personal preference and a variety of styles, while others may pick based on the price of the deck.
In this article, we will discuss in detail it is cheaper to build a wood deck or a composite deck. We will also present the pros and cons of both for homeowners so that you can make the right choice.
Is it cheaper to build a wood deck or a composite deck?
Regardless of the type of wood, it's usually cheaper than composite decking. However, it is important to note that wood decking after going requires a lot of time and cost to maintain.
In terms of purchase cost, the average price of composite decking ranges from $3,600 to $7,800. The average homeowner spends $5,450 on composite decks. For some larger composite decking projects, it can cost upwards of $20,000.
For traditional wood decks, pressure-treated wood decks cost an average of $15 to $25 per square foot, and cedar decks cost $4 to $9 per square foot.
Whether it's composite decking boards or traditional wood decking, the overall cost of purchase depends on brand, quality, and labor costs. This article will analyze the purchase cost, installation cost, and maintenance cost of both from various perspectives.
How do I estimate the total cost of a deck?
Before building a new deck or remodeling a deck, it's important for homeowners to anticipate and budget for the overall cost. Look at the following areas to calculate the total cost of your deck.
Measure the overall square footage of your outdoor space to determine the most appropriate size and style of deck.
Determine the area where the deck will be installed to see if the estimated size will fit the needs. The size of your deck directly affects the cost of your purchase, so measure carefully.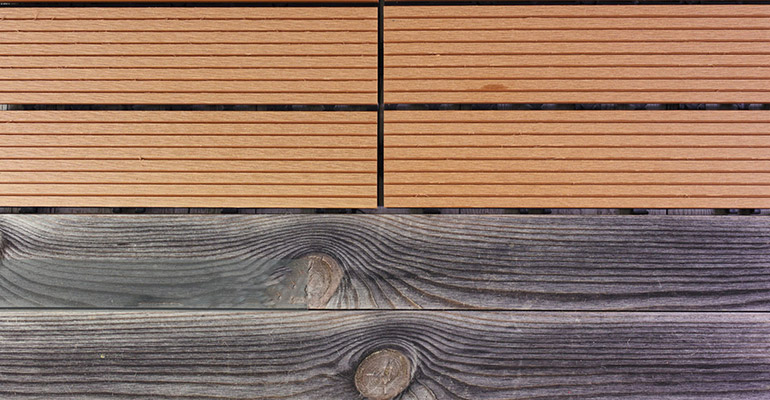 Consider the features and accessories you need. Different accessories and features will also affect your overall project cost. So if your budget is not enough, remove some of the non-essential features and accessories.
Contact your local dealer or brand to find out the local cost of decking and installation.
Cost of composite decking and wood decking
Composite decks tend to have a higher initial price than wood decking. Which requires more complex manufacturing processes and materials. We've summarized the average cost per square foot for different wood and composite materials.
| | |
| --- | --- |
| Decking Material | Cost per Square Foot |
| Cedar wood | $4 to $9 |
| Composite | $15 to $36 |
| Pressure-treated wood | $15 to $25 |
| Redwood | $4 to $6 |
*Material Purchase Costs Only
Purchase cost
Composite decking is made from a blend of recycled plastic and wood fibers. It has the classic beauty of wood and the durability of wood. EVODEK, a popular brand of composite decks, uses strong and durable materials for its decks. Composite decks cost between $15 and $36 per square foot to purchase.
It is important to note, however, that composite decks require a substructure to support them. Pressure-treated wood is typically used as the substructure. Although some brands suggest using metal substructure, the cost is much higher than pressure-treated wood. Therefore the cost of the substructure needs to be taken into account when calculating the budget for composite decking.
Wood is a classic choice for decking, and depending on the type of wood, it's a much more affordable option upfront. Natural wood decks are the least expensive, with woods like redwood and cedar being more expensive. Imported wood decks and Brazilian walnut, which are high-quality woods, will be more expensive.
For homeowners on a budget up front, purchasing a wood deck is the more frugal option. Redwood costs $4 to $6 per square foot, cedar costs $4 to $9, and pressure-treated lumber costs $15 to $25.
Installation costs
Installation costs for wood decking and composite decking vary because of differences in materials and installation methods.
The average labor cost to install composite decking is $24 to $48 per square foot. While wood decking has a labor cost of $15 to $35 per square foot.
Labor costs also increase if you wish to use a different design on your deck or add stairs and railings. Building a rectangular deck is the most affordable option, with complex designs requiring tedious installation and measuring. Also if you wish to install the deck on a slope, then labor costs will increase significantly.
Maintenance costs
Composite decking is known for being low-maintenance and therefore requires little to no maintenance costs. All you have to do is clean it regularly with warm soapy water and a deck brush, which is enough to maintain its appearance and performance. With this in mind, the upfront cost of purchasing a composite deck is worth it for many homeowners.
Wood decking costs about $1,000 per year to maintain. This includes sanding, staining, painting, and sealing. Regular maintenance and upkeep are what ensure the longevity and performance of your wood deck. Considering the high maintenance costs of wood, more homeowners are willing to opt for the more hassle-free composite decking.
Choose wood decking or composite decking
After going over the cost differences between the two, there may still be homeowners who are unsure of what to choose. Next, we will provide a comprehensive comparison to help you make the right choice for your budget and needs.
Initial cost
In terms of initial cost, composite decking is much more expensive than wood decking, and woods such as redwood and cedar are more affordable and easier to purchase. While some high-quality woods are more expensive, they are still cheaper than composite materials on average.
Composite deck boards cost more because of the special materials and manufacturing process. This is the main reason why it is more expensive.
Maintenance and upkeep
Many homeowners choose wood decks because of the low initial cost of wood, but it requires more maintenance and upkeep. Over time, wood decking will incur additional costs as it is used.
As we mentioned above, it requires regular staining, sealing, and sanding to prevent damage and rotting of the deck. This means you'll need to spend a lot of money on cleaners, stains, and sealers.
But composite deck boards are known for their low maintenance needs. In comparison, it is even cheaper to maintain. You don't need tedious maintenance and upkeep, you just need to clean it with warm soapy water or a professional composite material cleaner. Composite materials are more durable as they are effectively resistant to rot, moisture, and insects.
Longevity and durability
Longevity and durability are key considerations when choosing a deck material. Wooden decks usually have a lifespan of around 10-15 years, depending on the type of material, climate, and level of maintenance. But even with regular care and maintenance, it is prone to rot and damage as the homeowner uses it.
In comparison composite decking boards last longer. Typically it lasts 25-30 years, and even longer if higher quality decking materials are used.
EVODEK uses special techniques and technologies in the manufacturing of decking boards. As a result, the decks have excellent corrosion resistance, moisture resistance, and durability, ensuring a long life for the deck. Although the upfront cost of composite decks is higher, considering their longevity, it is a more cost-effective option.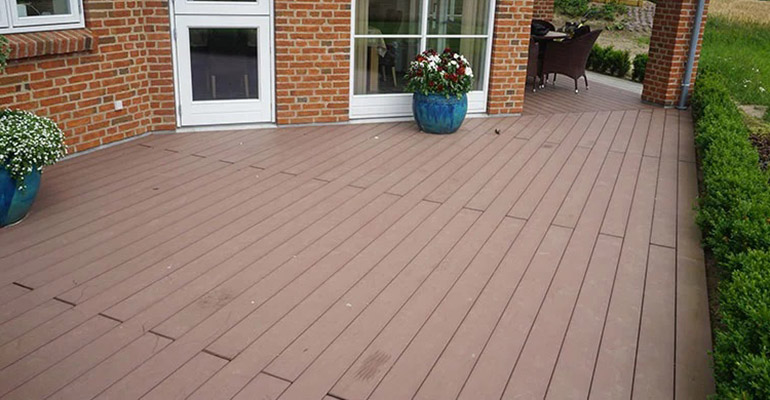 Overall value
When building an outdoor deck, you need to weigh the overall value of both against the long-term return on investment. While wood deck boards cost less upfront, the long-term maintenance costs and shorter lifespan will raise your long-term costs.
Composite decking does have a high initial investment cost, but its longevity and low maintenance costs make it more cost-effective. Additionally, our brand offers homeowners a long-lasting warranty for your peace of mind. We'll take care of any damages or problems during the warranty period promptly.
FAQ about composite decking
Are composite decks worth buying?
A composite deck is a perfect choice for homeowners who want their outdoor deck to be more durable and don't want tedious maintenance. It doesn't require regular maintenance and upkeep, and it's sturdy and durable, so it won't easily break, rot, or warp.
Can composite decking increase the value of a home?
There's no question that a beautiful and functional outdoor space can greatly increase the value of a home. Composite decking boards come in a wide variety of styles and finishes, and their ruggedness and low maintenance make them more appealing to buyers.
Can I stain composite deck boards?
If you are buying uncapped composite decking, then you can paint and stain the deck. However, capped composite decking cannot be stained and painted.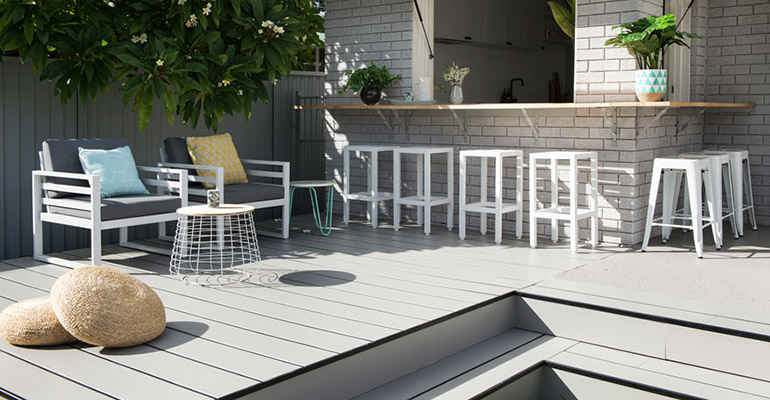 However, we do not recommend that you paint your composite decks, as this may cause damage to the composite materials. Staining composite decking may void the warranty of some brands.
Summarizing
To summarize, building an outdoor deck is a perfect investment for your outdoor space and home. When choosing between composite decking and wood decking, you need to critically consider the cost differences and the pros and cons of both.
Aside from price, maintenance needs, longevity, and durability are also crucial. Evaluate these factors carefully so that you can make an informed decision based on your budget and needs.
Related Post
Post a Comment
We'll contact you within 24 hours. Check out the spam box in case that the mail is blocked.