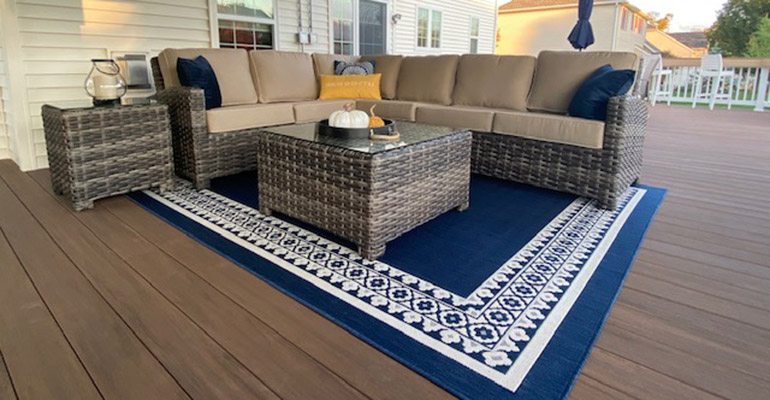 Is PVC decking better than composite?
If you're hoping to install a deck in your outdoor space, then you may be overwhelmed by the materials used for your deck. Choosing the right material is important to ensure the longevity, durability, and aesthetics of your deck. Two common types of decking exist on the market today, PVC decking and composite decking. but many homeowners want to ask, is PVC decking better than composite?
Both materials offer superior performance and longevity compared to traditional wood, but there are key differences between the two. In this article, we'll discuss is PVC decking better than composite in detail. We'll compare various factors between the two materials, including durability, maintenance, appearance, and cost. By analyzing the two in detail, you will have a clearer understanding of what is the best choice.
PVC, Composite, and Wood
Before we look at each material in detail, let's do a quick comparison.
| | | | | | | |
| --- | --- | --- | --- | --- | --- | --- |
| | Real Wood Looks | Water Resistance | Mold Resistance | Maintenance | Life Span | Upfront Cost |
| PVC | ⭐⭐ | ⭐⭐⭐ | ⭐⭐⭐ | ⭐⭐⭐ | 30-50 years | $$$ |
| Composite | ⭐⭐⭐ | ⭐⭐ | ⭐⭐⭐ | ⭐⭐⭐ | 25-30 years | $$ |
| Wood | ⭐⭐⭐ | ⭐ | ⭐ | ⭐ | 10-15 years | $ |
About PVC decking
PVC decking is made from polyvinyl chloride and therefore does not contain any organic materials such as wood fiber. The properties of polyvinyl chloride make it not easily affected by moisture and mold, and it is very low maintenance. You don't need to worry about damage to the PVC material and there is no need for tedious sealing and maintenance.
In the early days of PVC decking, there were many problems; it looked like cheap plastic, faded easily, got hot, and had a slippery surface. However, as the technology has evolved and improved, PVC decks have now solved these problems perfectly.
Learn about Composite decking
Composite decking is made from a blend of recycled wood fibers and plastic, the combination of which creates a strong and durable material. EVODDEK offers its customers a new and better deck that gives homeowners the perfect outdoor living experience.
EVODEK decking uses Ultra Graining Tech, for a stereo-vision effect, and Streaking Coloring Tech, for a stunningly natural color.
Like PVC decking, composite decking offers a rich look and superior utility. It has a shorter lifespan in comparison, but it is less expensive than PVC decking.
Is PVC decking better than composite?
Both materials are perfect alternatives to wood decking, but there are still some factors to focus on.
Durability
When comparing the two materials in terms of durability, you'll find that they both have a good deal to offer. PVC decking is highly resistant to moisture, mold, and rot due to its plastic composition. PVC is also resistant to cracking, warping, and insect infestation, making it suitable for use in a variety of extreme environments.
Composite deck boards are made from a blend of wood fibers and plastic and also offer good durability and weather resistance. However, the wood fibers in the deck still have the potential to absorb moisture leading to rot and dampness.
However, EVODEK can offer homeowners more durable and moisture-resistant composite decks. So that they don't have to worry about deck rot. Choosing composite decks with protective coatings can be an effective way to improve the durability and moisture resistance of your outdoor deck.
Maintenance
Both PVC and composite are known for being low maintenance compared to traditional wood, requiring less upkeep and maintenance. PVC decks, however, do not require sealing, staining, or painting at all to maintain their original appearance. It is also very easy to clean, using soap and warm water.
In the case of composite deck boards, they also require very little maintenance, but take more time than PVC. Homeowners may need to spend more effort on composite deck cleaning to prevent fading, staining, and moisture. For stubborn dirt on the deck, you may need to use a professional composite deck cleaner.
It is important to note that both PVC and composite decks require regular cleaning to remove dirt, debris, and organic matter.
Appearance
The appearance of an outdoor deck is a key consideration that directly affects the overall aesthetics of the outdoor area. PVC decking typically has a more vibrant and uniform appearance and comes in a variety of colors and finishes to choose from. While PVC decking used to look more like plastic, as technology has improved PVC has also become more aesthetically pleasing.
Composite deck boards have a more natural aesthetic than PVC. It replicates the grain and finish of wood so it looks more like traditional wood. In addition to the classic wood grain, it comes in a variety of different colors and finishes for a diverse and authentic look.
To compare the two in terms of appearance, you'll need to consider your personal preferences as well as the overall style of your outdoor area.
Sustainability
Sustainability is becoming an important factor in the choice of building materials as people become more aware of the need to protect the environment. PVC decking is typically made from virgin PVC, which is a petroleum-based product. As a result, it can hurt the environment. However, more and more manufacturers are adopting recycling measures to reduce their reliance on virgin PVC.
Composite decking is a more environmentally friendly option. It makes extensive use of recycled wood fibers and recycled plastics to minimize material waste. Composite material does not require the use of chemical-laden products for maintenance and upkeep. To a certain extent, it also avoids polluting the environment.
However, it is important to note that the environmental impact of composite decks is associated with different brands and manufacturing processes. Therefore you need to research and prioritize the more environmentally sustainable brands of composite decking boards.
Cost
Cost is a key factor to consider when choosing the right material for your outdoor deck. PVC decking tends to be more expensive and therefore costs more upfront. But you can maintain your PVC deck with simple operations that don't require sealing or staining, which can save more money in the long run.
The initial cost of composite decking boards will be cheaper compared to PVC materials. But despite the excellent performance and durability of composite decks, there is still a possibility of damage. Therefore you need to consider the repair and replacement of the deck at a later stage.
Lifespan
The lifespan of a deck depends on several factors; material, installation, maintenance, and wear and tear. Generally, PVC has a longer lifespan.
If properly installed and regularly maintained, PVC decking can last for 30 to 50 years. Because it is completely synthesized from polyvinyl chloride, it is extremely resistant.
Composite decks have the same longevity, and professional installation and maintenance can ensure that a composite deck will last 25 to 30 years. However, the longevity of a deck is also highly dependent on the brand and quality. Therefore, when choosing a composite decking, try to select a higher quality deck or a specialized manufacturer.
Anti-slip
The slip resistance of a deck is a major factor in the safety of an outdoor space. Slip resistance is a factor that homeowners need to consider as the safety of their outdoor space depends on it. PVC decking is less slip-resistant than PVC decking. So if you have elderly people and children in your home, consider a more slip-resistant product.
In the case of composite decking, some manufacturers offer more slip-resistant decks. The grooves on the surface of the decking provide extra friction and traction and therefore have better anti-slip properties.
How should I choose?
After describing the pros and cons of both materials, we'll recommend the right decking material from some common considerations.
Longest Lasting: PVC
PVC decks last longer than other materials. It has excellent resistance and performance to a wide range of environmental and weather extremes.
When properly installed and maintained, PVC can last anywhere from 30 to 50 years. This means you can enjoy the outdoor space of your dreams for a long time to come.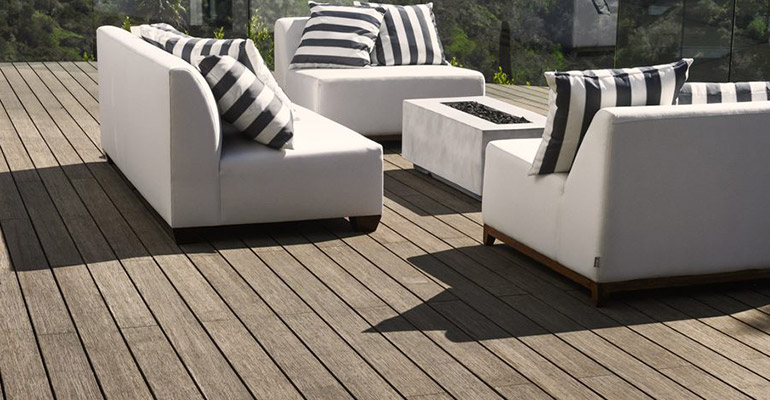 Better for wet environments: Composite decking
While composite material is not as waterproof as PVC, composite decking is a better material when you consider slip resistance and durability. The protective layer on the surface of the decking protects the composite material from moisture and humidity. And it has unparalleled slip-resistant properties that make it safer for homeowners to use daily.
More affordable: Composite decking
The initial price of composite decking is cheaper than PVC, making it an affordable option. Composite decking boards are also long-lasting and low-maintenance. You don't need to spend a lot of money on deck maintenance and post repairs.
To summarize
Is PVC decking better than composite? To choose between the two, you need to carefully consider various factors. PVC decking has excellent moisture resistance, low maintenance, and a longer lifespan. But composite decking has a more natural aesthetic and is a cost-effective option.
Please make a careful evaluation of durability, longevity, maintenance needs, and appearance. To determine the best material for your needs. Even after determining the materials for the deck, the homeowner needs to consider different brands and manufacturers. This can help you choose the most cost-effective product.
Related Post
Post a Comment
We'll contact you within 24 hours. Check out the spam box in case that the mail is blocked.