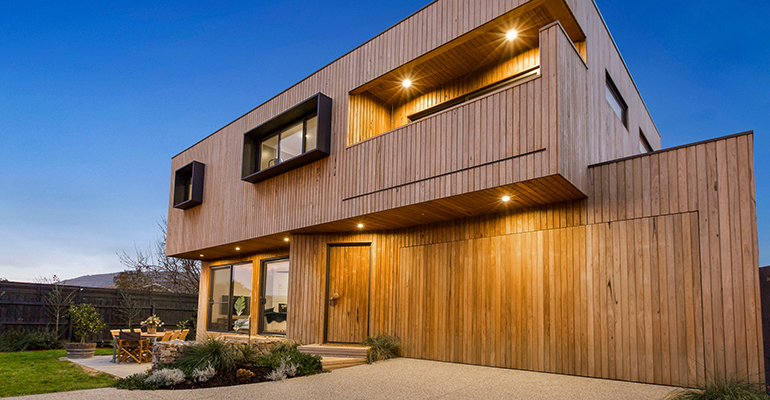 Pros and Cons of Cladding Materials
The latest trends in architecture emphasize the importance of bringing nature into your home. That doesn't mean you don't need to protect your home from the elements. While large windows and indoor plants can provide a natural feel to any home, that same home needs to be protected from elements such as rain, wind, and humidity.
Cladding, also known as siding, acts as the protective "skin" of the home, protecting the interior and structural parts of the house from the elements. Typically, exterior cladding consists of several layers, including the outer surface of the wall, plastic wrap for moisture protection, insulation and vapor barrier, among others. Plastic siding and brick are two of the most commonly used exterior cladding materials. Modern building materials offer several different options for exterior cladding.
Below, we take a look at the pros, cons and prices of different exterior cladding options, focusing on the characteristics of each material. These materials are brick, vinyl, and, composite.
Brick Cladding
Brick is one of the most commonly used exterior wall materials. In addition to being aesthetically pleasing, the material is easy to find, source and most contractors have experience building with it.
What are the pros of brick cladding?
On the plus side, the brick and mortar cladding comes from natural materials, namely clay that is heated in a kiln to form bricks. Bricks don't need any exterior paint and they will last a lifetime. The bricks provide a thermal mass that can be used to collect heat for the passive solar home. More importantly, the space between the wall sheathing and the exterior brick cladding also provides additional insulation to the house.
A number of innovative companies are now introducing bricks made from recycled materials, such as fly ash, a by-product of coal-fired power plants. A recent World Bank study found that these bricks could significantly reduce carbon emissions associated with the construction industry.
What are the cons of brick cladding?
The main downside of brick cladding is the enormous energy cost required to manufacture the bricks. Since bricks are heated in kilns, a lot of energy is required to make bricks. The mortar used to bind bricks together contains cement, and the cement industry's carbon footprint accounts for 5% of global carbon dioxide emissions.
Vinyl Cladding
Vinyl cladding is a durable plastic exterior wrapping material for homes that is used for aesthetics and weather protection. Made primarily of polyvinyl chloride (PVC) resin, vinyl siding is a convenient addition to your home because it eliminates the need for painting every few years and other regular maintenance.
What are the pros of vinyl cladding?
With the exception of vinyl, almost all cladding materials are coated with a colored layer. Vinyl cladding is unique in that the color is baked. The color of vinyl siding is 100% uniform: the color on top runs through. If you hate the thought of painting the exterior of your home, this is where vinyl siding is forte. Vinyl siding never needs paint.
Few siding materials are cheaper than vinyl siding. In terms of materials alone, fiber cement siding can cost two to four times as much as vinyl siding. Vinyl cladding is almost always your cheapest home siding option. Moreover, the smooth surface of vinyl cladding means that dirt, cobwebs, and other debris slide off relatively easily when sprayed with a garden hose.
What are the cons of vinyl cladding?
The most obvious downside of vinyl siding is that it comes from a non-renewable resource. The polyvinyl chloride (PVC) that makes up vinyl siding is a known human carcinogen. If exposed to dioxins during the manufacturing process, and if the PVC material catches fire in the future, it could cause serious health problems for people.
Composite Cladding
WPC (Wood Plastic Composite) cladding is usually made of wood fiber, recycled plastic and about 5-10% binder mixed evenly, and then heated and extruded through a mold. Therefore, outdoor plastic wall panels have the dual performance and characteristics of wood and plastic.
WPC cladding combines the natural beauty of wood with the durability and low maintenance of plastic products. This means that WPC cladding will require little maintenance for years to come and will remain in the condition it was installed in.
The surface of the wood-plastic composite board is not painted, but pressed. Therefore, plastic exterior wall panels are a green and sustainable choice. They are 100% non-toxic and safe to use.
What are the pros of composite cladding?
There are many benefits of using composite cladding for your house, any of which is worth your investment. Here we will give you some of them.
Durability
Composite cladding is especially designed and manufactured for durability. This material forms a hard shell for the exterior walls of your home and will protect your interior walls and insulation as a whole to remain fully waterproof. Unlike wood, composites do not weather easily in extreme weather conditions, nor are they easily corroded or damaged.
Eco-friendly
Furthermore, composite cladding is an environmentally friendly material with a much lower carbon and environmental footprint. You can find high-quality composite cladding products primarily from reclaimed wood fiber and plastics, which would otherwise be dumped in landfills. At the same time, repurposing these materials minimizes the use of new resources.
Aesthetically pleasing
Composite is available in a variety of colors and textures, so homeowners are sure to find the right option for their home. It's no doubt that improving the exterior appeal of your home can boost your property value.
What are the cons of composite cladding?
Composite cladding can be more expensive to install than wood, which can put you off a bit when considering cost. However, this tends to be balanced with greater resistance to weathering, erosion and damage, lower maintenance costs, and longer cladding life in the long run!
Post a Comment
We'll contact you within 24 hours. Check out the spam box in case that the mail is blocked.