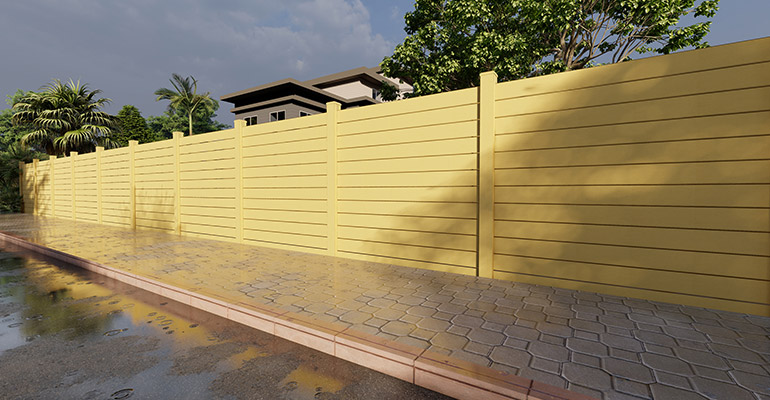 Some information About the Composite Fencing
Composite fencing, which is also known as "green fencing," is becoming more and more popular these days. It looks strong on the outside, but the inside is smooth. We all know that wood fences make our gardens feel cozy. Wood fences may not be the best choice for outdoor spaces, though, because they cost a lot to keep up. But if you want something that works just like a traditional wood fence, composite wood fencing is the best way to go.
What kind of fencing is composite?
By combining wood fibers and plastics that can be recycled, you can make a WPC material that can be used to make a WPC fence. The wood fibers used to make composite wood fences give them a natural and real look. The composite fence is very strong, and the addition of plastic makes it even stronger. This gives us a better outdoor finish.
The composite privacy fence can be used in many different places, from homes to businesses. It can also be used on any kind of property, whether it's a business or a home. In addition to other types of fencing, it is often used to give children and pets an extra layer of safety.
What's good and bad about WPC fencing
Composite fencing is the ideal mix of strength, durability, and good looks. It's been getting more and more popular over the past few years, and many people now think it's one of the best types of fencing you can buy.
Composite fencing has some advantages
Very durable. Composite materials are very long-lasting. WPC fence boards are second only to metal fencing in terms of how long they last. If there are no problems with the installation, it can last at least 30 years.
Simple to set up. The boards of a composite fence are light and easy to put together. Because of this, it is easier to move and set up.
Not likely to rot or mildew. Because it is made of plastic, composite fencing doesn't rot or mildew very easily. It can also handle the weather well, so you can use composite fencing to keep your privacy no matter what the weather is like.
It has a natural look. If you like the look of a traditional wood fence but don't want to deal with all the work that comes with keeping it up. Then you can use composite fencing to meet your needs. You can build a composite privacy fence that looks natural with composite materials. You can also choose between different wood grain finishes.
A lot of different colors. Depending on the additives, composites can be made in different colors. So, composite fencing can meet your design needs and make your house look better no matter what style it is.
Easy to take care of. Composite fence panels last for a long time and don't need much upkeep. It won't break or crack, and you don't have to paint or seal it often. All you have to do is clean it twice a year. And it's very easy to clean composite fencing with warm, soapy water.
The bad things about a composite fence
Composite fencing is getting more and more popular, but it also has a few problems.
High price to buy. The price is the main reason why most people don't choose WPC fencing. A composite fence is more expensive to put up than other types of fences. Composite fences are more expensive than pressure-treated wood fences but not as expensive as metal fences.
Almost impossible to buy. As a new material that is becoming more popular, it might not be available at every store that sells building supplies. To get a composite privacy fence, you might need to go to a bigger store that sells building materials.
Wood Fence vs Composite Fence
Pressure-treated wood is easy to find and doesn't cost much. It is still one of the most popular ways to decorate outside for most people. What makes composite fencing one of the best alternatives to wood fencing? How is it different from wood fencing?
Installation cost
Cost is always one of the most important things. Traditional wood fences are much more expensive than WPC fences, and composite wood fences cost more to install than wood fences. But since this is an outdoor decoration that will be used for a long time, its total cost includes not only the cost of installation but also the cost of keeping it up.
Even though the cost of installing a wood fence is low, there are things you can do to keep it looking good and make it last longer. Every two years, you need to do things like fix things, paint, and seal them. And that means you have to pay more for repairs and time. Composite fencing, on the other hand, needs little to no upkeep, which will save you money in the long run. By lowering the costs of maintenance, it becomes more affordable and, in the long run, more cost-effective.
Work on repairs
When it comes to upkeep, traditional wood fencing is very different from WPC wood fencing. When outdoor fencing is exposed to the weather, UV rays, and other environmental factors. Your outdoor fence will need to be painted or fixed often if you want it to look nice and last a long time.
Wood often needs to be repainted, fixed, or replaced. The only way to slow down wood's natural breakdown is to treat and coat it often. Wood fences may only last a few years in places with a lot of water or bugs. WPC fences, on the other hand, last longer than wood fences and only need to be cleaned once in a while with soap and water.
EVODEK Composite Fence
We can give you a WPC fence that is unique, easy to maintain and looks good. EVODEK privacy fence panels have a unique look and are made to last so that your home looks better.
Vertical fencing has a nice top and looks like a picture frame when the top and bottom rails and posts are put together. You can also choose a modern-looking horizontal fence. Both have a unique panel-loaded design that gives you more privacy and makes your outdoor space look better.
EVODEK's outdoor fence can stand up to winds as strong as a hurricane. It has a Class B fire rating and isn't bothered by heat, cold, moisture, or bugs. With an EVODEK WPC fence, you don't have to paint or stain it. Once it's up, you can just sit back and enjoy it.
Post a Comment
We'll contact you within 24 hours. Check out the spam box in case that the mail is blocked.