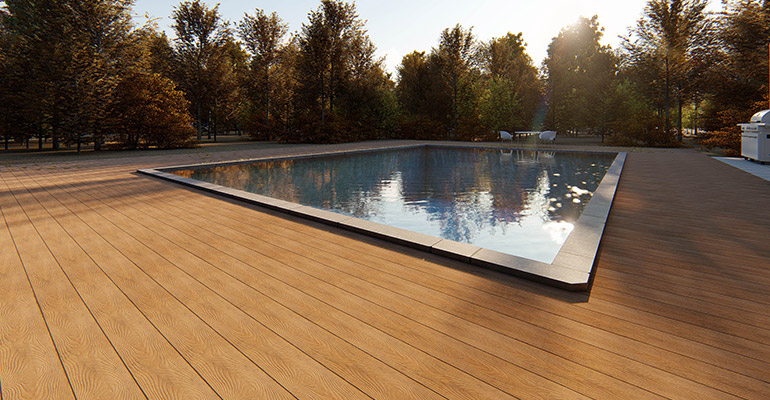 The Best Material for Above-ground Pool Decks
The hot summer months are coming up soon, and you may be thinking about putting in an above-ground pool in your backyard while you enjoy being outside. Building a pool gives you more room to have people over. When summer comes, you can chill out on your pool decks or swim in the water. But there is one thing to think about: what is the best material for above-ground pool decks?
In the past, one of the most common building materials was pressure-treated wood decking. Not only was it often used as a pool deck, but it was also often used for outdoor decks and exterior cladding. When used as a pool deck, it must, of course, be waterproof and resistant to rust. And even after the installation is done, wood decking still needs to be painted and cared for in other ways. So, more and more people are choosing the strong, long-lasting, and easy-to-maintain composite deck. So, what's the difference between these two types of decking?
Traditional decking made of wood
Depending on the type, traditional wood decking has different properties, pros, and cons. Here is a quick look at the most common types of wood decking.
Decking made of pressure-treated pine
One of the most common types of wood decking is pressure-treated pine. It has the benefit of being the cheapest and easiest to get. This kind of wood decking can be bought at any nearby building store.
Pine, on the other hand, is a softwood that is prone to rot, mold, and insect infestation. This means that it needs regular maintenance like painting and sealing to make it last longer. Also, when the temperature changes a lot from season to season, pressure-treated pine decks go through many cycles of expanding and contracting. This can easily make the outdoor deck warp or crack.
People usually walk barefoot on the top of a pool deck. A pine deck that cracks or breaks apart easily is not good for people. Pressure-treated pine decking is not a good choice for a pool deck because of this.
Cedar decking
This is another type of softwood deck, but unlike pine, cedar has some natural resistance to mold and decay. Over time, cedar decking will also mold and rot when it is hot.
Pine decking has an advantage over it in that it doesn't rot as well. When used as a pool deck, cedar decking has the same problems. For example, the surface of the deck tends to crack or fall apart, so it needs to be sealed often with a waterproof sealer. To make it last longer, it needs regular maintenance. In general, cedar decking is not a good choice for pool decking either.
Hardwood Decking
Most of the time, trees like IPE are used as the raw material for hardwood decking. Most of the time, these hardwoods are naturally resistant to things like rot, mold, splitting, and slipping. They also last a long time, between 25 and 30 years with little care. Unlike hardwood decks, decks made of pressure-treated pine or cedar can last for 15 to 20 years if they are well taken care of.
Hardwood decks also need to be taken care of regularly. But they are easy to take care of, as long as you clean the surface of dirt and other things regularly. The other thing to do is to regularly oil the hardwood to keep it from fading from UV light. When you oil a hardwood deck, not only does it keep the wood looking good, but it also makes the surface feel better.
Even if you use hardwood decking as a pool deck, there are still some problems. For example, hardwood is heavy and hard to move and put in place. Most importantly, installing a hardwood deck is expensive. Usually, it costs three times as much as installing a pressure-treated pine deck.
Stone Material
Poured Concrete
Many people also choose poured concrete for their pool decks because it is durable and doesn't get damaged by water. You can have the surface of the concrete brushed to make it less likely to slip. When the brushed surface is done, swimmers won't be able to walk on it barefoot and slip, even if the concrete is wet.
Concrete pool decking is a good choice because it can be poured into any shape you want, like a curve or a geometric pattern, and it can be done quickly. And it's not too expensive to pour concrete. The only problem is that you need a professional to put it up because concrete can start to harden in just a few minutes. If you don't know what you're doing, you might have to break it and start over. The second problem is that the concrete may look a little boring and won't make the place look better.
Precast Cement Pavers
Similar to poured concrete, precast cement pavers are a good alternative to poured concrete. This material is already made in different shapes, such as squares, rectangles, and octagons. You can make a better surface pattern with the different geometric shapes. Unlike poured concrete, which only comes in one color, precast cement pavers can also be chosen in gray or earth tones.
This material is easier to use than poured concrete, but it still has some problems. If the cement pavers are not put down correctly on a bed of sand or gravel that has been dug out, they may sink. This makes the surface of the pool deck uneven, which makes it hard for people to use their outdoor pools the right way.
Composite Materials
Composite Decking
One of the best things about composite decking is that it doesn't need much upkeep. This is one of the main reasons why composite deck boards are the most popular type of pool decking. Composite materials also don't get wet, rot, or warp, which is very important. This is because pool decking is often wet. The decking made of composite lumber also doesn't stain or fade. It doesn't fade easily, even after long exposure to UV rays, so the pool deck will still look good.
Even though composite decking boards cost more than pressure-treated pine decking boards, they cost less than hardwood decking boards. But they are cheaper than decking made of hardwood. And composite deck boards need little to no maintenance, so you not only save a lot of money on maintenance costs, but you also save a lot of money in the long run. It also gives you more time to enjoy being outside. The composite material can last at least 25 to 30 years because it is strong and durable. If you use it right, you can even get more use out of your pool deck.
PVC Decking
Pool decks are also often made out of PVC decking. It doesn't rot, mold, or get wet as composite does. But PVC decking and composite decking are not the same in some ways. When there is water on the surface of a PVC deck, the surface can be slippery, which can be dangerous for people walking on it.
Even though PVC doesn't need regular maintenance, it can chip or crack when it's cold outside. It's not a good idea to use PVC decking as a pool deck if you live in a place where the weather is cooler during the season.
To sum up
Composite decking is better for a pool deck because it is cheaper, works better, looks better, and lasts longer. Of course, you still have to choose the right material for your deck based on your needs.
Coming up is a hot summer, so hurry up and get started on your outdoor pool deck project so you can enjoy the outdoors.
Post a Comment
We'll contact you within 24 hours. Check out the spam box in case that the mail is blocked.