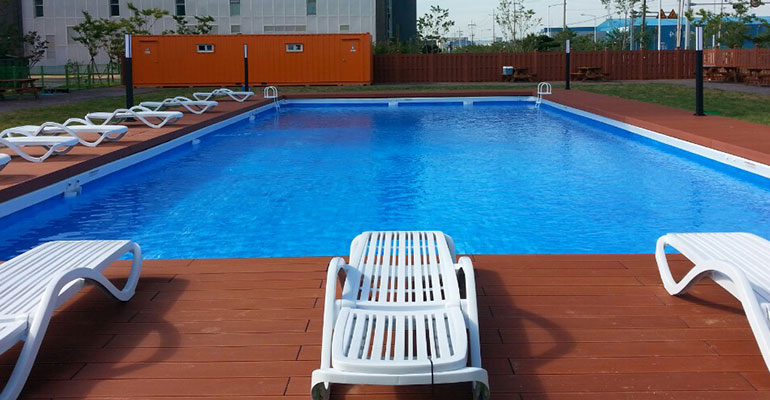 What are the different types of composite decking?
There are many types of composite decking. Including grooved and ungrooved composite decks, as well as capped and uncapped composite decks.
Composite decking is made from a mixture of wood fiber and recyclable plastic. When the final product is cooled, it can be cut into different sizes depending on the requirements. This results in the production of different types and colors of composite decking.
The use of composite wood decking
If you want your garden to look beautiful, you can use a composite deck to decorate the side of your house.
The fact is that composite decks are built to last. This is because they can withstand insect attacks and weather conditions without being damaged. This allows you to use them for a long time.
At the same time, composite decks come in a variety of types of look and finish, which makes them even more attractive.
In addition, unlike wood decks. WPC decks do not require regular maintenance and only need to be washed with soapy water to maintain their beautiful appearance.
Types of composite wood deck
There are many types of composite decks produced by different manufacturers. They are capped and uncapped wood-plastic composite decks.
Solid and Hollow composite deck
Hollow composite decking is a floor with holes in it.
This means that when you place the hollow composite deck on the ground and look at it from the front, you will notice a hole in it.
This hollow helps reduce the weight of the composite deck.
In addition, the hollow core in the floor helps it expand and contract easily. In addition, hollow decking is cheaper than solid core decking.
Uncapped and capped composite deck
As the name suggests, an uncapped composite deck is a deck without capped or covered plastic.
This is the first type of composite deck to be manufactured. Some people even call it the first-generation composite deck.
On the other hand, the covered composite deck is a wood fiber floor, the outer surface of which is coated with plastic.
The essence of coating the outer layer with plastic is to prevent the deck from absorbing moisture. This makes the capped composite deck more durable.
By considering their use, you can best distinguish the difference between capped and uncapped composite decks.
If you want to install them in an area where they will be exposed to water, a capped composite deck is a good choice.
This means that you can install a wood fiber deck around the swimming pool, which is very suitable for the environment.
In addition, you can install a capped composite deck near the dock where your boat is docked or where it is exposed to the water due to rain.
Uncapped composite decking is suitable for covered or shaded areas.
Grooved and ungrooved composite deck
A grooved composite deck is a floor with grooves or hollows on the side. This means that the grooved laminate floor does not have a smooth side.
The center on both sides is pushed inward so that it forms a groove extending along the length of the side of the deck. The side of the ungrooved composite deck does not have grooves like grooved ones.
Grooved composite decks are useful because you can use hidden fasteners to install the floor.
Hidden or hidden fasteners are invisible fasteners. This method of fixing laminate floors to joists is popular today.
This is because it creates a finish that will not be twisted by screw heads or nails. The ungrooved composite deck is installed by the surface mounting method.
They are fixed to the frame below them using nails or screws. The problem with ungrooved composite decks is that the screws appear on the surface.
Conclusion
There are different types of composite decks on the market. They include capped and uncapped composite decks, grooved and ungrooved composite decks, and solid and hollow decks.
Above all, you can choose the right composite deck for your needs and budget to build a more comfortable outdoor living space for you.
Post a Comment
We'll contact you within 24 hours. Check out the spam box in case that the mail is blocked.