What decking material lasts the longest?
Durability is a key factor to consider when choosing an outdoor deck material. After all, you want your deck to last for many years without the need for frequent maintenance or replacement. So, what deck material has the longest life span?
We all know that there are many different decking materials available in the market. Such as cement, pressure-treated wood decks, preserved wood decking, aluminum decking, composite decking material, etc. So, when we want to build a modern deck. How do we find the decking materials that will last the longest?
First, let's compare the main types of decking materials, as follows.
Cement
Without a doubt, cement is probably the most durable deck material on the market. An intact cement deck can withstand the extremes of weather from storms to the rigors of winter. No amount of weather or human behavior will wear it down. When used in the right way, an outdoor cement deck can last upwards of 70 years.
This long life is unlike any other type of deck material. If you don't have high demands on your outdoor deck design and have no plans to move it in the next 60 years. Then cement decking is the perfect choice for you. Cement decking also has the advantage of being easy to clean and maintain. So you can enjoy your outdoor living space for decades to come.
While cement may be the most durable deck material, longevity does not equal better deck material. Cement decks do not come in a choice of colors, so if you need a colorful design look, then cement is not the right material for you. In addition, if you live in an area where there is hot weather or your deck is in the sun a lot. Then the cement deck will also bring you a lot of trouble, the temperature of the cement deck under the sun will be very high. The temperature is a too high outdoor deck is not suitable for you and your family to enjoy life outdoors.
Pressure treated wood
Pressure-treated wood is the most common deck finishing material and is available at building material stores everywhere. This wood decking is inexpensive, easy to install, and has a heavenly hot wood grain finish. The warm and natural wood grain look gives people a different kind of enjoyment, so very many people choose traditional wood decking.
Even the wood deck decorative material has many different kinds. The common ones are redwood, cedar, pressed pine, and IPE wood. Inside these woods, the cheapest is redwood decking, a decking material that has the beauty of leading people in awe. Next is cedar wood, which is relatively affordable. Pressure-treated pine may be a popular choice for wood decking material. However, it is more expensive and may not be the best choice for building a deck. And IPE hardwood is the most expensive and longest-lasting wood.
However, wood decking is susceptible to weather and climate. It is more susceptible to rotting, insects, cracking, etc. Regular annual maintenance is required to ensure an intact appearance. Even if these wood decks fade naturally, they need to be repainted or stained every two to three years to maintain their best appearance. When properly maintained, wood decks usually last 10-15 years, and good ones may last up to 20 years.
Preservative wood decking
Preservative wood decking material is wood processed and placed in an airtight pressure preservative tank. And the preservative is pressed into the wood by vacuum pressure. It can effectively prevent the corrosion of microorganisms and insects. It also has the function of being waterproof and anti-corrosion. This material has excellent environmental adaptability.
But the preservative contains some toxicity, and these chemicals can cause some harm to the human body. You need to leave this material to ventilate for a few months to reduce these hazards. If there are children or pets in the house, then it is not suitable to use preserved wood to build outdoor decks. Therefore, preserved wood decks are not the first choice for home improvement.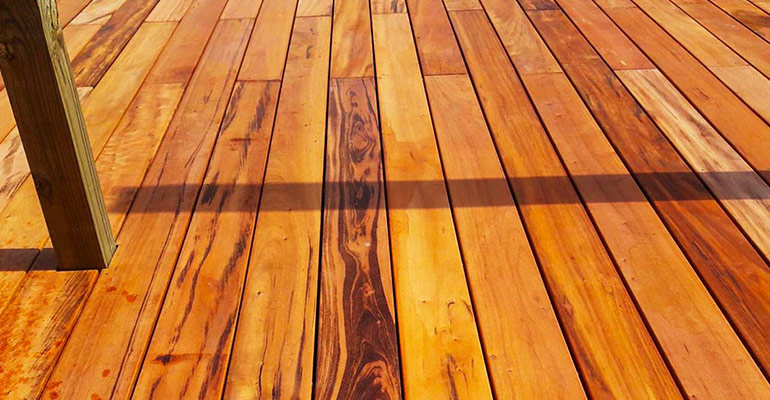 Aluminum decking
Aluminum is very durable and can be used for a long time. But the choice of colors and surfaces is limited. Its appearance may not match with most houses. It is also more affected by the environment and tends to overheat in summer and freeze more easily in winter, making it less suitable for outdoor sports. Also, the price is relatively high.
Composite decking
Composite decking material (WPC) is a new environmentally friendly decorative material. This material is made from a blend of wood fibers and recyclable polymers. Various processes are incorporated in the production process to achieve the advantages of combining superior performance with the natural appearance of solid wood.
Composite decking is a popular choice because of its low maintenance and long service life. In addition, composite decking is waterproof, mold resistant, UV resistant, and corrosion resistant. As a man-made material, it is available in a wide range of colors and finishes to choose from. It can be widely matched to different house design styles. composite is not easily faded and you need to use mild soapy water to clean it easily. With composite decking material, you don't have to worry about regular maintenance and upkeep, so you can spend more time enjoying your life.
The disadvantage of composite decking material is that it is more expensive to purchase. However, it requires low maintenance and has a long service life. Therefore, in the long run, it may be a cost-effective decking material.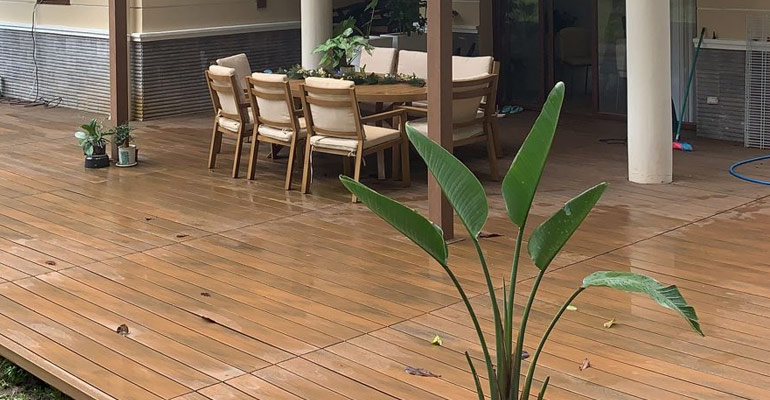 Summary
Taking many aspects into consideration, composite decking material is currently one of the most suitable choices for outdoor decking projects. It is widely used in different areas, such as balconies, decks, patios, swimming pools, roof decks, deck steps, walkways, sea bridges, etc. Many projects have been completed for more than 10 years and the feedback is very good because of its long life and weather resistance.
In any case, composite decks are definitely the best choice when you have any deck in mind. The cost of the deck per square foot is very reasonable and there are different composite decking prices to suit different requirements. It can also be DIY by the composite deck builder to do any deck design you like during the installation process, such as adding deck lighting ideas.
If you prefer, you can also install it yourself. Composite decking boards will come with very detailed installation instructions that will help you with your installation, in fact, it's really very easy.
Go ahead and design a deck with the most durable materials available now!!!
Post a Comment
We'll contact you within 24 hours. Check out the spam box in case that the mail is blocked.