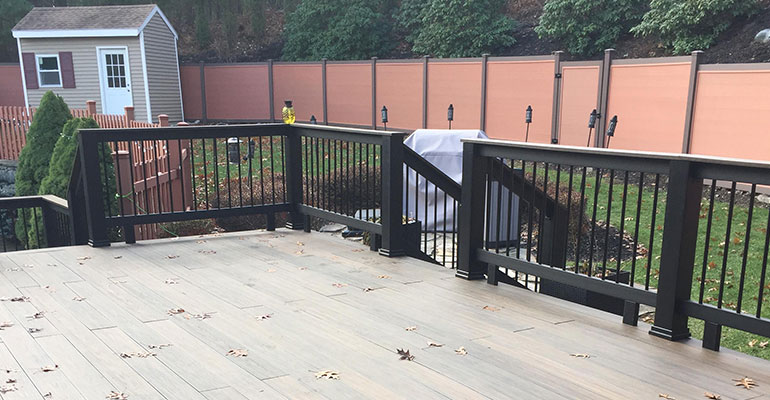 What is the best composite decking on the market?
Composite decking is a popular choice for many homeowners today. Unlike wood decking, it is cheaper and easier to maintain, but more durable and sustainable. For many homeowners, this is a new concept, and people usually cannot distinguish the difference between wood and composite decks.
Precautions for choosing Composite decking
This guide introduces the basics of composite decking, including what composite decking is, why it is a popular alternative to wood decking, and factors to consider when buying the best composite decking.
Composite decoration material-what is it made of?
Composite decking uses a variety of materials instead of wood:
Wood composite material: A mixture of wood chips and recycled plastics, wood composite materials are the most popular composite decorative materials. With the look and feel of a wood deck, wood composite materials also have a variety of colors and can be designed to look like WPC decks.
Plastic: Plastic composite decking uses a variety of plastic materials, including polyethylene, polypropylene, and vinyl. It is light and durable. In addition, many high-end brands can be designed to look like real wooden decks.
The benefits of composite decking
Due to its many advantages, the popularity of composite decking continues to grow. Most notably, the use of it reduces the global dependence on wood. For every family, a large amount of this limited resource is needed to afford a wooden deck, and excessive logging may damage the forest and the climate.
Other significant advantages of composite decking include:
Excellent value for money
The installation cost is higher than the wooden decking. However, in the long run, choosing composite decks can save a lot of money and time, as described below.
Durable
The smooth and elegant look and feel characteristic of wood decks are not always lasting. On the contrary, it wears and tears over time, produces debris and stains, and as a material generally degrades as a whole. However, durable composite decks will maintain its structure and appearance over time.
Easy to maintain
Due to their short-term resilience, wooden decks require proper maintenance. This care includes cleaning, sheltering from extreme weather, and performing all necessary repairs. Over time, low-maintenance composite decking does not require this kind of attention.
Cost-effectiveness
The initial cost of a composite deck exceeds that of wood flooring. However, in the end, choosing to build with composite decorative materials still proves to be more cost-effective. Over time, durability and ease of maintenance help keep long-term costs low.
Composite decking is more durable than wooden deck
Wood-related degradation is not prone to occur, and it will not split or rot over time. This means that the cost of repair and replacement will be reduced. And the cost savings for consumers exceeds the profit difference of wooden decking.
Maintenance can also be expensive
For wooden decks, a handyman may be needed to help solve small problems, which will increase the total cost over time. composite decking will not degrade like a wooden deck, which means lower maintenance costs.
Key factors to consider when choosing composite decks
So, what makes the ideal composite floor? It depends on personal preference. However, every shopper should consider several factors:
Material
Different materials used to make composite decks have different advantages and disadvantages. Some materials provide greater durability, while others look more visually appealing. For a composite wood deck, its advantages in design and strength make it the most popular or best composite decks material.
The appeal of aesthetics
Wood decks are popular because of their elegant wooden appearance. However, some of the more versatile composite decorative materials can be designed to look as realistic as wood. Comparing each other, many people can't tell the difference between wood flooring and composite decking.
Color and texture
In addition to the appearance of wood, some composite decorative materials can also imitate the texture and feel of real wood. However, unlike wood flooring, composite deck boards can be provided in a variety of colors and designs.
Post a Comment
We'll contact you within 24 hours. Check out the spam box in case that the mail is blocked.