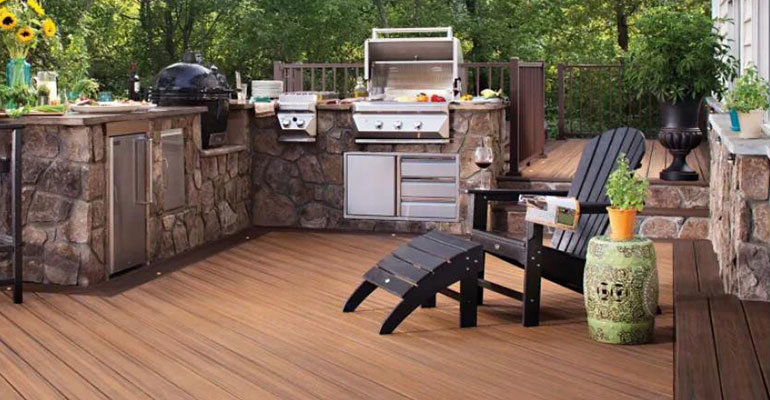 What is the best way to keep the bugs off outdoor deck?
The outdoor deck provides a private location for relaxation as well as a terrific place to entertain friends and family. You can host a family gathering on your outdoor deck for a BBQ or a drink and a conversation. Alternatively, you might read stories to your children in the evening under the lights. What a fantastic outside space living!
There can be a lot of worries when relaxing outside. Insects, for example, begin to appear. Outdoor activities in the summer can attract mosquito bites. Food crumbs might attract ants and other unwelcome guests. Moths and other bugs are attracted to lights at night. So, what can we do to avoid this vexing situation? There are some simple techniques to keep summer bugs off your patio and allow you to enjoy the outdoors without interruptions.
Plants can be used to repel insects
Insects discern information mostly by fragrance, and this chemical-free repellent may produce numerous scents to repel insects. Of course, there is no one-size-fits-all strategy for repelling all insects. You can use particular garden plants to repel bugs depending on the pests you need to repel. Use chrysanthemums to repel ants, basil to deter flies, and lavender to repel moths. Plants like rosemary, marigold, and lavender can be used to repel mosquitoes.
Plants that may be used to not only embellish your outside deck space but also to freshen the odors in your yard can be used to repel pests. While the aroma of lemon may repel mosquitoes, it may also attract bees.
Use essential oils
If you find that using plants to repel other insects is too time-consuming and limited, you can substitute essential oils. To use, sprinkle the essential oil mixture evenly over your patio to keep as many insects away as possible.
So, how do you produce bug repellant that works? Combine one part witch hazel and one part of water. A tablespoon of topical alcohol and a few dozen drops of essential oil should be added.
You can use lavender, rosemary, lemon thyme, or basil as your essential oil. These scents imitate the scent of the plant after which they are named, allowing you to combine several protection measures into a single solution.
Drain the deck of standing water
We have several methods for removing various flying insects off your deck, but we must also address the underlying source of the flying bug problem. Standing water on the deck might serve as a mosquito breeding site. Keep your deck drains, downspouts sinks, and other locations free of standing water if at all feasible.
Spraying mouthwash
Spraying alcohol-based mouthwash around your deck is another excellent approach to get rid of deck bugs if you don't have essential oils. Fill a spray bottle halfway with mouthwash and spray around your deck or on your outdoor furniture. Although alcohol-based mouthwash will repel other bugs, due to the alcohol's quick evaporation, you will need to apply it frequently.
Change your outdoor deck lighting
Bugs have a visual system that allows them to see shorter wavelengths of light more clearly, such as blue and purple. However, their optical system is incapable of seeing warm lights such as red or orange.
Because conventional white light bulbs contain a high concentration of blue light, the light at night attracts a large number of mosquitoes. Replace colder bulbs with warmer tones, especially yellow or sodium vapor bulbs, to keep mosquitoes off your outdoor deck at night. This will keep more mosquitos away from the lights.
Keep your outdoor deck tidy and clean
A cluttered backyard is ideal for bugs. Ticks prefer to hide in tall grass, and overgrown shrubs can make pests more easily accessible. Keeping your yard neat isn't just for aesthetic purposes; it also minimizes the amount of living area for bugs away from your patio. So, whether for aesthetic reasons or to keep bugs at bay, keep your outdoor deck as clean and neat as possible.
Following these simple methods can assist you in making your backyard deck a bug-free environment where you can enjoy a more relaxing time outdoors with friends and family.
Post a Comment
We'll contact you within 24 hours. Check out the spam box in case that the mail is blocked.