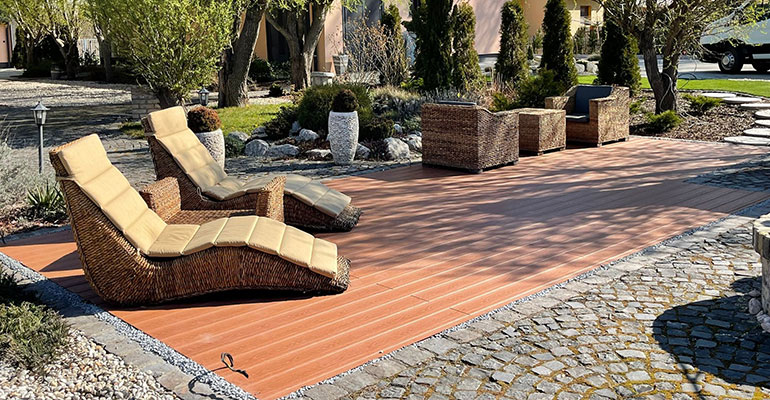 What paint to use on composite wood decking?
If your outdoor deck sends fading, then you can repaint it to keep its appearance. If your outdoor deck uses a composite decking material. Then can you paint your composite wood decking?
Why does composite decking fade?
Composite decking materials are produced through extrusion dies of recycled plastic and wood fibers. Therefore, composite wood decking has the advantages of high stability, maintenance-free, and long service life. With a density of over 1800 kg/m3, the composite material is much higher than most hardwoods and planks. This means that composite lumber decking will not warp or crack.
Composite wood decking is available in a wide range of looks and colors. So you can choose the outdoor deck you need without painting. Also, better fade resistance is another advantage of composite decking. Although composite decking has better fade resistance than traditional wood decking. However, over a long period of time and with exposure to sunlight, the composite material will fade. Or rather, the most common cause of composite decking fading is prolonged exposure to UV light and high temperatures.
If your composite wood decking has faded, either due to age or prolonged exposure to the sun, you may need to repaint if you still want a nice finish. One option for doing this is to use paint. But before making changes to your decking, you may be wondering what kind of paint you can use.
Why use paint to recolor your deck
Quality paint can last for ten years or more. It can also serve to protect your outdoor deck. Painting can recolor your outdoor deck. If your outdoor deck has faded, or you want to change the color of your deck. Painting your outdoor deck is a better way to do it. Wouldn't it be more time and cost-effective than re-installing your outdoor deck?
Type of paint used
Not all types of composite deck boards are suitable for painting. Capped composite decking is covered with a protective film, so you cannot paint capped composite wood decking. Of course, capped composite decking has better fade resistance than uncapped composite decking. Paint applied to different types of composite deck flooring will produce different results. So, what kind of paint should we use?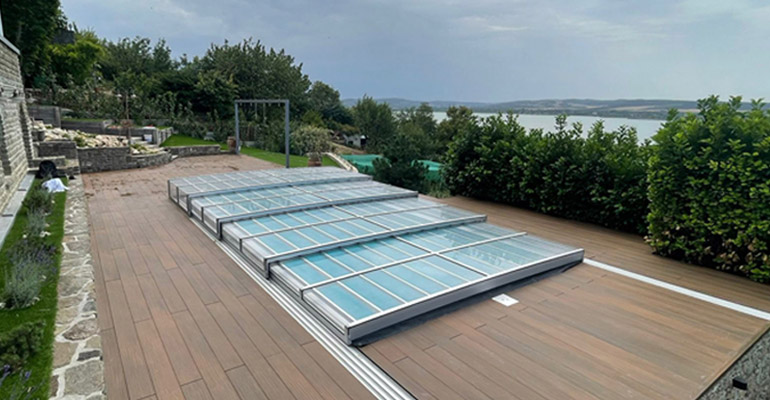 For uncapped composite decking boards, the best type of paint to use is premium latex paint. For a shiny look, you may need a semi-gloss or satin finish. However, it's best to remember to ask your manufacturer what kind of paint you can use. They might give you a suggestion. It's also important to note that painting decks can sometimes void the warranty, depending on the manufacturer.
Before painting composite deck flooring, we need to do some preparation work.
Prepare for painting
After you have prepared the right paint coating, you need to prepare it well before applying the paint. Avoid failing to paint the composite deck flooring because of improper preparation. So, what should you do to prepare for painting?
Clean the outdoor composite decking
First, you need to thoroughly clean the deck before painting. Before cleaning the composite wood deck, you need to remove a lot of furniture and decorations. You can use warm soapy water or a professional deck cleaner to clean the deck. After cleaning the outdoor deck, you need to rinse it thoroughly with water to avoid stain residue. Allow the deck to dry before proceeding to the next step. Do not use a pressure washer to clean the composite deck to avoid damage to the deck surface.
Sanding the composite deck boards
After the composite decking has been cleaned, you can sand the floor to allow the paint to stain better. Before applying the paint, you must apply a primer to the outdoor deck. This will allow the paint to adhere better and increase its durability of the paint. We recommend using an acrylic latex primer.
After the primer has dried you can proceed with the painting job. When painting, it is best to brush along the composite decking so as to get the best results. Allow the first coat to dry before applying the second coat.
Post a Comment
We'll contact you within 24 hours. Check out the spam box in case that the mail is blocked.