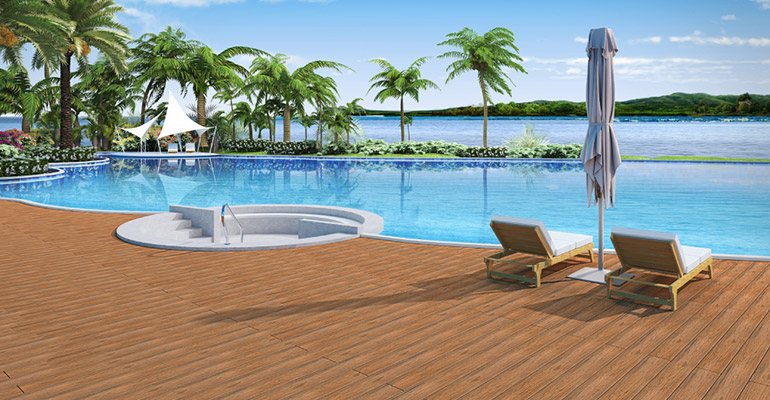 What You Should Know About Composite Decking Materials in General
Composite decking is a new type of material that is great for people who care about both how their deck looks and how well it works. The composite decking material is made of at least two different kinds of materials. This is the biggest difference between traditional materials and composite materials. For example, WPC material is made of wood fiber and plastic that can be recycled. This kind of material is used a lot in many fields, like decorating buildings, making the insides of cars, and making furniture.
Composites are very new and have had a big effect on the field of materials science. Composite decking materials are better than most other building materials in many ways. This is the main reason why composite decking is becoming more and more popular as a home improvement project. Today, let's find out what composite decking material is and everything else about them.
What is a composite decking material?
Most composites are made from two or more different materials. The chemical and physical properties of these parts are different. When they are put together, they make new materials with different chemical or physical properties. For example, this composite decking material gets stronger, lighter, or more resistant to high temperatures. It also gets stronger and stiffer than other materials. Composite materials are made and used because traditional natural materials don't meet the demand. Because of this, more and more composite materials are being made and used.
History of composite materials
Composite decking material has been used by people for many thousands of years. Ancient people were already putting strips of wood together at different angles and gluing them together to make plywood thousands of years ago. Since then, the Egyptians mixed sand with natural resins to make things like pyramids and obelisks out of concrete. The Mongolian Empire, which covered a large area, made bows out of wood, bone, cow tendons, cow horns, and silk. These composite bows were very flexible, tough, and long-lasting.
Polymerization became a way to turn synthetic resins into solids after the Industrial Revolution. After this, in 1879, Thomas Edison made the first composite material by mixing carbon black and rubber to make a high-quality filament. Bakelite, which Leo Baekeland made in 1909 from wood flour, phenol, and formaldehyde, was the first composite material that did well in business.
Scientists started to look into ways to make composites stronger by combining different types of fibers with polymers at the end of the 19th century. Roger Bacon of Imperial Chemical Industries (ICI) came up with carbon fiber reinforced polymers (CFRP) in 1954 as a result. The first real use of CFRP was in the aerospace industry, where it was used for bulletproofing and radomes. This was followed by using CFRP in cars, where it was first used for bumpers and then for doors and roofs.
At the beginning of the 20th century, organic fibers were mixed with different resin systems to make reinforced plastics. In 1938, phenolic resin was used by Owens Corning to make the first commercially successful fiberglass. By the 1950s, fiberglass was being used in boat hulls and other marine applications because it was lighter than steel and didn't rust like aluminum.
Why use composites?
This is because composite decking materials can combine the benefits of the materials that make them up. Composite wood decking is a good example of this. If you want to use traditional wood decking, you have to take care of it regularly or it could get wet, grow mold, or even rot. And if you use plastic for flooring or decking, it won't get wet, grow mold, or rot, but it doesn't look as nice. When you make a composite decking material out of plastic and wood fiber, the properties of the two materials will mix. You get composite wood decking that looks like natural wood and can't be damaged by water or mildew.
The best thing about composite materials is that they are both strong and light. Using scientific testing, manufacturers can make materials that are perfect for certain uses. Another benefit of composites is that they can be made to fit your needs. Composites can be made in different molds to make products that are different in size and look. So composites can be used in almost any kind of design.
Most common types of composites
Some examples of engineered composites are reinforced concrete and brick, composite decking, and wood composites like plywood. Composites are better than most materials because they are cheaper, lighter, stronger, or last longer. Here is a list of the different kinds of composites to give you a full picture of what they are.
Composites of wood and plastic. It is made from a mix of wood fiber, plastic that can be recycled, and other things. People have often used it to build outdoor decks and wall panels.
Ceramic matrix composites. This material is better than ordinary ceramics because it doesn't break as easily and doesn't crack when it gets hot.
Metal matrix composites. Most of the time, they are used in the aerospace industry because they combine the best qualities of different metals.
Concrete with rebar in it. It's concrete that has been strengthened with things like steel bars that have high tensile strength. It's mostly used in the engineering and construction industries.
Plywood. It's a composite material made of many thin layers of wood stuck together at different angles. We often put it on furniture to make it look nice.
Glass fiber. An inorganic material that is not a metal and has good properties. They are often used as reinforcement in composite materials, electrical insulation, thermal insulation, circuit substrates, etc.
Polymers with carbon fibers in them. This is a new type of engineering material that works very well: polymer matrix composites with carbon fiber as a reinforcing material.
Man-made foam. It is a light material made of tiny spheres filled with metals, ceramics, or plastics.
Application range of Composite wood decking
Now that we know what composite wood decking is, let's talk about the different ways it can be used. Composite wood decking looks like natural wood but is as strong as any other composite material. It also comes in different colors and finishes, making it a good choice for most outdoor uses.
Decorations for Outdoor Decking
Composite decking is one of the most common ways for homeowners to build their own outdoor decks. With composite decking material, your family can walk barefoot on a deck surface that won't crack or chip. Maintenance-free composite decking boards not only make it easier to take care of your deck, but they also raise the value of your home when you want to sell it. Composite decking material are a cheap and modern way to make your outdoor space look nicer.
Decking Out a Balcony
Installing composite decking on a balcony is a great way to add outdoor space. A balcony can also be decorated with decking made of wood. But because wood decking needs a lot of maintenance every year, using traditional wood or hardwood can get expensive and take a lot of time.
Trestle Decking
Composite wood decking is strong and easy to take care of, making it perfect for high-traffic decks. The composite deck board is a great choice for commercial projects because it is easy to clean.
Decor for the garden
The EVODEK® wood composite decking looks like gorgeous wood. So you can decorate your garden with different colors. You can always find the right composite decking for your garden, no matter what style it has. Composite decking lasts for a long time and doesn't need much upkeep. This will give you more time to spend on your garden deck.
Garden room
EVODEK® has a range of composite decking, but it also has a range of composite wall cladding. It lets you decorate your garden room or the outside wall of your house better. This will make your house look better and give you more time to enjoy the outdoors.
Beach Deck
The composite deck boards from EVODEK® won't break or fall apart, and you can walk on them barefoot. It is especially good for places like beaches where people can walk barefoot without worrying.
Decking for the dock and waterfront
The water and mildew resistance of composite deck flooring is very good. So it is a great alternative to wood in places where it gets wet. It keeps you from having to worry about maintenance at all during its lifetime.
Decorate a park
Strong composite wood decking is a great investment for the long term. It's an attractive, low-maintenance solution that makes park finances easier to manage and gets rid of the high costs of keeping traditional wood in good shape.
Projects for business
Composite decking materials can be used in a wide range of business settings. From outdoor restaurants to shopping centers, they make it easy to point out certain areas. You can build walkways with different areas and put some benches outside so people can sit down and rest.
Pool decking
Composites are very good at keeping water out. Because it doesn't hold much water, any water that gets on the surface of the pool deck will dry up quickly. This keeps moisture from causing the pool deck to get moldy and rot. People can walk with confidence on 3D wood grain series and groove series composite decking because they do not slip.
What are the parts of EVODEK® composite decking?
EVODEK® Wood Plastic Composite (WPC) is made from 85% recycled material, HDPE, hardwood powder, and a number of additives that improve its performance (e.g., UV resistance, anti-aging). EVODEK® WPC keeps the natural look of wood and the rich colors of plastic thanks to our patented extrusion technology. This technology perfectly wraps wood powder products in HDPE.
EVODEK® wood-plastic products are great because they are strong, stiff, resistant to acids and erosion, don't change shape, don't have formaldehyde, and are easy to recycle. We can cut it into different shapes to make it look like wood. EVODEK® composite materials, on the other hand, are a good way to get around some of the problems with wood, such as its tendency to crack, attract insects, and not last very long. WPC also doesn't need to be painted or maintained because it works so well.
3D composite decking with wood grain
EVODEK®'s decorative panels and cladding now have 3D embossed and striped colors. This was made possible by years of research and development on WPC production technology. Traditional WPC decorative panels don't look as good as EVODEK®'s patented 3D wood grain surface art color.
The grain on 3D wood grain composite decking is deeper, and it is more durable and resistant to wear. It shows how WPC composite decking is better than solid wood decking because it looks exactly like wood grain.
Composite decking with caps
EVODEK® capped composite decking has four-sided capped technology that makes it more resistant to sunlight, stains, mold, mildew, and bacteria. It also makes it less likely to get scratched.
Capped composite decking doesn't have any of the problems that come with other materials. For example, it doesn't feel like plastic like PVC flooring does, fade as traditional laminate flooring does, or splinter and crack as solid wood does. The unique coating technology of EVODEK® gives you an extra touch experience that is anti-static, soft, and doesn't transfer heat well.
What are the pros and cons of composite decking?
Composite decking is used a lot, but why? Next, let's talk about why composite wood decking is a good choice. Then you'll know why composite decking boards are the best alternative to wood decking.
Composite wood decking has a lot of benefits
Looks like natural wood grain
Composite deck boards look nice because they look like they are made of the wood grain. Composite decking can also be made in different colors and textures, depending on how the surface is treated and how it is made. So, composite material is the best choice for decorating your home.
Low maintenance
The look of traditional wood decking is very nice. But after being outside for a long time, it can fade, crack, or rot. So, if you want your wood deck to look nice, you need to spend time maintaining it regularly. Due to the benefits of composite materials, composite wood decking doesn't need to be painted or stained as often as wood decking does. This saves you money in the long run and gives you more time to enjoy the great outdoors. One of the best things about WPC decking is that it doesn't rot.
Durability
The WPC material lasts longer than natural wood. It does a good job of resisting fading, stains, scratches, mildew, warping, rotting, and cracking. Composite material is also not afraid of water corrosion and lasts for a long time. Because of this, it has a long life, and if you take care of it, it can last 30 years or more.
Cost-effective
The price of traditional wood decking is low. But even after the outdoor project is done, you will still have to pay to keep it in good shape. On the other hand, pressure-treated wood decking may cost less to put in than composite deck boards. But once it is set up, you can enjoy the outdoors without having to pay for maintenance. Because of this, composite decking is cheaper than wood decking.
Sustainability
As the world moves into the 21st century, protecting the environment and making things last longer are becoming more and more popular. Wood flour and recycled plastic are used to make EVODEK® composite decking. Branch pieces and wood chips can be used to make the wood powder. Using wood flour can help people get more use out of trees. And using plastic that can be recycled is a good way to cut down on the amount of plastic waste we make and protect the place we live. In other words, if you decorate your house and yard with composite wood decking, you can save natural resources and cut down on pollution. And at the same time can make architecture that is both beautiful and good for the environment.
Good defense against bugs
Termites are a problem for a lot of people. It will chew on the wood and lay eggs inside to make more termites. Over time, it can cause damage to your home's structure and make you and your family less safe. Traditional wood decks are treated with poisonous chemicals and insecticides to keep termites from eating the wood and causing damage. But not only does this hurt the environment, but it also makes insect control less effective over time. Composite decking boards that keep termites and other pests out are perfect for places where they are common.
Easy to set up
Composite decking is easy to install, and the way it is made makes it easier to keep the deck in place. The joists, which are also made of composite decking material, make it possible to install composite deck flooring in a number of different ways. Even if you don't have any installation experience, EVODEK® will give you detailed installation manuals and installation videos. You can still put your outdoor composite deck boards together on your own.
Simple to clean
Both coated capped composite decking and composite decking made of wood and plastic are good at keeping water out. So any dirt or other junk on the surface of composite deck boards is easy to clean. When grease, wine stains, or other food messes land on the deck, all you have to do is get some warm soapy water ready to wash it off.
Customizable
Composite deck flooring is an outdoor deck that is made by people. It comes in many different colors, patterns, and textures. You can also make it fit your needs by matching the sizes, textures, and colors. So, no matter what style of house you have, composite decking will go well with it and make your home cozier and more comfortable.
Disadvantages of Composite decking
High price to buy
Even though composite decking boards don't need to be maintained, they are more expensive than pressure-treated lumber to buy. Pressure-treated pine decking can cost up to 15% to 20% more than composites.
Plastic texture
The material for the composite decking is not real wood. Early composite decking was only one color and felt like hard plastic. But composite wood decking has come a long way in recent years. When you look at it closely, you can still feel that it is made of plastic.
Expansion and contraction cause damage
When there are big changes in temperature, composite deck boards will grow and shrink. If your composite deck flooring isn't put in right and doesn't have proper expansion joints, it may squeeze together when it swells and shrinks. This means that your outdoor deck may buckle, twist, or bend. If the expansion and contraction of composite deck boards cause damage, they may need to be replaced right away.
How to install composite deck boards
In the last paragraph, we learned a few things about composite decking. We have a basic idea of how this material was made, how it can be used, and what its pros and cons are. Let's find out more about how to put together composite decking.
Getting ready before installing
Codes for building. Any building project must follow the rules for building in the area. Before you start building an outdoor deck, you should make a site plan so you can get a permit from the building department and avoid problems with project violations.
Design Planning. Plan the layout of the deck's flooring before you start putting it down. It's to make sure that your outdoor project will make your house look better.
Safety Equipment. To keep yourself safe while working on a construction project, you need to wear the right safety gear. When handling, cutting, and installing, you should use the following safety gear: gloves, a face mask, long sleeves, long pants, and safety glasses.
How to Use Tools. Tools for carpentry can be used.
Installation Environment. A surface must be clean, smooth, level, and solid. The spot where the deck will go needs to be taken care of.
Product Preparation. Composites have to be put on a flat surface. Also, composite deck boards need to sit for three to five days before they can be put in. This is so that the composite product can get used to the environment and so that there won't be problems with swelling and shrinking after installation.
Installing the joist
When you put in joists, they should be as straight as possible with the floor. There shouldn't be more than 14 inches between joists (350 mm). If the joists and decking can't be parallel, choose the right joist clearance based on the angle between the joists and decking.
Leave a space of 1/4″ to 1/2″ (6-13 mm) between the end of the joist and the obstacle. Leave a space of 1/5′′ (5 m) between the two joists to let air in and water out. Use expansion screws to secure joists. There shouldn't be more than 2.0″ (500mm) between expansion screws.
Start Clip Installation
Drill the guide holes first, and then use screws to attach the starter clips to the middle of the joists. Make sure each starter clip is in a straight line, and then slide the trim board into the starter clip. It's important to remember that the first board must be secure and straight.
Start Board Installation
Find the starter clips and mark where they are with a short piece of composite decking board. Put screws in the marked spots to hold the starter clips to the joists.
Then, put the starter board on all of the starter clips and push forward to the end. Lastly, attach the starter plate to the joists by screwing the screws into the middle of the joists at a 90° angle. At least 1″ should be left between the screws and the sides of the joists (25 mm). Before putting in the screws, the guide holes must be drilled. If you don't do this, the composite decking could get damaged.
Decking installation
Once the starting board is in place, we can move on to installing the composite wood decking. Put two composite deck boards next to each other, keeping the right distance between them. Then, use the right fittings or screws to attach them to the joists. Then, put the rest of the composite decking boards on top of the joists in the same order. Last, slide the last decking board into the clips and secure it in the middle of the joist by putting screws at an angle through the notches in the board.
When installing composite decking, it's important to remember that gaps need to be left between the boards so that thermal expansion and contraction don't cause them to bend or warp. During installation, choose the right pre-gap based on how long the composite decking is and how hot or cold it is. There should be 1/4′′ to 1/2′′ of space between the floor and solid things (like walls) (6-13 mm). The most the floor can stick out vertically is 2′′. (50mm).
How do I buy composite decking?
Composite decking boards are something we already know a lot about. In the end, it all comes down to picking the right color, surface, and type of decking for your needs.
Do you live where it's sunny?
The darker the composite decking, the more heat it will soak up. If you live somewhere sunny, choose a deck with lighter colors. Lighter-colored composite wood decking doesn't hold on to as much heat, so the deck won't make you feel too hot by reflecting heat back at you.
If you live in a colder area for the same reason. Then we suggest using composite deck boards that are darker in color. A darker outdoor deck can make you feel warmer when you are relaxing outside.
Do you live in a humid area?
If you live near the coast or in a place where it rains a lot, please choose groove composite decking when you buy composite decking. The grooved surface of the decking can make it less likely to slip and keep the surface from getting slippery when it gets wet.
If you can't decide between groove and wood grain, it doesn't matter. EVODEK® has double-sided decking with grooves on one side and 3D wood grain on the other. It just gives you more choices so you can make your patio look better.
Hollow or solid composite decking?
Hollow composite decking is also made in a factory and can be used as an outdoor deck. These composite decking boards are lighter and easier to move than solid composite decking boards. And its hollow shape makes it easier for air to flow through and water to drain.
Solid composite wood decking is a lot heavier than solid wood decking, but it is more like solid wood decking. Solid composite decking is also stronger, so it can hold up better and absorb noise better.
Uncapped or Capped Composite Decking?
Capped composite decking materials are also easy to install, and clean, and require little upkeep. Capped composite decking is different from the first generation of composite deck boards because it has a polymer shell. This polymer shell gives you more protection because it is more resistant to water and mildew. So, you can choose the type of composite decking you need based on what you want to do with it.
Post a Comment
We'll contact you within 24 hours. Check out the spam box in case that the mail is blocked.