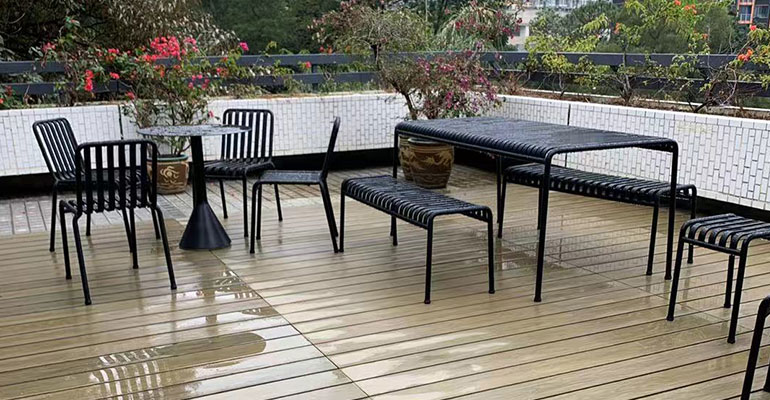 What's the best way to clean composite decks ?
It's time for spring cleaning again. While many homeowners worry about baseboard wear, dust, and dirty windows around their home. It's also important to clean composite decks. Over the past year, your floor surfaces have faced many challenges. Such as hot dogs rolling off the grill in summer, fallen leaves turning into tiny dirt in the gaps between composite decks. And winter weather hits your composite Wooden deck.
It's time to refresh. We have provided you with a guide to properly clean the best composite decking, just in time for the warmer weather.
Cleaning a modern deck doesn't have to be difficult or time-consuming. But making it durable is essential. While the steps are simple, removing anything from the deck, sweeping, and cleaning. You need to make sure you get it right.
Modern Deck Cleaning Solutions and Materials Required
When you're ready to clean inexpensive composite decking. Please have a broom, brush, bucket, garden hose, and cleaning solution handy.
Make sure to use products and materials that won't damage your composite decking or cleaning. Never mix ammonia ingredients with bleach. It can produce toxic chloramine gas, which can cause respiratory irritation.
Instead, buy cleaning solutions made specifically for your plank or white composite decks. Check product options at your local hardware store.
What are the best homemade cleaners?
If you want to make your own cleaner, choose the solution that is right for your composite decking.
For moisture-resistant composite decks. You can use 2 tablespoons of ammonia-free liquid detergent, 1 gallon of water, 1 pint of rubbing alcohol, and 1 quart of oxygenated bleach. Oxygen bleach is safe on composite decking and helps remove mold. But avoid chlorine bleach.
Avoid using homemade composite deck cleaners or polishes when using a pressure washer or power washer. Since the nozzles on the sprayer are so small, any particulate cleaner will clog the nozzles.
What's the best way to clean composite decks?
As mentioned earlier, the best way to clean your composite deck is up to you. However, there are five basic steps to cleaning a composite deck.
1. Remove all furniture, plants, and decorations from the composite decks. It is also a good opportunity to inspect the composite deck. You can check all trim panels for problems.
2. Clean debris from composite decks. Debris can build up on composite decks over time, and you'll need to remove it first. Because it stains and retains moisture. Use a putty knife or screwdriver to remove any stubborn debris between the decks.
3. Pre-rinse. This step makes the detergent easier to disperse.
4. Clean with a solution suitable for your composite deck type.
5. Rinse composite decks thoroughly to avoid leaving films or deposits. Hold the hose about 6-12 inches above the composite deck surface and spray it a few feet in front of you. The flow of water should be sufficient to wash away dirt and debris. Do not use high pressure, it will damage your decking and destroy your wood.
Things to watch out for
1. Whether you use a homemade cleaner or buy one, wear gloves when using it. Some cleansers may irritate the skin.
2. It's better to dispose of the leftover homemade cleaner and make a new batch next time you need it, rather than storing it.
3. Keep all cleaners out of the reach of children.
Post a Comment
We'll contact you within 24 hours. Check out the spam box in case that the mail is blocked.