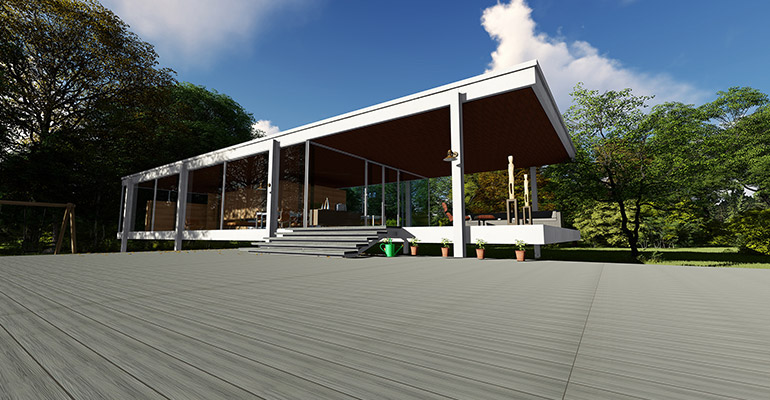 Which is the Best Composite Decking for Decking in Full Sun?
Before you start building your outdoor deck, you need to decide on the best material. If you live in an area with a lot of sun and a warm climate. Then you need to pick a material for your deck that will hold up well during the summer. Overall, composite decking materials are better than other outdoor decking materials for decks that get full sun.
Traditional decks made of wood
For many reasons, traditional wood is not a good choice for a deck in full sun. UV rays can damage the honeycomb shape of wood decking, and when the wood is exposed to the sun, it will naturally weather because of UV rays. On top of that, traditional wood decking is more likely to soak up and hold heat. But direct sunlight also makes the wood lose its moisture more quickly. This can then lead to structural problems, which can cause the wood deck to crack and split. Also, UV light can damage the color of wood decking, so wood decks that get a lot of sunlight are more likely to fade.
If you use pressure-treated wood for your decking, it will take more work to keep it looking good. You will need to clean the deck with a pressure washer and stain it often. You will also need to replace any cracked wood decking as soon as possible. This also means that you will have to keep spending money and putting in work even after the wood deck is built.
The decks that get the most sun and face south and west are the most worn. If you want to build a deck that faces south, composite deck boards might be a good choice. Composite decking boards are one of the most common types of decking used today. Composite wood decking is strong and lasts a long time. It also looks great and comes in many different colors. The composite decking is also almost maintenance-free, which will save you a lot of money on upkeep.
Composite Decking for Decks in the Full Sun
When left out in the sun, all decking materials get hot. But different types of decking absorb heat in different ways. Early composite decking was very sensitive to temperature, but technology has improved so that it does not get very hot. Composite decking from today doesn't get any hotter than wood decking. Also, composite decking cools down faster than wood when it is in the shade.
When thinking about composite decking for areas that get full sun, we look at how to choose a good composite decking material from the following three points of view.
cool composite decking
no fading from strong UV rays
the amount of expansion and contraction caused by changes in temperature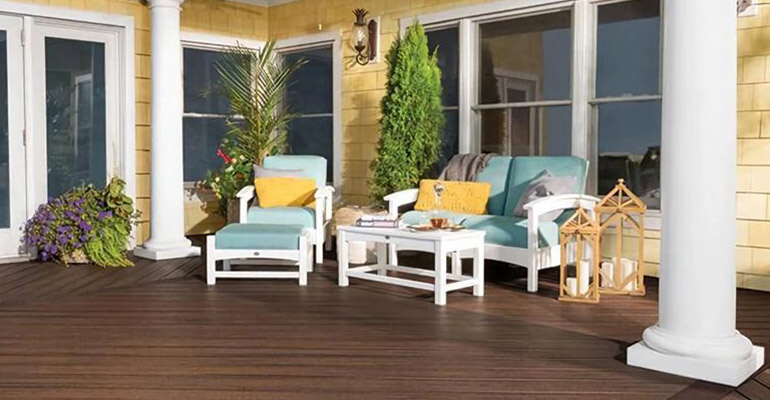 With these three groups, we can figure out which types of composite decking work best in full sunlight. Just like any other home improvement, an outdoor deck needs to look nice. If your deck looks nice, you'll be able to enjoy life more. The beautiful look of high-quality composite decking that doesn't fade is more likely to last for a long time.
Composite decking is cool
When the sun is out, all decks get hot, and the more sun there is, the hotter the deck will get. This is because decking is a flat surface that absorbs and reflects the heat of the sun as it is exposed to it. This is why decks where the sun is strong are warmer.
You need an outdoor deck that won't burn your feet, no matter how hot the sun is. The amount of heat a deck can hold depends on what it is made of. So, we need composite decking that stays cool to the touch so that we can spend more time outside.
Here, we recommend EVODEK's Hollow Composite Decking series, which is cooler than other brands of composite decking because the material is different.
The Hollow Composite Decking series from EVODEK has a structure that is hollow. Composite decking boards can get rid of heat better because they are hollow and allow air to flow through them better. The hollow structure also makes composite wood decking lighter, which makes it easier to move and put together outdoor decking.
You can also choose a light color for your outdoor composite decking to make it even cooler. For example, there are grey composite decks and white composite decks, among others.
Strong UV rays won't make it fade
Strong UV rays can cause outdoor wood decking to fade badly. This makes the design of your outdoor space look bad. So, it is very important to choose high-quality composite deck boards that won't fade.
Most companies that make composite decking on the market sell decking that won't fade. The difference is that EVODEK has added UV inhibitors to the formula for the composite decking to make it more resistant to UV damage. You can also choose capped composite decking, which is better at resisting damage from the environment than uncapped composite decking.
How much does something grows or shrinks when the temperature changes
Almost everything expands and contracts when it gets hot or cold. When the sun is shining brightly on the floor, outdoor decking tends to expand and contract more than it would otherwise. And what does a homeowner need to know about a deck's thermal expansion? It means that if you don't leave enough space between your deck boards when you build an outdoor deck. Due to thermal expansion, the deck outside may get squashed and bent.
When we choose composite decking, this means. We must choose composite decking brands that are sure to be of high quality. When the temperature changes a lot, composite decking of good quality will expand and contract less. But you still need to make sure there are enough expansion joints when you install composite decking according to the manufacturer's instructions.
EVODEK, when selling composite decking for outside to customers. Before installing the outdoor decking, the customer will be told to give the composite decking a few days to get used to the weather in the area. The composite decking is then put in place, leaving an 8mm gap between the boards and the decking to allow for expansion. This keeps the composite decking from expanding when the temperature is very high, which could cause the decking to warp.
Free Samples of Composite Decking
Composite decking is the best choice if you want a full-sun deck. Even though composite decking costs more than wood decking to buy, it can save you thousands of dollars in maintenance, repair, and replacement costs in the long run. Even though composite decks don't need much maintenance, they still need to be cleaned often to stay in good shape.
The customer service team at EVODEK is helpful and can answer any questions you may have. Besides that, we can give you free samples. So you can learn more about what EVODEK's products are. What's holding you back? Come and get in touch!
Post a Comment
We'll contact you within 24 hours. Check out the spam box in case that the mail is blocked.