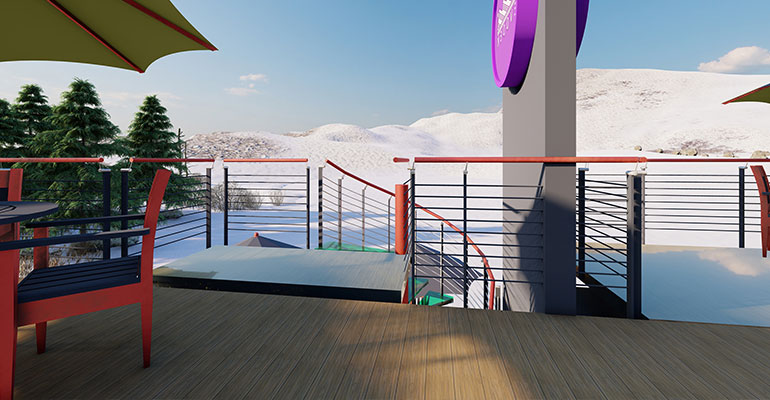 Which one should you choose between a deck and a terrace?
While the terms "deck" and "terrace" are frequently used interchangeably. But there are some critical distinctions between the two. To avoid making costly mistakes. Before building a deck or terrace, homeowners must choose carefully. This article discusses the differences, pros, and cons of composite decking and terraces. In order to help you narrow down your options.
What is the distinction between a terrace and a deck?
A terrace is a versatile outdoor space that is typically defined by surfaces such as concrete, brick, stone, or ceramic tiles. Terraces are typically constructed directly on the ground, in accordance with the slope of the land, and maybe less expensive than elevated or multi-level decks. Although numerous terraces can construct directly adjacent to the house. Additionally, they can create an independent space in the middle of the yard.
A terrace is typically easier to maintain than a wooden deck, particularly when compared to a wooden deck. The deck, on the other hand, can construct using materials that level the playing field. This is why composite decks and concrete terraces are more difficult to construct. This is not merely a question of material costs. If you intend to sell your home, you must also consider factors such as maintenance costs and the return on investment on the resale value (ROI).
The cost of composite decking and terrace construction
Which is less expensive, the deck or the terrace? To make an accurate comparison of the cost of the deck and terrace, you must consider the following factors. The primary distinctions revolve around material costs, the scope of work, and the location of the project. Additionally, you may include any additional features you desire, such as built-in seats, and multi-layer or recessed lighting.
For instance, constructing a terrace directly on the ground is less expensive than constructing a raised terrace. Similarly, building standard decks on flat ground is typically less expensive than floating decks, raised decks, or round decks. Additionally, because of the labor costs associated with leveling the land. Terraces on sloping terrain, for example, will significantly increase the cost of the project.
For instance, the cost of constructing a 15×15 terrace ranges between US$2,000 and US$5,000. In contrast, the average cost of building a deck of the same size is between US$4,000 and US$9,000. In other words, the cost of composite decking is around US$28 per square foot. And the average cost of constructing a terrace is around US$15 per square foot. However, a direct comparison of the terrace's and deck's construction costs can be misleading. While terraces are less expensive in the short term, they are not always less expensive in the long run.
Which one provides a higher rate of return on investment?
Remodeling Magazine publishes a list of 21 popular renovation projects each year. And assesses the value these projects add to the home selling process. According to the most recent data, the terrace's value-added is approximately 50% of its cost. while the deck's value-added is between 60% and 75%.
Asymmetrical comparisons between complex decks and simple terraces. Composite decks and concrete terraces, look better with more complex textures.
Additionally, it is critical to consider regional factors. Decks typically add more value in areas where outdoor lifestyles are popular. Although the terrace is not limited in size, the value of choosing a deck is slightly higher in general due to the lower maintenance cost of the composite deck.
Composite decking can better realize design requirements. Terraces are an excellent choice for certain types of homes, whereas decks are a better fit for others. The composite deck flooring can customize to meet your design specifications. Which is conducive to developing a more distinctive design style and providing you with a unique life experience.
Make contact with us
Since 2000, we have concentrated our efforts on the development and design of composite products. With extensive manufacturing experience, we are determined to become the best composite decking brand! If our products satisfy your specifications. We will resolve your issue and provide composite decking free samples. Our first priority is customer satisfaction.
Post a Comment
We'll contact you within 24 hours. Check out the spam box in case that the mail is blocked.