Why is composite decking so expensive?
Composite decks are a popular choice for remodeling modern outdoor spaces, and well-designed decks can add value to a property and effectively improve the quality of outdoor living. But there's no question that composite decking is more expensive. So many homeowners want to ask, why is composite decking so expensive?
Composite material is becoming a mainstream choice for more and more people as a perfect alternative to traditional wood. It has excellent durability and low maintenance, saving homeowners more energy and time. In this article, we will discuss the reasons why composite materials are more expensive. With these details, you will get an in-depth understanding of why is composite decking so expensive.
Cost of composite decking
The price of composite deck boards varies depending on the brand of the deck, its quality, and the area in which it is purchased. Generally, composite decking costs between $16 and $32 per square foot to purchase. The labor cost to install the deck ranges between $24 and $48 per square foot. So if you include the cost of installation, then the initial cost of composite decks is between $40 and $80 per square foot.
Why is composite decking so expensive?
In the next article, we will analyze the manufacturing process, raw materials, product quality, and installation of the deck, aiming to fully explain the price of composite decks.
It's an investment
The number one reason why composite decking is so expensive is because it's not an expense, it's an investment. Compared to other deck materials, composite material requires less maintenance and repairs over time.
EVODEK composite deck has excellent resistance to mold, rot, and cracking, so it won't break down easily. Although it is very expensive in terms of initial cost, it is more cost-effective in the long run. A well-designed outdoor space can add value to your home and improve the quality of life for homeowners.
Manufacturing process and materials
Composite decks are made with a more specialized manufacturing process and materials. EVODEK uses a combination of wood fibers or wood flour and recycled plastics, typically high-density polyethylene (HDPE) or polypropylene (PP). During the production process, the material needs to be mixed and extruded, thus increasing its production cost significantly. If the manufacturer uses high-quality recycled materials or employs advanced production techniques, the price of the deck will be higher.
In addition, the cost of sourcing and processing recycled materials is not static; it fluctuates depending on market conditions. So if the cost of recycled materials goes up, then it will have a direct impact on the price of composite decking boards. In addition to regular materials, some manufacturers add UV inhibitors, antimicrobial agents, or color additives to their decks. The use of these materials can also further increase the cost of the deck.
Quality of the deck
The price of a composite deck can vary depending on the quality and performance of the product. High-quality composite decking tends to use protective coatings or capping, which can be effective in increasing durability. EVODEK uses a 4-side cap, which makes it effective in preventing damage, fading, and mold. These premium features make some decks more expensive.
Reputable composite decking brands constantly invest in research and development to improve the performance of their products. They conduct extensive testing to ensure that their decks have better performance and a variety of looks. While investment in product development and testing can significantly increase the cost of a deck, it also results in superior quality and longevity.
Durability and low maintenance
One of the main advantages of composite decking is its durability and low maintenance. Unlike traditional wood decking, the components in composite material will not easily rot, crack, or warp. It is also effective against insects, moisture, and UV rays.
Composite decking lasts longer without the need for tedious sealing, maintenance, and repairs, making it more expensive.
Market demand
The market demand for decking and brand awareness also plays a decisive role in pricing the product. With the advancement and development of technology, more and more homeowners are realizing the benefits and advantages of composite materials. Therefore the demand for composite decks has started to increase, making the prices of the products rise.
Brands with excellent reputations in terms of product quality and reputation tend to set higher prices on their market position and quality.
Composite decking's competitive pricing in the market is also influenced by branding, warranty, and after-sales services. Some brands may charge a higher premium due to their popularity. And some emerging composite decking brands may offer more affordable prices to attract more consumers.
Customizable
Unlike traditional wood decks, composite deck boards have a wealth of looks and finishes to choose from and customize. The richness of textures and colors makes it require more raw materials and craftsmanship to manufacture. This is why composite decking is so expensive.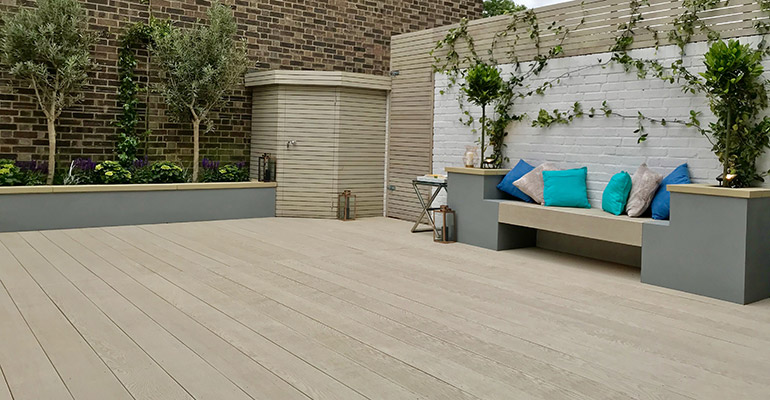 Installation costs
As we said above, composite decking is more expensive to purchase. But if you factor in the installation cost, then it is the more affordable option. Compared to traditional decking, composite decking is easier to install and easier to maneuver. This makes it cheaper to install and can save homeowners a lot of time and money.
How much does composite decking cost?
In the article above, we covered the price components of composite decking. But how much does composite decking cost? Read on.
In general, composite decking costs between $16 and $32 per square foot to purchase. The labor cost to install the decking is between $24 and $48 per square foot. If you include the cost of installation, then the initial cost of composite decks is between $40 and $80 per square foot.
| | | |
| --- | --- | --- |
| Deck size (feet) | Square feet | Average cost installed* |
| 8'x10′ | 80 | $3,200 – $6,400 |
| 10'x10′ | 100 | $4,000 – $8,000 |
| 10'x12′ | 120 | $4,800 – $9,600 |
| 12'x12′ | 144 | $5,750 – $11,500 |
| 12'x14′ | 168 | $6,700 – $13,450 |
| 12'x16′ | 192 | $7,680 – $15,350 |
| 12'x18′ | 216 | $8,650 – $17,280 |
| 12'x20′ | 240 | $9,600 – $19,200 |
| 14'x20′ | 280 | $11,200 – $22,400 |
| 16'x16′ | 256 | $10,250 – $20,480 |
| 20'x20′ | 400 | $16,000 – $32,000 |
| 20'x24′ | 480 | $19,200 – $38,400 |
| 24'x24′ | 576 | $23,000 – $46,000 |
Additional features and customization costs
In the above we covered the cost of installing a regular outdoor deck, if a homeowner wishes to add additional features then it will cost more.
If you are looking to add outdoor furniture, the cost per outdoor furniture set can range from $500 to $1,500.
Some homeowners wish to add a lighting system to their outdoor space. Typically, each outdoor light costs between $80 and $300.
Installing plugs in your outdoor space can make your life easier. Each outdoor plug costs between $200 and $400.
Placing a bathtub on your deck is also a good decision. The total cost of purchasing and installing a bathtub ranges between $4,000 and $11,000.
More and more homeowners are favoring the installation of outdoor fireplaces, which can create a warm and inviting living space for homeowners. Outdoor fireplaces cost between $2,000 and $9,000. It is important to note that you need to check local building plans before installation so that they can be used safely.
Installing an awning not only shades the outdoor space from sunlight and UV rays but also creates an environment of privacy. Each awning costs between $200 and $6,000.
Built-in seating is a necessity if you wish to build your outdoor deck into a sitting area. Built-in seating costs between $1,000 and $2,000.
Some homeowners enjoy outdoor grilling and cooking, and a built-in grill is important. Built-in grills and kitchens cost between $3,000 and $10,000.
*Prices for all of the above extra features can vary depending on region and brand.
To summarize
In conclusion, the cost of composite decking is affected by many factors. The composition of the material directly affects the price of the deck, and decks with high-performance features tend to cost more.
The size of Composite decks, the area in which they are purchased, and the installation are also factors in determining the total cost. Additionally, the reputation of the deck brand and market demand directly affects the price of the deck.
Therefore before considering the price of composite decking, it is necessary to evaluate the budget and expected results. Carefully compare different brands, materials, and labor costs to make the right decision.
Related Post
Post a Comment
We'll contact you within 24 hours. Check out the spam box in case that the mail is blocked.